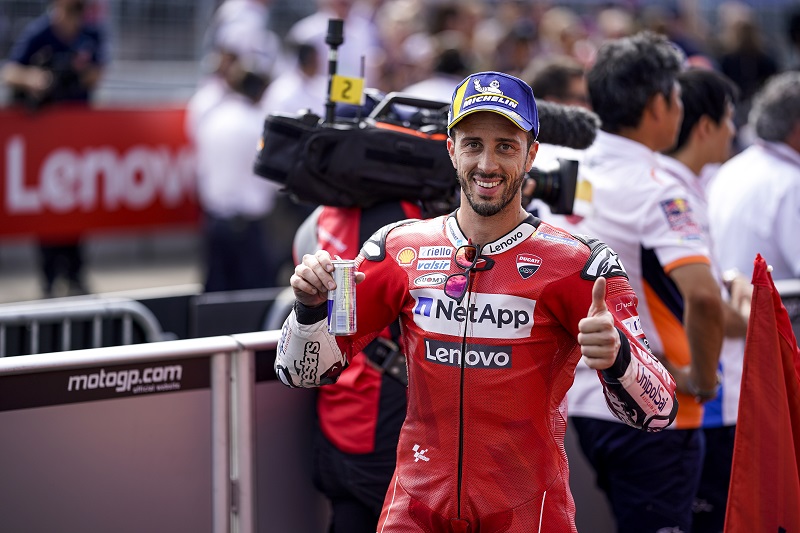 Andrea Dovizioso stepped onto the podium of the Czech Republic Grand Prix today at the Brno circuit after a great run in second place. The Italian, who powered away well at the start from the second row, immediately slotted in behind poleman Marquez, and held on to the same position until the chequered flag.
Eighth place for team-mate Danilo Petrucci, who started from the third row. The Italian rider, who was seventh at the end of the opening lap, dropped down a couple of positions in the next few laps but was able to get back into eighth place on lap 13, finishing the race behind Quartararo.
Dovizioso and Petrucci maintain their second and third positions respectively with 147 and 129 points in the overall standings. Ducati remain second in the Constructors' classification with 177 points while the Ducati Team increases its lead in the special teams' standings by 40 points and is now on 276.
Andrea Dovizioso (#04 Ducati Team) – 2nd
"I'm happy with my second place today and the fact that we were fast all through the weekend, even though unfortunately it wasn't enough to win the race. I opted for a different rear tyre to Marquez and at the start I pushed hard to stay close to him, but when he began to brake harder I didn't have any margin to push harder at the front. Pity, but we weren't that far away from him, so we have to continue to believe in ourselves: I'm still positive because tomorrow there will be an important test day here at Brno, with a lot of new material to try out."
Danilo Petrucci (#9 Ducati Team) – 8th
"For sure this was the most difficult race of the year for me. I missed out on being able to lap in the dry yesterday, because already on Friday I was struggling a bit at this circuit. The race was tough because right from the start I didn't have much grip and the leaders went away immediately, and then it was also difficult to fight with the others because in the final stages I had finished the tyres. Pity, because Rins made up a few points on me in the standings even though I'm still in third, but luckily tomorrow we'll have an entire day of testing to understand what to improve."
The Ducati Team will be back on track at Brno tomorrow for a one-day official test and then the MotoGP circus will head directly to Zeltweg for the Austrian Grand Prix, which is scheduled for the Red Bull Ring circuit from 9 to 11 August.