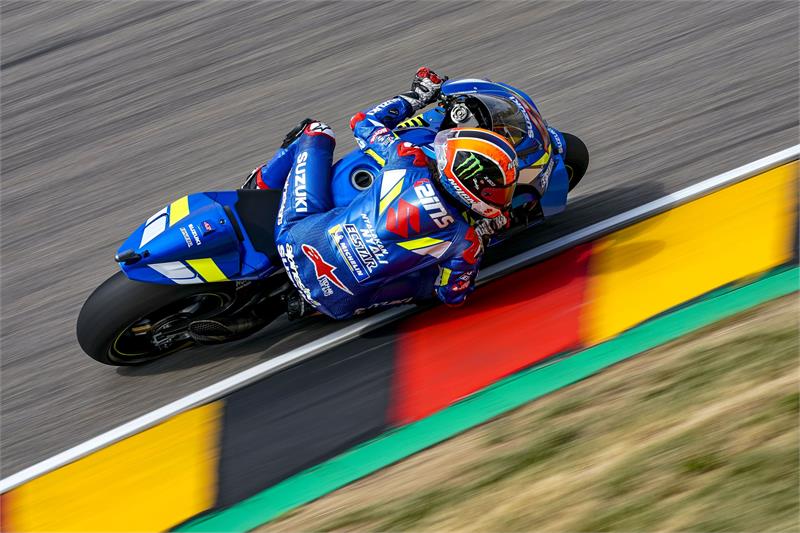 After a three-week long summer break, Team SUZUKI ECSTAR are warming up their engines to restart racing for the second half of the season. The Czech circuit of Brno will be the backdrop of the 10th GP of 2019, and it will go back-to-back with the Austrian GP at Spielberg.
Alex Rins and Joan Mir spent their holidays enjoying some rest, but also training hard to stay in shape for the remaining races. Likewise, the engineers – both in Hamamatsu and Europe – used the time to revise data and prepare for the second part of the season.
The Automotodrom Brno is a wonderful, flowing, track in the middle of the countryside, characterised by uphill and downhills. Engine power and gearing are key elements to taking on the track. The weather can be a factor as well, as the region can be subjected to sudden changes in conditions.
Davide Brivio – Team Manager:
"It's good to be back at the races, we're ready to take advantage of our strong first half of the season and we hope we can continue on this good path. We've already shown that we are competitive, and our target now is to continue to prove this potential. Alex is able to fight among the top positions in every race, while Joan is steadily getting closer to the top. The circuit of Brno is a fascinating track – maybe on paper it's not one of our best tracks, but the progress we've made so far in terms of performance give us positivity for this weekend. It will be an important race for moral as well, because it will kick off of the second half of the championship and we want to go to Austria in good spirits too."
Alex Rins:
"The holidays are finally over and it's time to get back on track, which makes me happy! During these three weeks I had some rest and relaxation, but I wanted to execute a good training programme, so I would be ready to jump into the second part of the Championship. The first half of the season has been a positive one for me, not only for the results but especially for the bike performance that has been steadily improving. With the team we are on a good path, so now we have to forget the vacation time and refocus on what's important; to further improve our strengths.
Joan Mir:
"I must say I've had a very good holiday; I could relax and enjoy some time with my friends and family, but I also trained hard to be in good shape. I'm ready to get back on my GSX-RR, and actually I can't wait! At the last races before the break I found a very positive feeling with the bike and I could steadily improve my performances. I can't wait to rediscover that feeling and continue working. Brno is a circuit that I like and where I have won in the past, so I have good memories there."
Sylvain Guintoli:
"The last couple of months have been fantastic, and I've been very busy since the race in Barcelona. In July, I made 3 trips to Japan to prepare for the Suzuka 8 Hours race, and I also had a really interesting test session in Motegi with the MotoGP Test Team. Last Sunday, I raced in the legendary Suzuka 8 Hours with the Suzuki Yoshimura Racing Superbike. I got a strong start and it felt amazing to be leading the race during most of my first stint (session). Brno is coming next, a great track where I can't wait to catchup with the GP Team and ride my GSX-RR again."
TECHNICAL HIGHLIGHTS OF BRNO CIRCUIT:
Frankie Carchedi – Crew Chief, Joan Mir: "Brno is a very flowing track – it's similar to Mugello but without the really long straight. There are a lot of changes of direction, which makes it really important to have an 'easy' and well-balanced bike that handles well. The majority of the corners are second gear, so it's also crucial to have good engine braking and the gearing exactly right. The middle sector suits our bike well and the track is quite wide, which allows for fast and sweeping lines. Aerodynamics don't come into play so much here, but power and torque are useful – especially in the final sector. The weather can vary here; and when it's hot it can be slippery, but in the wet it's really grippy!"