It was an early start on Saturday 8th August for us four bikers and our lovely wives. We were meeting at 05:00. We arrived and one of the wives (Lindi) had kindly made everyone bacon and egg rolls.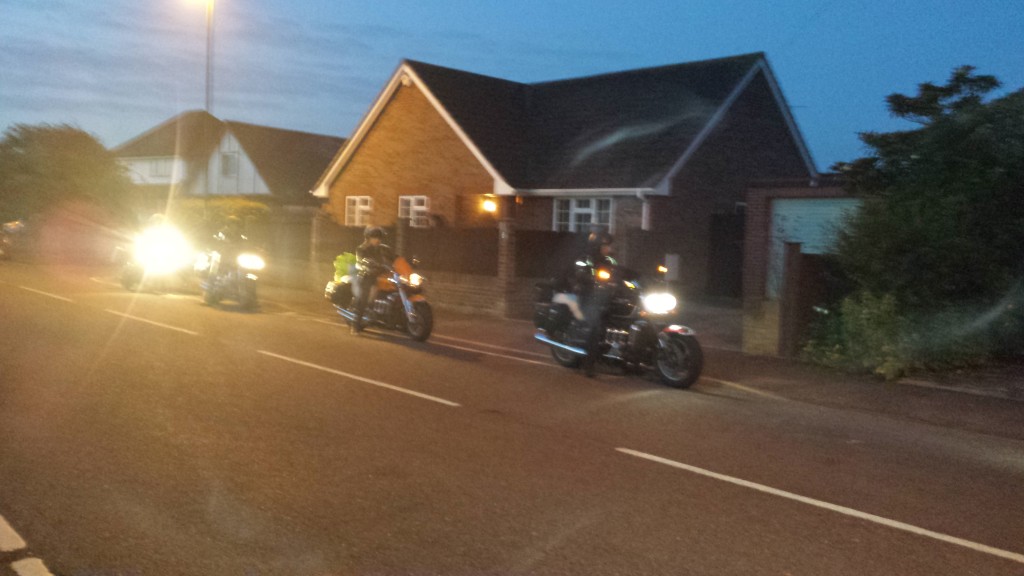 We then had to spend about 10 minutes trying to connect our Scala G9x headsets up and miraculously they were working rather well which is very surprising considering how complicated they can be.
The early morning was misty and very eerie but the anticipation was there and the wives waved us off and off we headed to Folkestone for the Channel Tunnel.
We were leaving early as there has been a lot of immigration issues at the borders and there has been up to 48 hour delays so if we left early we could crack on and hopefully get on the right train or an earlier one.
The Triumphs
The Four Triumphs Bikes The four bikes on this tour are three Rocket III's and my cracking Triumph Tiger Explorer 1200. Mine is the rose among the thorns but the other lads are 20 years older than me so that is the reason why they are on Rockets.
The Riders….
We have myself (Danny), then we have Nick or we all call him Twiz, then we have Pete aka depressed Pete (although he is very happy now) and we have Ian who is occasionally called "splash" which I later find out is because he jumped/fell into a swimming pool that was empty bar about two inches of water.
We are all friends from spending our free time down our local watering hole and enjoying nothing more than taking the piss out of each other. It turns out we all have our roles in the group (accidentally) for this trip.
Twiz is our chief engineer and our pit crew and has helped us all over the last week or so to make sure our bikes are in tip top shape for what the Spanish and French roads may throw at us.
Ian is our food and nutrition expert and will be guiding us through local cuisine and advising us on what we should be eating and how it should be cooked and taste.
Pete is our Spanish tour guide and hostess when we arrive in Mojácar
Danny (me) I am the tech team, I will be sorting out sat navs, mobile phones, video footage and everything else that comes in between that involves buttons.
The journey today was a big day ride to Orleans and we were all excited and keen to push on the toll roads. Tolls are the only way to bosh the miles and there is not a great deal to see in the north of France and so the toll roads were a hit… boring but a hit.
The journey consisted of lots of fuel and fag stops we were trying to do 100 miles between but the guys on the Rockets were struggling a bit due to riding positions.
When I ride I like to crash through the miles and generally push on and if I can go from fill up to fill up without needing to stop I will, so stopping often was quite new to me but we are a group and the group sticks together.
I am trialing out the AirHawk2 Seat cushion. Yes, I bought a pillow for my seat but on my recent trip to Monaco an achy arse is not a good way to end the day and makes riding a lot harder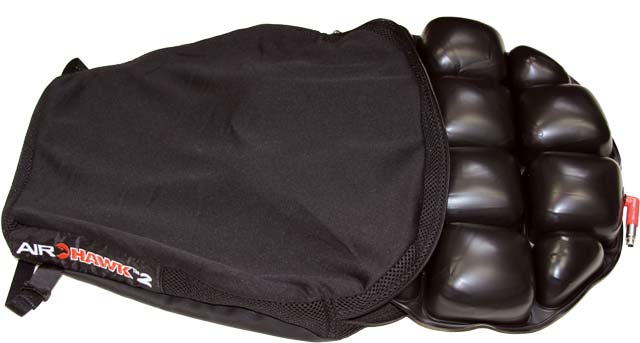 I have read lots of good things about them and figured it has to be worth a punt. A few tweaks to the amount of air in the AirHawk and I have to say I was quite confident that it was going to help with the sore bum and the fatigue that goes with doing long distance riding.
We made it to our first hotel in Orleans and it was not too bad, I did realise that my panniers are damn heavy and there is no way you can carry everything into the hotel in one trip.
More importantly the bar was still open so we cracked open a few very strong beers and started taking the p**s out of each other.
Food for me is a big issue, I love it, in fact I would call myself a bit of a foodie but I picked up a tropical disease in 2010 and then in 2013 on returning to Asia I picked up another bug and that has destroyed my digestion and I struggle with things like wheat, egg and spices… I quickly noticed that the restaurant was closed and that had me somewhat worried.
A quick chat in my pigeon French to the hotel lady and she pointed out that the only place nearby that we could buy food from was the patisserie over the road.
I staggered across the road (it was strong beer) to the patisserie and in my best French I asked if they had any food that did not contain egg or wheat.
The language barrier was hard and they really did not understand me and so being head of tech I busted out my phone and Google became my friend, I managed to get them to understand but they burst out laughing…. Handy that….
I staggered back over the road to the hotel and pointed out the slight issue we had and decided to go over as a pack of hairy smelly bikers and see what we could rustle up.
Between the staff and our in house nutritionist I ended up having a salad and they made be a big box of cooked chicken for me. While the others ate cakes and bread…yum!!
We headed back to the bar and we drank…. I think that's where day one ended…a somewhat blurry end but still an end to a good first day.
Here is a quick video diary of the first day of our tour down to Spain.