I was grumpy this morning the wife was doing my head in and not the way any man would want either… but why? Simple…. bringing too much stuff with her and then every time I opened the top box it took 10 minutes to shut it again. Before we left England, the plan was to be able to load all three panniers up in 30 seconds, ie if we needed to leave a hotel sharpish we could do that 🙂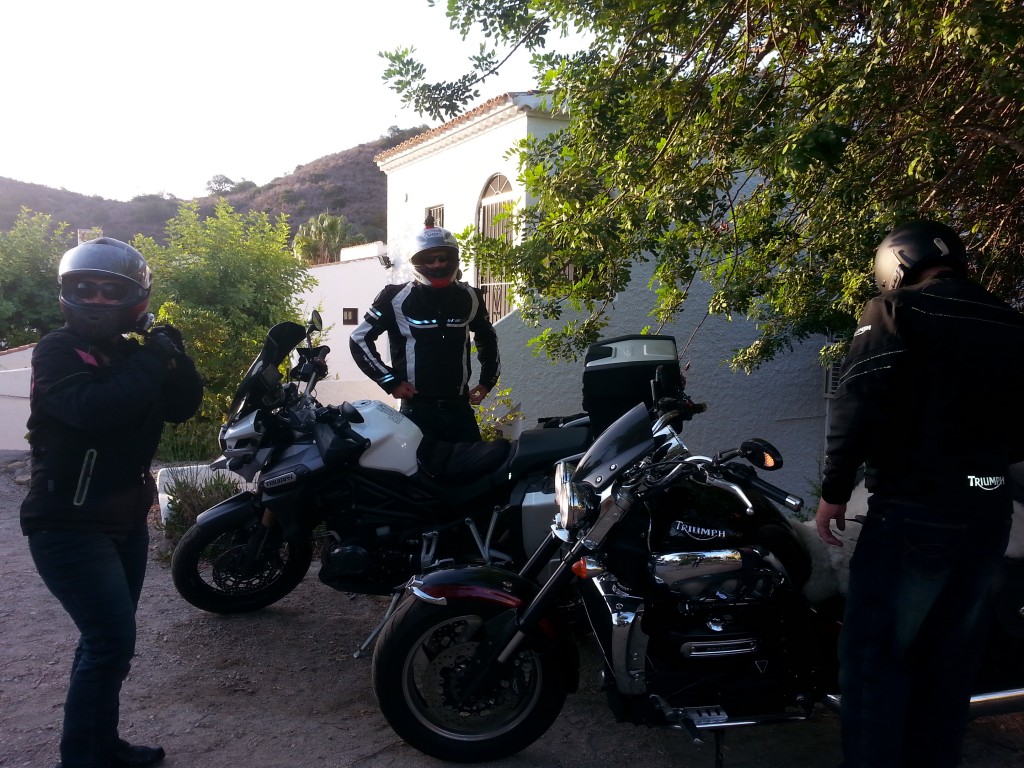 So that put me in a bad mood, and it really did not improve most of the day, which was great for everybody I am sure 🙂
Anyway, the drive for us was good I was in front with the sat nav and I set the pace quite nicely. I like a spirited drive and cracking on is the way to go and today was no different. I can sight see when I am in my retirement and reminisce about the days I "twatted" through the hills as a youngster :D. I am here to get that adrenalin pumping through my veins and scare myself regularly.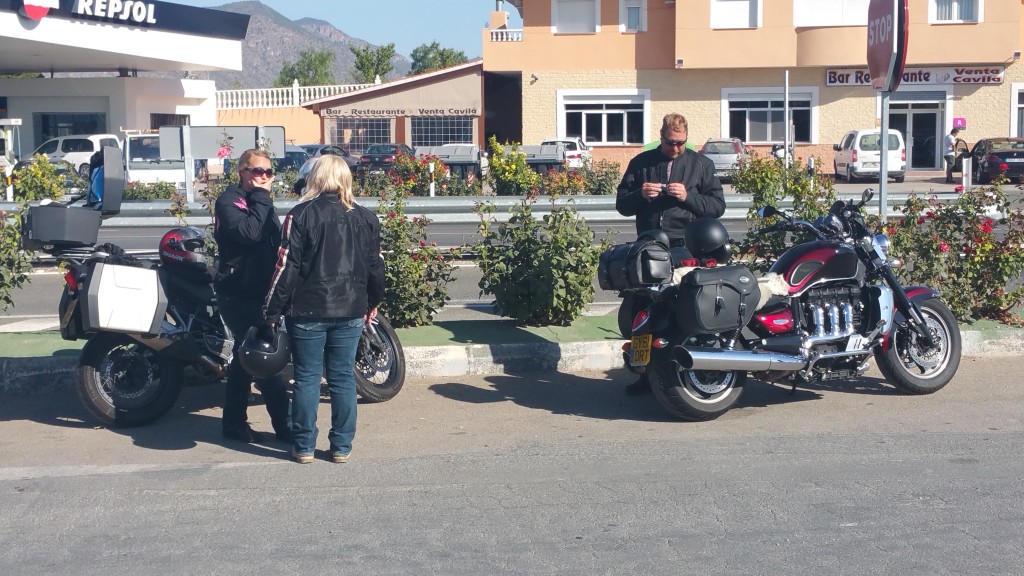 We are headed to Alarcón today and I wanted to get there as I had been tipped off by the party of bikers that left us before that it was beautiful and I wanted to get there to really soak it up. We had a few stops along the way to Alarcón where I was grumpy but that soon changed when and Ford Mustang ripped past us at mach #9. That cheered me up, right up until I noticed that he had pulled over for us precisely where we were planning on turning left. He said something to me which I couldn't really understand and to be honest this guy was scary looking.
We followed this Mustang into Alarcón and it was fun and it sounded great but something was playing on my mind we could get messed with some drug lord or something but whatever lets just see how this goes. The Mustang chap stops again and we think he is telling us that he is going swimming, and we should come. We decided to find our hotel first, and then we would go swimming.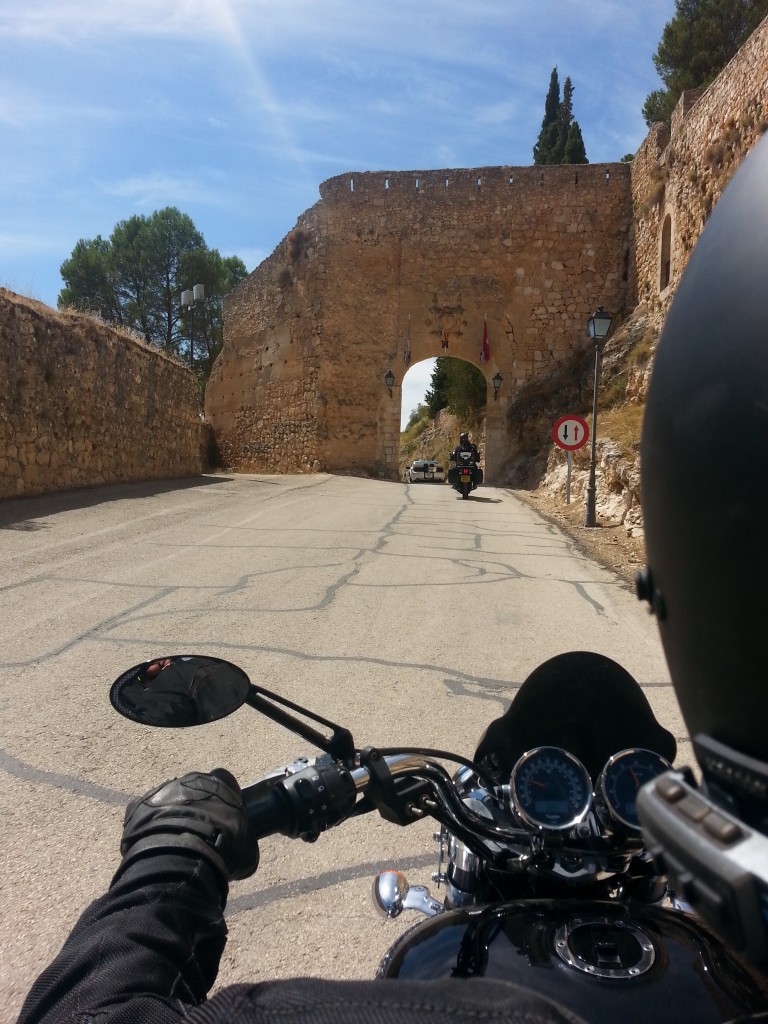 Our hotel was quite nice and Alarcón was beautiful and I am quite pleased we were stopping here tonight we dumped our bags found our swimming gear and jumped back on the bikes and trundled off down the hill and this is where the Mustang was parked up again.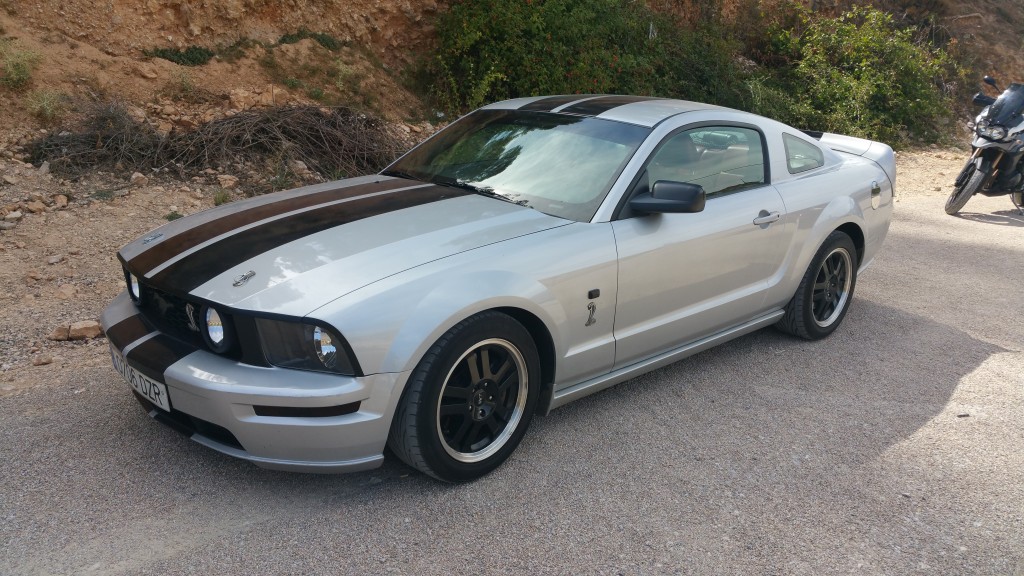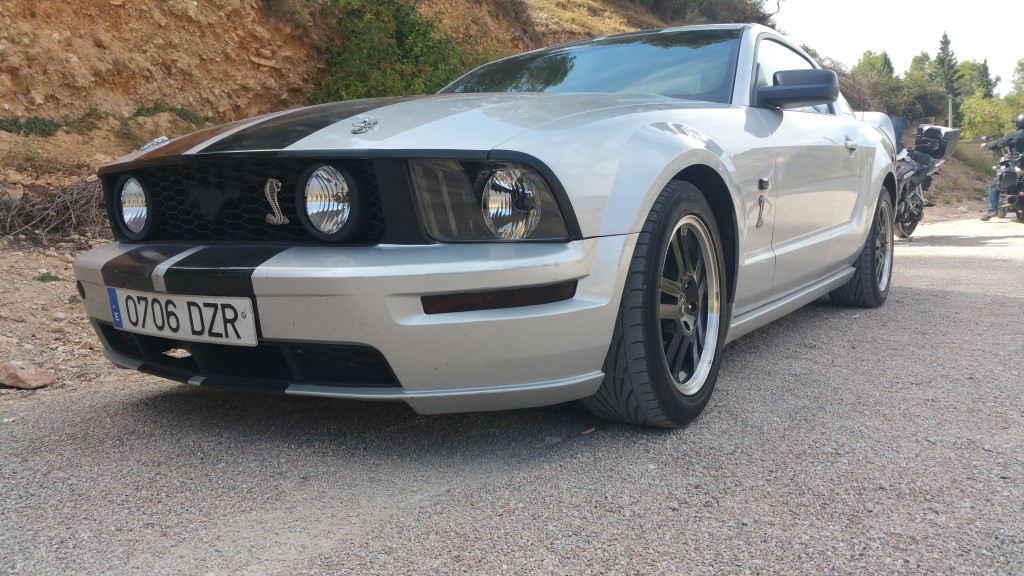 We ditched the bikes and started the walk across to the damn, and we said our hellos to our new-found friend who was keen on trying to make conversation with us. He gave us water and a food, and we tried our best to chat to him. Jane, Jude and Pete went swimming, and I decided I would rather go for a walk up the hill to get some photos of the scenery and generally just cheer up a bit. I was not that grumpy by now, which was good.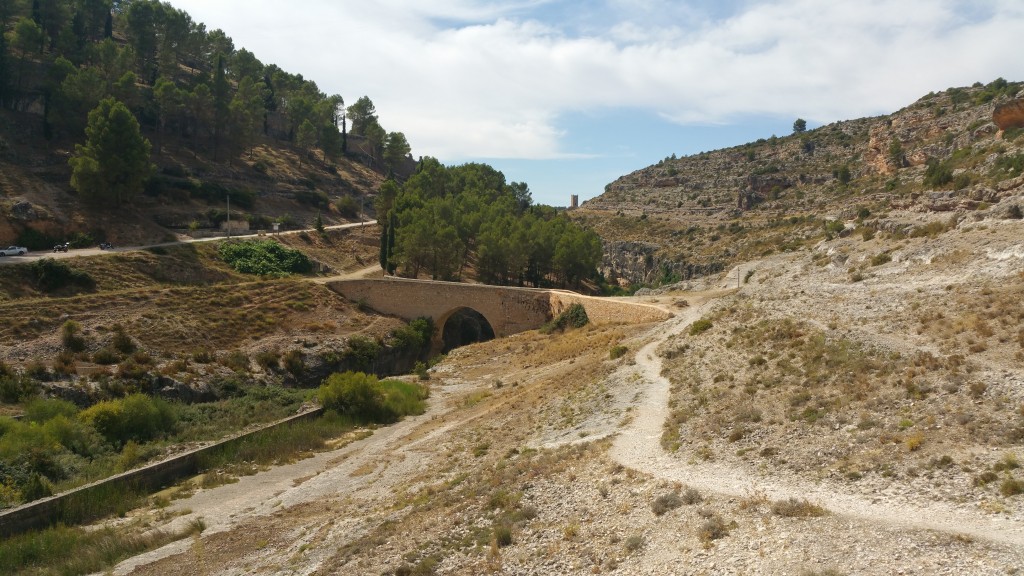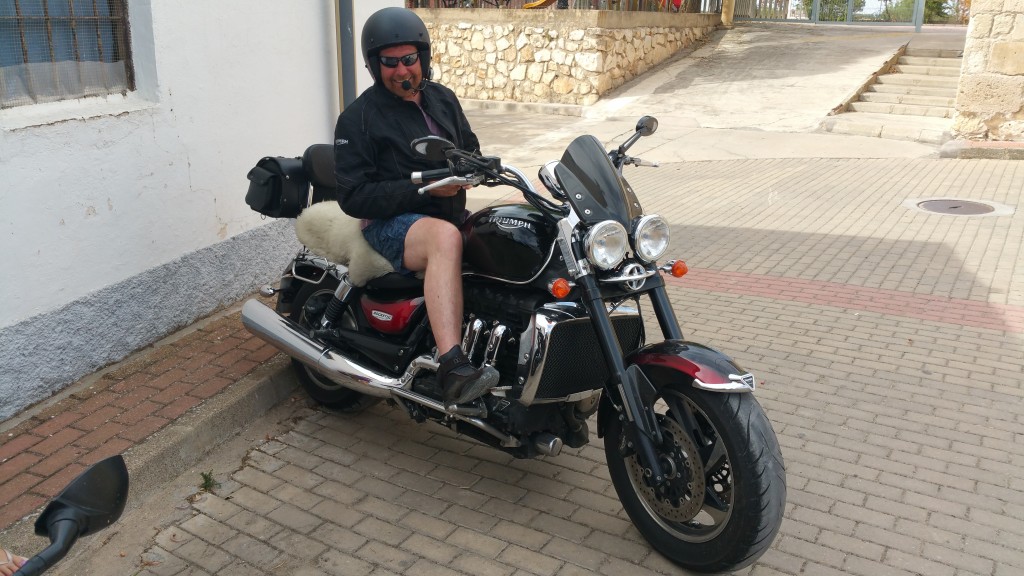 We headed back to the hotel and had a bit of a nap and a freshen up then it was time to get some food and a few beers.
Well, we had a few beers first and this is where the night got interesting we bump into our mustang friend again and this time I was armed with google and I could type a question into it and the convert it to Spanish, and we had quite a good conversation going. He took me on a tour around his car, and I noticed the magazine of gun shells on his rear parcel shelf and tried to ignore it but it did firm up my belief, he may well be that drug baron we thought. He left a little while later, and we carried on our night.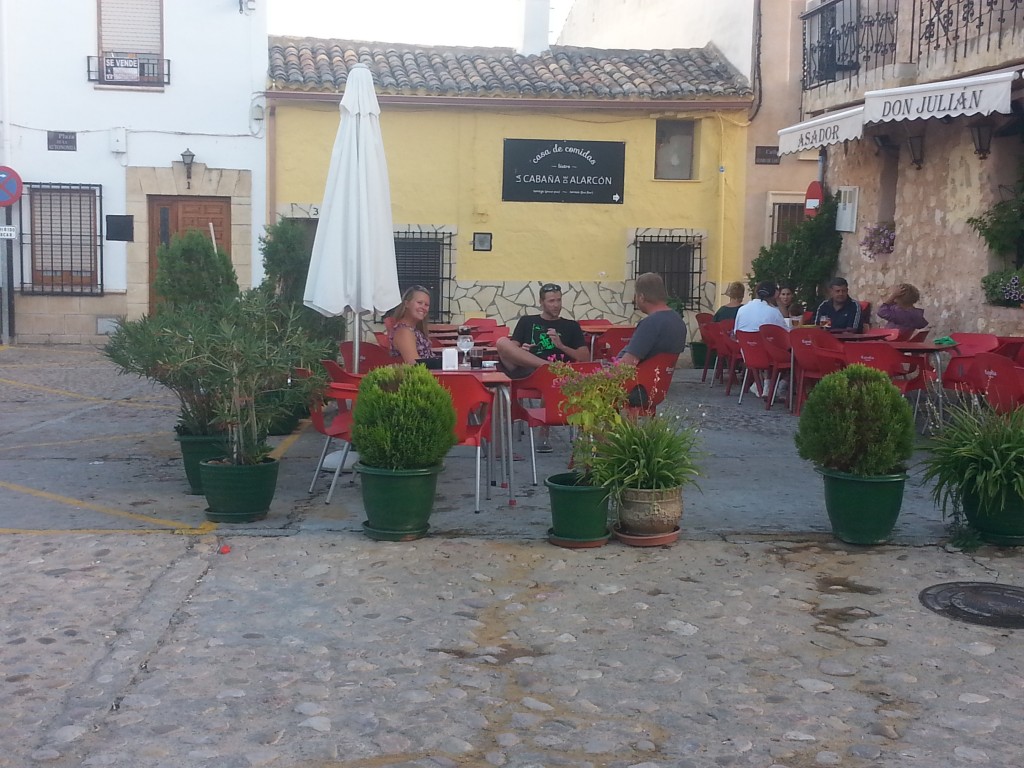 I have a few digestion issues and am quite fussy with what I eat, and I pretty much live on whole foods these days which are not a bad thing to be honest, and tonight I was going to have steak and chips, and we went to this fancy restaurant and sat in the garden eating and drinking. I was not feeling tip top today and when my food turned up, I did not really fancy it but Christ this steak stank. I was retching at the smell of it. Jane thought I was being difficult but Pete smelt his as well, and it stank. We called the waiter, and he took them away and came back and told us they were fine… errr no they are not.
We left the restaurant hungry and pissed off again, and it was time for more beer and then hit the hay!!