The Honda MSX125 aka the Honda Grom was not a bike I would have thought I would be reviewing, but a recent trip to south coast Honda and one of the sales chaps suggested I took it for a spin!! I laughed and left…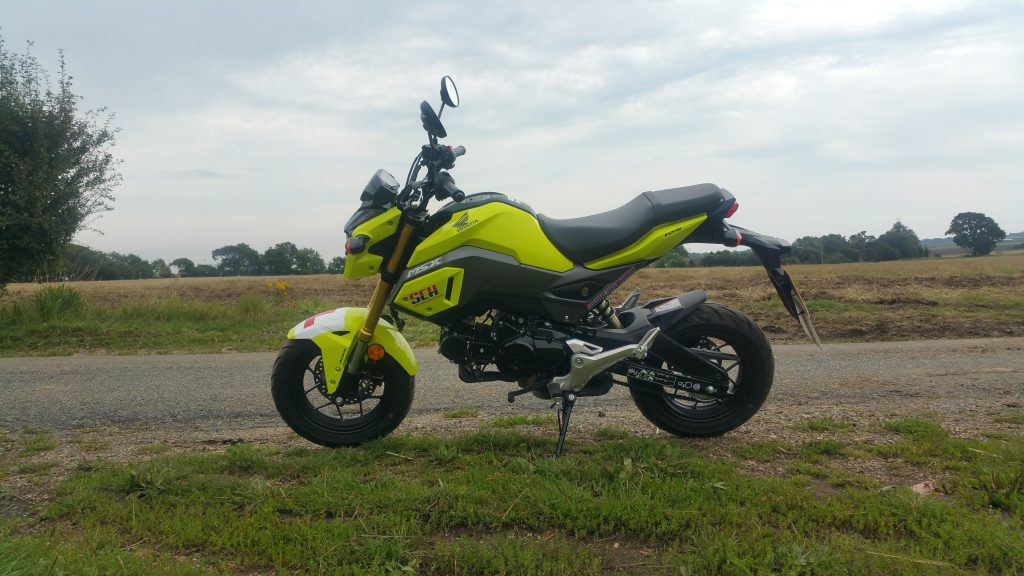 The next day I was back in asking to take this little bike out for a spin, I only wanted an hour I said!! 4 hours later I returned with a grin from ear to ear. I had literally been grinning all day while out riding.
So let's go and look at why I have fallen in love with the Honda Grom.
I spend a lot of my time on high powered bikes, and you would think as a biker that is still evolving and finding his feet within the industry I would be moving on to bigger and more powerful machines instead of playing around on 125cc bikes. However, just recently I have been enjoying riding my little Honda CRF250L, and this got me thinking about what fun could be had on a 125cc again.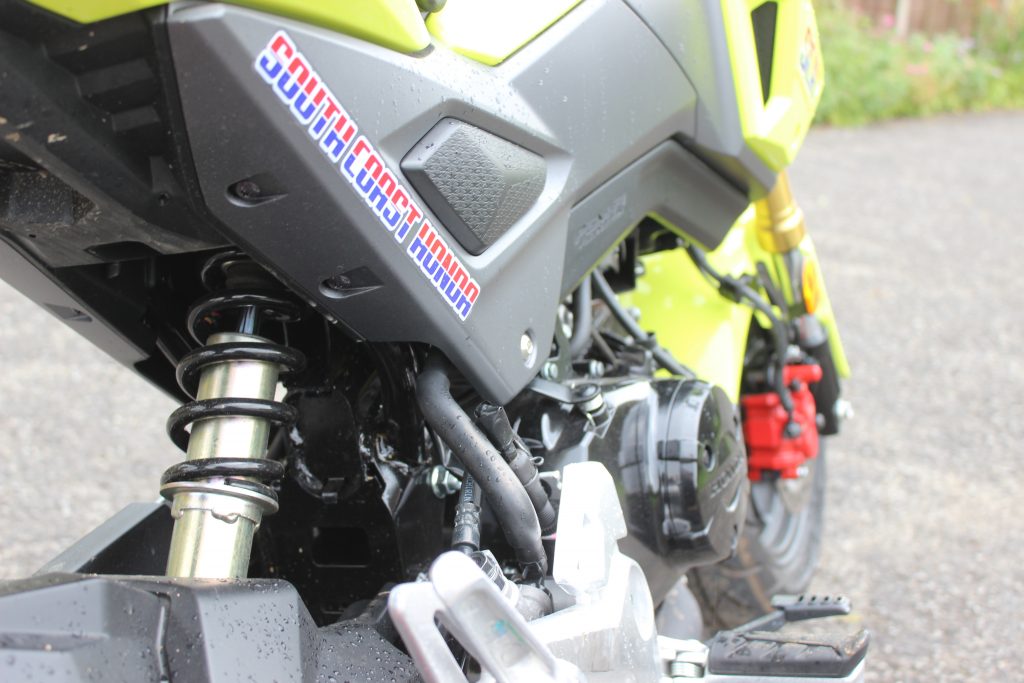 The Honda MSX125 is an air cooled two valves, single cylinder with fuel injection weapon that has 7.2kW of power at 7,000 rpm or 9.6 bhp and is producing about 11 nm of Torque at 5,500 rpm.
The wheels are 12-inch wheels, and the whole bike weighs just over 101 Kilos and a surprising seat height of 765mm.
I threw my leg over the Honda MSX125 and was laughing so hard at the time, I felt like a proper twat, and a few passers bys were laughing at me but whatever it is what it is. I was soon on the bypass battling to get up 60 mph and feeling rather quite small while being rather quite big on a rather quite small bike… Yeah, I know!!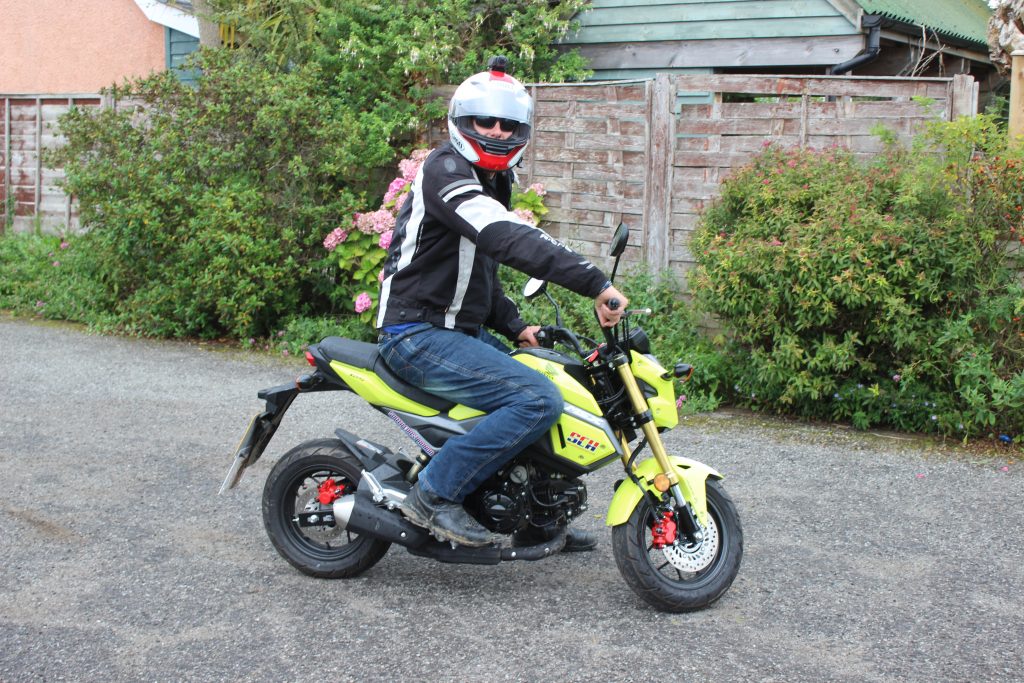 If I tucked my lanky body into as much of a horizontal position, I could I get to about 75 MPH but me being built like a ship's sail I was not expecting to be going very quickly and was happy bumbling along.
As soon as I could get off the by pass I did. I decided that seeing as the MSX125 was flashing its fuel light at me, I thought I would fill the tiny little tank up. £4 it cost to fill the tank up, and I had to have a google and see how far that little tank could take me and I read reports from Honda that 134 mpg was fairly common.
When I got the Honda Grom onto the lanes and started pushing it effortlessly through the bends, I was happy as a pig in shit. The Honda Grom was a pleasure it handled the bends majestically, and yes the small wheels did give you a few moments where you wondered if you needed to change your pants, but the MSX125 had a personality and character and the hours in the saddle flew by.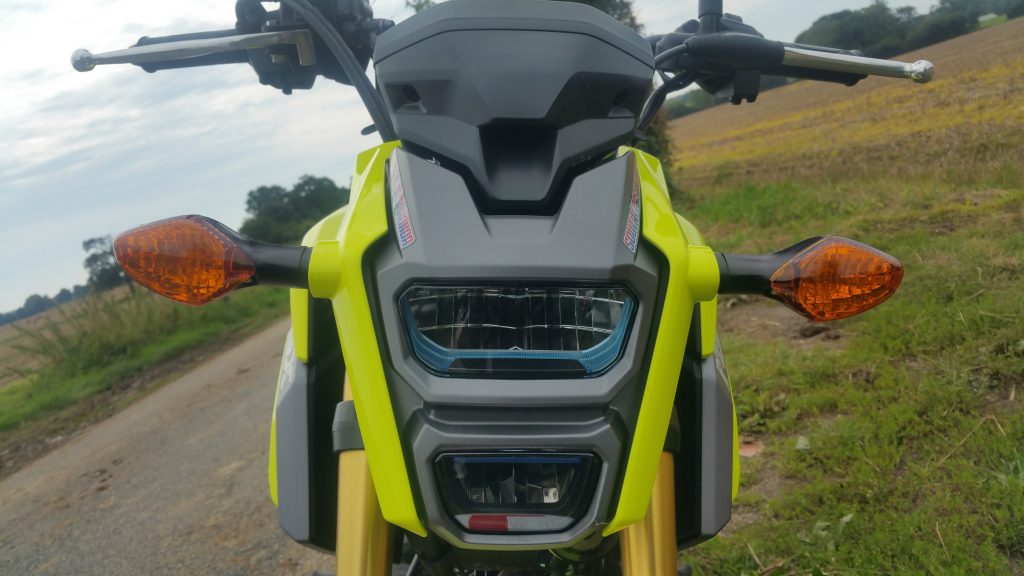 I found that I was doing what I could to maintain speed through bends and keeping the momentum up was the key to catching cars. Then looking for places where you could sneak past them was the next challenge but this made the journey so much more exciting and enjoyable. The best thing was that I did not need to worry about looking at the speedo as you were fully aware of the speed and this made it even more fun to ride.
What did I love about the MSX125
The Honda Grom's main appeal is that it is small and that gives it this presence and look but what I also loved was that it did not matter that it is the smallest bike I have ever ridden. It did not feel like a small bike at all and at no point did my 6ft 4inch frame start complaining about being on a such a small motorcycle.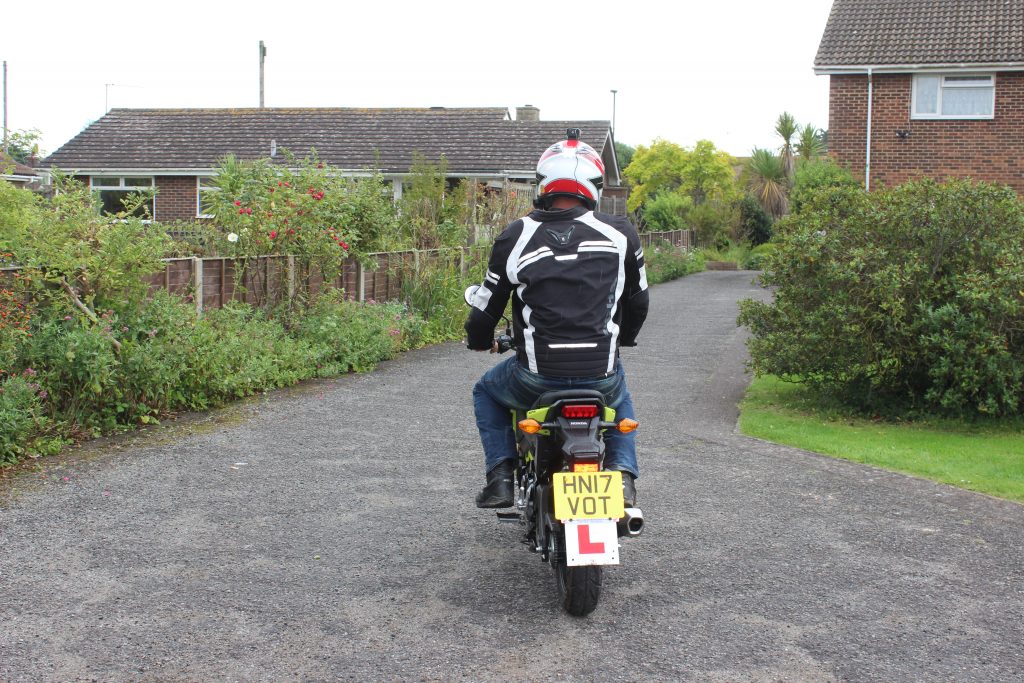 The price point as well is very much a good thing to talk about as well as the price from South Coast Honda is around £2900, and that to me is not bad at all… Even when I looked at used prices, I was quite happy with how the Honda Grom was not depreciating too badly.
I spent the whole day laughing and smiling and giggling, and it was great fun.
What did I not like about the Honda Grom MSX125?
I really really had to think hard about what I did not like and to be honest they only thing I could think I did not like was the brakes. The initial grab was fairly weak but once it started to bite it had a nice progression but I had the ABS come on a few times, and that was not confidence inspiring, however, I think if they made the brakes stronger it would be harder to ride as the brakes will be locking up.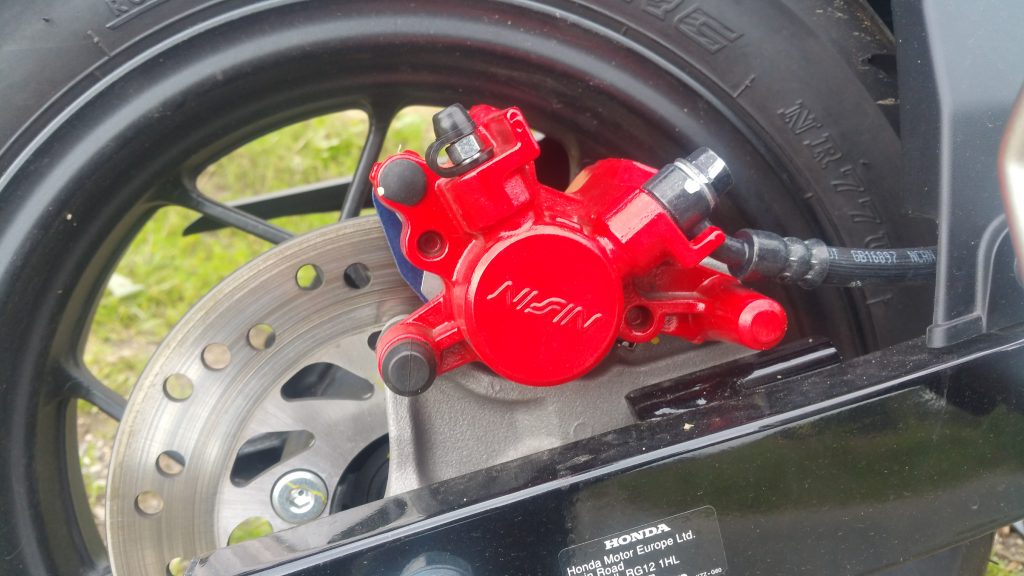 As I said, I am clutching at straws when I said I couldn't find anything I didn't really like…
The other point you need to consider when buying a Honda MSX125 /Grom is that the insurance could be pretty bad. These bikes are very light and are easily stolen, so before you make the leap, please get an insurance quote first. Also, consider where you leave the bike parked up as I am sure the thieves will love the Honda Grom as much as I did!!!
Honda MSX125 Specifications
Engine
| | |
| --- | --- |
| Bore × Stroke (mm) | 52.4 x 57.9 |
| Carburation | PGM-FI electronic fuel injection |
| Compression Ratio | 9.3:1 |
| Engine Displacement (cc) | 124.9 |
| Engine Type (cm³) | Air-cooled 2-valve single cylinder |
| Max. Power Output | 7.2kW / 7,000 rpm (95/1/EC) |
| Max. Torque | 10.9Nm / 5,500rpm (95/1/EC) |
| Oil Capacity (Litres) | 1.1 |
| Starter | Electric |
Wheels
| | |
| --- | --- |
| Brakes Front | ABS – Single 220mm disc with hydraulic dual-piston brake caliper |
| Brakes Rear | Single 190mm disc with hydraulic single-piston brake caliper |
| Suspension Front | USD Front Forks, 31mm |
| Suspension Rear | Mono shock, steel square pipe swingarm |
| Tyre Size Front | 120/70-12 |
| Tyre Size Rear | 130/70-12 |
| Wheels Front | Y-Spoke Aluminium Cast MT 2.5 -12 |
| Wheels Rear | Y-Spoke Aluminium Cast MT 2.5 -12 |
Dimensions and Weights
| | |
| --- | --- |
| Battery Capacity (VAh) | 12V 3.5Ah |
| Caster Angle | 25° |
| Dimensions (L×W×H) (mm) | 1760 x 755 x 1010 |
| Frame type | Steel mono-backbone frame |
| Fuel Tank Capacity (Litres) | 5.5 litres |
| Fuel Consumption | 1.52L/100km* |
| Ground Clearance (mm) | 160 |
| Kerb Weight (kg) | 101.7 |
| Seat Height (mm) | 765 |
| Trail (mm) | 81 |
| Wheelbase (mm) | 1200 |
Transmission
| | |
| --- | --- |
| Clutch | Wet multiplate |
| Final Drive | Chain |
| Gearbox | 4-speed |
Instruments and Electrics
| | |
| --- | --- |
| Headlights | LED |
| Instruments | LCD digital dash with speedometer, twin trip meters, fuel gauge and clock. |
| Tail Light | LED |