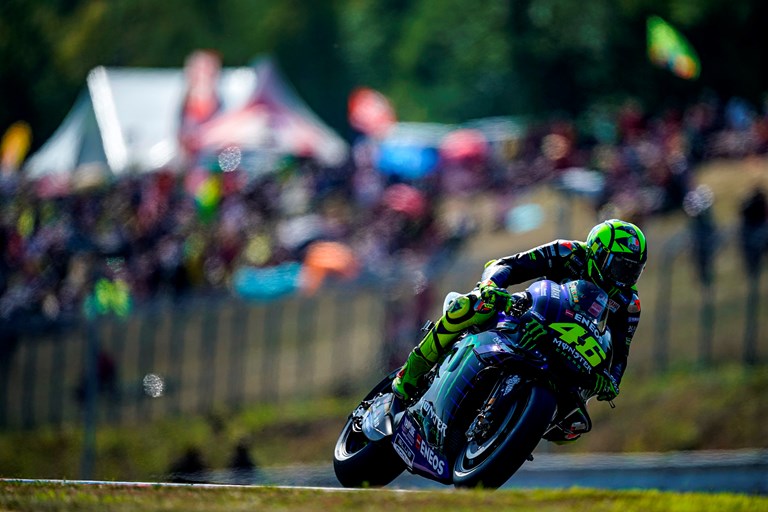 Monster Energy Yamaha MotoGP's Valentino Rossi and Maverick Viñales had difficulties finding their earlier form from the Monster Energy Grand Prix Ceské republiky weekend during today's mixed race. The team-mates lost some time at the start, but they put their heads down to ultimately take sixth and tenth place respectively.
The race, originally scheduled for 14:00, was delayed and shortened by 1 lap due to track conditions, as the start-finish straight and the first sector were wet and slippery, whilst the rest of the track was dry.
Despite the 40-minute wait, Rossi lined up in seventh position on the grid with unshaken focus. When the lights went off, he spurted to Turn 1, settling in sixth place, which he held throughout the opening lap. He was eager to find a way through on Pol Espargaró, who was rapidly losing contact with the leading four riders.
With 16 laps to go, the Doctor pulled his YZR-M1 beside his rival and made the move stick. With a clear track ahead of him, he immediately dropped high-1'57s, but he couldn't stay focused on closing the gap as a chasing Cal Crutchlow started to put on the pressure. With 13 laps remaining Rossi had to let the Brit through. The rest of the race was a lonely ride for the Italian. He took sixth place, 9.083s from first.
Viñales didn't get the start he had hoped for as he launched from P9 on the damp side of the grid. He fell back several places and crossed the line for the first time in 15th. The Spaniard struggled to get a feel for the track conditions, but after five laps he was on the move. He climbed up to 13th place, and four laps later he scorched past Miguel Oliveira.
Next up, the number-12 rider closed a large gap to take 11th position from Francesco Bagnaia and was lapping significantly quicker than Pol Espargaró and Takaaki Nakagami battling for ninth in front of him. With five laps to go, Viñales was the fastest man on track. He observed his rivals and with two laps remaining he passed Espargaró pretty comfortably but didn't have time enough to also threaten Nakagami's position. The Yamaha man ended the race in tenth place, 16.558s from the front.
Today's tenth place means Viñales holds on to fifth in the championship standings, one point ahead of Rossi in sixth place and with a 119-point gap to first. Yamaha remains third in the constructor standings, and Monster Energy Yamaha MotoGP also stays in third place in the team classification.
The team will be back in action at the Automotodrom Brno tomorrow for the one-day Brno MotoGP Test.
Valentino Rossi
Monster Energy Yamaha MotoGP Team
"Starting the race at 2PM would have been very dangerous, especially with the first sector being full wet, because everybody would have used the slicks and then arrive at the first corner all together. For me that is one of the most dangerous things you can do. So, I asked if it's possible to delay, and I think that was the right choice because in the end we had a real race that was completely dry. For sure, we're not happy about a sixth place, but I was able to ride my bike in a better way and in the end it wasn't too bad. The guys that arrived in front were faster than I was, but it was better than the last races, so this is quite positive. We have some things we want to try tomorrow. We have a new engine specification and also some other things, so as always it will be an important test and we will see."
Maverick Viñales
Monster Energy Yamaha MotoGP Team
"I started on the damp part of the track and for sure that was a small disadvantage, but Álex started in front of me, on the same side of the grid, and he was OK. I think we lost a lot of grip compared to the morning, which is something we often struggle with, with our bike, so it's something we have to improve. Tomorrow, during the test, I don't want to start thinking about 2020 already, it's too far ahead. I want to be in front in Austria, so this will be an important test to improve the bike for next weekend."
Massimo Meregalli
Monster Energy Yamaha MotoGP Team Director
"The sudden rain before the start gave us a hard time, because these are the conditions in which we usually suffer the most. We received different feedback after the race from the riders: Vale felt better in the afternoon compared to this morning, whilst for Maverick it was the complete opposite. Valentino had a decent start. He lost a bit of time in the opening laps behind Pol Espargaró but pushed to the max to get the best result possible, which today was sixth place. Maverick had a small disadvantage at the start in that he was on the wetter side of the grid. After a difficult start he had to climb up the rankings from 15th place, while overtaking with our current bike is hard. Knowing the level of performance he had in nearly all the practices, it's a shame we lost a good opportunity. We hope that the weather will be stable and dry tomorrow, because it will be an important test."