If you are on any bike group on Facebook, then you are probably sick to the back teeth of hearing about bikes being stolen. Well, this is a story that will show you that not all bikes are being stolen at the dead of night from locked garages.
I am fortunate enough to live in a lovely area of the UK, and so the risks are a far less for me losing my bike. However, a crafty thief in Australia has got the better of a Ducati owner during a Gumtree test drive that went very wrong and has left the owner out of pocket to the tune of $17K (£10K)
Mr. Warren Harrison advertised his 2015 Ducati 899 Panigale on the Gumtree and was contacted by a potential buyer interested in taking the Superbike for a spin and Mr. Warren Harrison he was pretty pleased with the thought of selling it.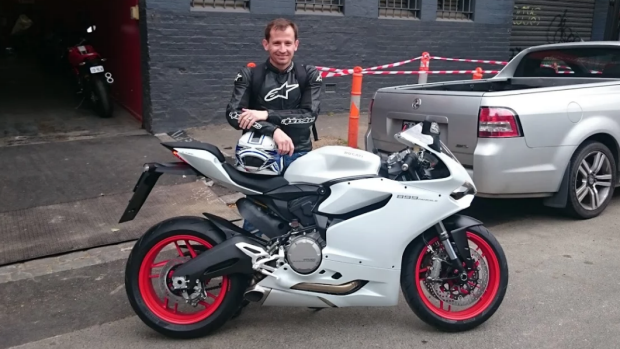 Mr. Warren Harrison's Gumtree advert described the Ducati 899 Panigale as "one of the best, if not THE best-looking bike on the road today" and something that "attracts attention wherever you take it".
"Please no test pilots or tyre kickers," he also wrote.
Mr. Warren Harrison Was contacted by a chap who said his name was Steve Williams and said he was from Bondi Junction in Sydney Australia and between them, they organised a test ride for Wednesday at 17:30.
When Mr. Steve Williams arrived, Mr. Warren Harrison made "Steve" sign paperwork to say that all fines and accidents where his problem. However, this is where the owner of the Ducati screwed up because he did not see any identification from "Steve." He said that he had left his driving license at home when he left in a rush to get to the test ride on time.
"He had his father on the phone, obviously it was all pre-rehearsed," Mr. Warren Harrison said. "Because it sounded all genuine, there was no reason not to trust him."
Hindsight is a great thing and even though this is a massive red flag to us. At the time Mr. Warren HArrisson was probably convinced that "Steve" was honest and handed over the keys to the Ducato, this is now where it gets really bad for Mr. Warren Harrison. Due to Mr. Warren Harrison handing the Keys over to "Steve" it now means that Mr. Warren Harrison is not insured for the theft.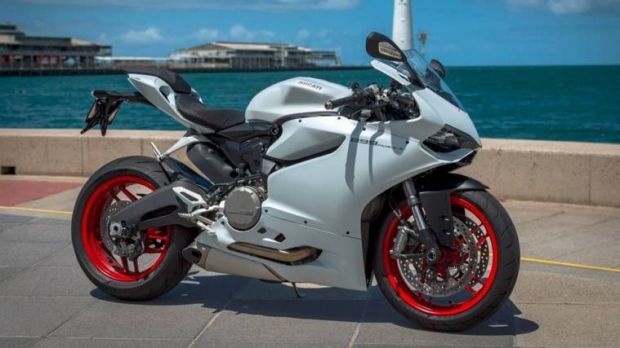 About 20 minutes into the test ride Mr. Warren Harrison received a phone call from "Steve" who said that he had been pulled over for speeding by the police. Steve went on to say that they would not let him go until they had spoken to the owner of the bike.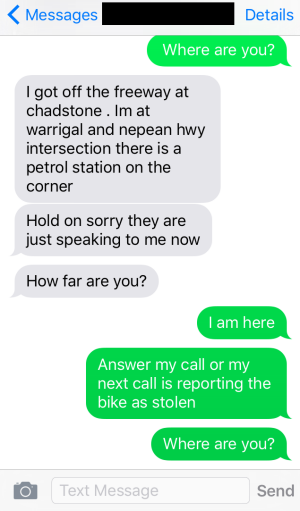 Steve gave directions to where he was, and Mr. Warren Harrison shot over there to sort out this problem.
When Mr. Warren Harrison arrived at the location that Steve had given him, the Ducati nor Steve could be found and as you can now guess none of the texts or phone calls were being answered because the phone was switched off.
MR Harrison called home to ask his wife if the car that they arrived in was still there and his heart plummeted when she said no and at that point, he knew he had been ripped off.
"It was just a ploy to get me away from the house so a friend could get the car," Mr. Warren Harrison said. "The amount of detail that has gone into this is amazing."
This story is not uncommon, and unfortunately, it is going to be getting a lot worst so if you are going to be selling your bike please make sure you take as many precautions as you can.