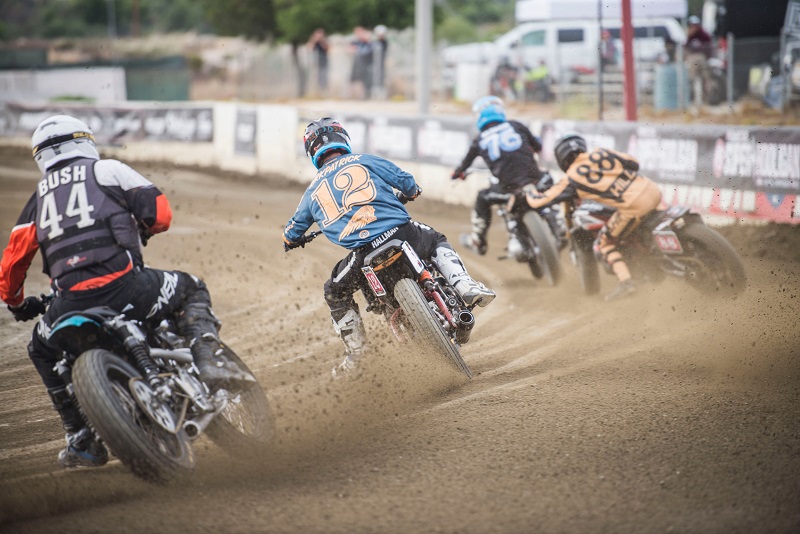 Salt Lake City, UT – As if the 2019 Nitro World Games in Utah weren't already action packed enough, Nitro World Games has expanded its race offerings by adding the high intensity RSD Super Hooligan National Championship (SHNC) to the schedule of events. Produced in partnership with the Utah Sports Commission, Nitro World Games returns August 17th at Utah Motorsports Campus.
Born from the days when racers rode their bikes to the track, competed, and then rode them back home, Hooligan racing features twin multi-cylinder motors only. Bikes are 750cc and above with 19" wheels and tires, and they must have a stock frame. High-powered motorcycles sliding sideways and banging bars is what flat track is all about and while the racing always gets close and personal, the bikes still reach speeds of close to 100MPH. Want a taste? Click Here.
The best SHNC riders including back to back champ Andy DiBrino, fan favorite Frankie Garcia, and current points leader Joe Kopp will be coming to Nitro World Games Utah to turn and burn in hopes of walking away with some cash but even more bragging rights from an extra special round of racing.
"The Super Hooligan Championship Series races are the perfect match for the Nitro World Games. SHNC riders are from every walk of life from Actions Sports athletes to welders, bike builders, artists and old pros. The one thing they all have in common is the ability to push heavy street bikes past their limits, exhibiting true heroics on two wheels." said Roland Sands, President of Roland Sands Designs.
Moto Quarterpipe, the event so big that it's impossible to miss, is back and ready for the world's best FMX athletes to take it on. Last year fans witnessed Colby Raha battle it out for the top spot but this year's field is even more stacked with riders from around the globe looking to step up to this behemoth of a FMX feature. Australian Corey Creed is back with a vengeance looking to take home the win after coming up short last year while the talented Tyler Bereman is also looking to make his mark as he was unable to compete in 2018 due to injury. All riders will have to go through Colby Raha who set the height record during last year's competition and walked away the 1st place trophy. Who's it going to be this year?
Nitro World Games has also released its robust FMX Best Trick field. With one of the most innovative set ups in FMX, Nitro World Games FMX Best Trick will be sure to deliver the biggest tricks ever seen in competition.
Nitro World Games FMX Best Trick Competitors
• Pat Bowden
• Josh Sheehan
• Adam Jones
• William Van den Putte
• Harry Bink
• Davi Johnson
• Christian Meyer
• Gregg Duffy
• Blake 'Bilko' Williams
• Beau Bamburg
Utah Motorsports Campus
UMC is the perfect venue for Nitro World Games, allowing fans to easily shift between the FMX events, the Super Hooligan racing, Nitro Rallycross, and the Fan Activation Zone. Known globally as a premier racing facility, Utah Motorsports Campus' expansive footprint makes it possible to host all of Nitro World Games' game-changing competitions at one adrenaline charged event.
Tickets are on sale now at NitroWorldGames.com. General admission tickets are available at $39 while kids' tickets (12 and under) are available at $25.
About Nitro World Games
Created by Nitro Circus and action sports icon Travis Pastrana, Nitro World Games pushes the limits of action sports competition. Featuring new big air formats, breakthrough ramp technology and innovative judging criteria, Nitro World Games shifted the landscape for both athletes and the industry alike in its 2016 debut while Nitro Circus' global livestream reached a hungry audience worldwide. With the addition of Nitro Rallycross and FMX Quarterpipe in 2018, Nitro World Games revolutionized action sports competition once again.
Now established as a premium brand in the U.S., Nitro World Games has since expanded into new territories, including the just-announced addition of Nitro World Games-Wales for 2020.
Nitro World Games 2019 sponsors include the Utah Sports Commission, Red Bull, Yokohama, cbdMD, Kevlar, Ripley's Believe It or Not, Subaru, Brimstone Recreation, and O'Reilly Auto Parts.
For more information head to NitroWorldGames.com and follow us on Instagram and Facebook.
About Roland Sands Design
Roland Sands Design is a motorcycle, product, apparel, and event company that has its roots in racing, custom bike building, and design. Their inspiration comes from a high-performance background that blends the love of two wheels with the desire to create unique products. RSD lives the two-wheeled life, and its crew is a diverse collection of road racers, off-road, dirt track, and custom bike builders and riders. It's this diversity that allows RSD to work with the best in the industry on a wide variety of projects. Follow all bike builds, new products and the life and times of the Roland Sands Design crew at www.rolandsands.com.
Roland Sands has been racing since the age of five and won an AMA 250GP national Road Racing Championship in 1998. With racing and performance as his inspiration, Sands has since become an award-winning custom motorcycle builder and founder of Roland Sands Design.
AMA Super Hooligan National Championship sponsors include Progressive Insurance, Indian Motorcycle, Dunlop, Bell, Rekluse, J&P Cycles, FOX, Motul, Wiseco, Russ Brown Motorcycle Attorneys, K&N Airfilters.
For more information head to Super Hooligan and follow us on Instagram and Facebook.