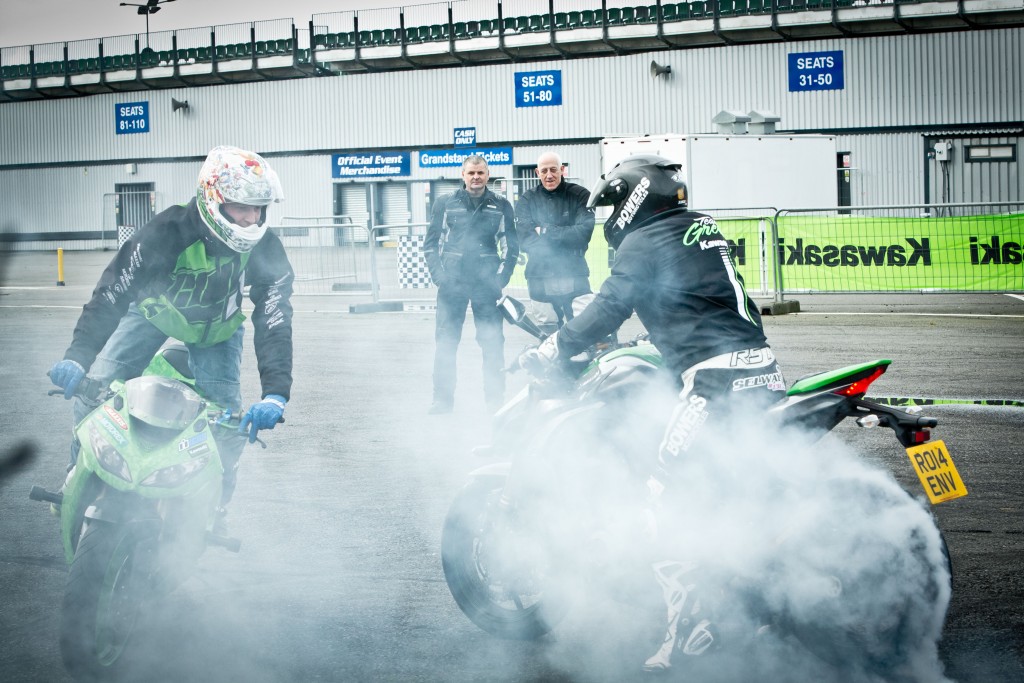 Every motorcyclist in the UK is being offered the unique opportunity of a free 60 minute skills and safety riding assessment, courtesy of the Institute of Advanced Motorists (IAM), over the next four months.
The IAM has embarked on its biggest ever free giveaway to riders to coincide with the start of spring and the beginning of the bike racing season.
And to mark the launch of the free taster campaign, #IAMRideFree, the IAM has teamed up with Kawasaki UK and Kawasaki-backed stunt riding champion Lee Bowers along with car and bike racer Emma Selway to create the ultimate skills competition. To find out who won and to see the thrills and spills of filming, click herehttps://www.youtube.com/watch?v=qAWfpTs522o
The film, shot at Santa Pod Raceway, features Lee and Emma being stopped in their high-speed tracks and set a series of slow riding challenges by IAM riding experts Mark Lewis and Richard Gladman.
Lee said: "There's little doubt that I love riding at high speeds, as do many riders, but I know that the place for it is in a safe place – and not on the road. A lot of my tricks involve needing to ride at slow speed and I've taught myself how to do different stunts. It was great to spend some time with the IAM and learn how it 'should' be done. I think the incentive they've launched is great, 60 minutes of tuition – for free."
Added Emma: "It's easy to forget the importance of slower speed skills, especially for someone like me who spends a great deal of time, in work and play, on race tracks going quickly. A lot of people see driving and riding at speed to be the skill that needs to be nailed and that fast is the only way to have fun.  I think Lee and I proved that to not be the case as we had a great deal of fun learning slow speed skills and the challenges set for us became incredibly rewarding and self-satisfying."
Mark said: "Many riders across the country will be getting their bikes out of the garage, after a long and wet winter. You know your bike needs a once over before it's safe to ride all summer long – but have you considered whether your riding might too be showing signs of wear?
"What many people don't realise is that a bit of further training can increase enjoyment massively – a point demonstrated by Lee and Emma in our video. Want to get that bend right? Make better progress? Get in touch and see what advanced riding is all about."
To sign up for the IAM free rider taster sessions visit http://www.iam.org.uk/ridefree