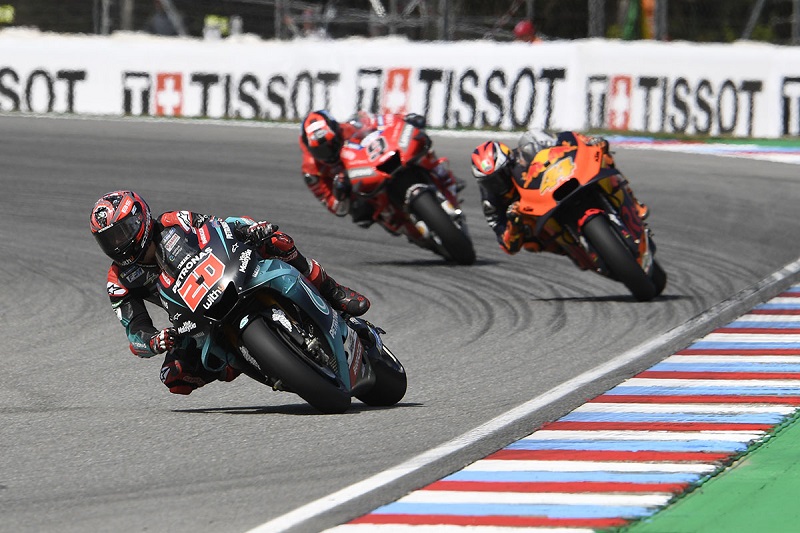 PETRONAS Yamaha Sepang Racing Team rider Fabio Quartararo has continued his recent run of strong finishes by taking seventh place at today's Czech Grand Prix. However, team-mate Franco Morbidelli was less fortunate, after contact from another rider on the opening lap of the race at the Automotodrom Brno left him out of the race.
Quartararo made a strong start and was able to settle into the fight for fifth place early on in the race despite racing a MotoGP machine for the first time in mixed wet and dry conditions. Closing down and overtaking a number of riders, he was able to come home in a strong seventh place just behind fellow Yamaha rider Valentino Rossi.
It was a less fortunate day for team-mate Franco Morbidelli though, after a first lap incident with Johan Zarco sent him and Joan Mir into the gravel. Frustrated about being denied the chance to show his potential on a day when he felt like he could be strong, he's keen to take some important set-up lessons from the weekend and build on a positive feeling with his Yamaha YZR-M1 next time out.
He doesn't have long to wait, either, with the PETRONAS Yamaha SRT squad back on track tomorrow at Brno for a one-day official test, before heading to the next round of the 2019 MotoGP action at the Red Bull Ring. Practice for the Austrian Grand Prix gets underway next Friday 9th August.
Razlan RAZALI – Team Principal –
"We're leaving Brno with mixed feelings about the results. In MotoGP, we're happy with Fabio's seventh place but of course we're not happy about Franco being taken out in the first lap. It was a different kind of race for Fabio and I think it was a good experience for him – to go from tenth to seventh in very difficult conditions will be good in the future. He's on track for his target of rookie of the year as well. We're sad for Franco of course, but I hope he can come back strong in Austria. In Moto3 we need to really analyse John's incident and get to the bottom of it, but Ayumu had a really strong weekend and we're pleased with his result. The saddest part of the weekend is Khairul Idham Pawi being unable to recover fully and to race, because he was devastated not to be able to come back strongly. We don't know when he'll be able to come back but we'll do our best to help him."
Wilco ZEELENBERG – Team Manager –
"It was mixed fortunes because Fabio did good but Franco basically got smashed off the track. We had a lot of good sessions throughout the weekend and learned a lot from riding in the wet and in mixed conditions; that will be important for other races later in the year. It was a difficult situation on Sunday but the team managed well, staying calm and keeping the riders well-informed. We knew the guys would have to manage the riders. It's a pity to have a DNF in the first lap when all you're doing is fighting and that's really disappointing as a team after preparing the race well. Fabio's target was clear and he managed the tyres very well to overtake three or four riders. He can be proud of what he achieved this weekend."
Franco MORBIDELLI #21 –
"It's a pity because it looked like I was going to be able to have a good race because I had a good feeling in warm-up and in the first few laps. It certainly felt like Zarco made an inelegant move on me, but that's racing and we'll try to come back strongly again next weekend. It's good that we've got testing tomorrow both to improve the bike a little more and to unload some of the pressure that a day like today creates. It's even better to jump straight into another race weekend too."
Fabio QUARTARARO #20 –
"Saturday was a tough day so Sunday's goal was to be top rookie and to try and be in the top eight, and we achieved both goals. It's the first race where I feel like I really had to work to save the tyres, and I learned a lot from doing that. The conditions were strange and I was a little bit stressed in the beginning because I don't have much experience, but we're happy with our result. I overtook a few riders in the race and I learned a lot from doing that, about how to save the tyres so I can be more aggressive when I need to. I tried to push at the end to catch Rossi to try and fight with him for the first time and it's a shame I wasn't quite able to close down the gap to him."