TCX has launched its 2015 collection with a selection of boots now available in dealers. The new range includes existing popular models that have undergone a complete redesign, along with a host of new models across the brands Racing, Touring, Ladies and Urban ranges, all of which are CE Certified.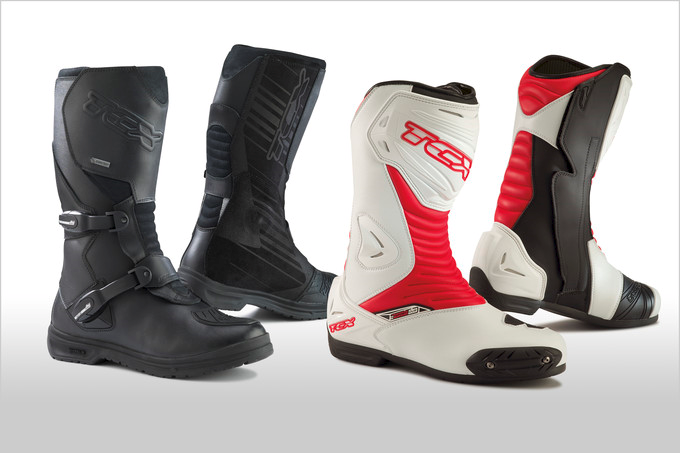 Infinity Evo Gore-Tex®
The flagship model of TCX's Touring collection is the Infinity Evo Gore-Tex®, which is a redesign of the legendary Infinity model. An ideal boot for road and endurance riding the upper is made from full-grain leather with an inner Gore-Tex® membrane, it also has a new feature that is designed to improve the hold of the foot with a band placed across the instep that connects to the upper lining – Instep Fit System (IFS).
The Infinity Evo Gore-Tex® is teamed with a new, prestigious project with Michelin, which sees the boot fitted with a Michelin tech sole – inspired by the famous Michelin Anakee III tyres. The sole reproduces an ideal tread pattern to encourage the outflow of water and mud while also guaranteeing ultimate stability and grip in all conditions. The Infinity Evo Gore-Tex® is priced at £279.99.
S-Speed Gore-Tex®
The S-Speed model is now available with a Gore-Tex® membrane for improved waterproofing and breathability. The upper part of the boot is made from soft full grain leather, it has microinjected inserts and a padded front joint that allows better movement of the instep. The boots also feature TCX's T.C.S® (Torsion Control System), which allows lateral and longitudinal movement of the ankle within its limits and prevents excessive torsion and the risk of joint fracture. The Speed Gore-Tex is priced at £199.99.
S-Sportour Evo
An entry-level boot into TCX's Racing line, the S-Sportour Evo offers a lot of bang for your buck. It has a polyurethane heel guard with wire netting inlets, which is a new design to ensure a maximum hold of the foot, increasing the resistance to impact. The malleolus guard has been reinforced and the perforated front joint enhances both comfort and flexibility, while an elastic band positioned by the zip allows an easier fit and respects different foot shapes. A waterproof version is also available. The S-Sportour Evo is priced at £119.99 and the waterproof version £139.99.
X-Five Evo Gore-Tex®
Another boot to get redesigned is the X-Five, which is now the X-Five Evo Gore-Tex®.  The overall height of the boot has been shortened from previous versions and features front and rear folds, which are padded for extra comfort and an elasticised zip fastening has been designed to provide a closer fit while respecting all foot shapes. The boot can be used in all weather conditions with its waterproof and highly breathable Gore-Tex® membrane, as well as comfortably for long periods of time with the addition of a new cushioning anatomical and removable footbed. The X-Five Evo Gore-Tex® is priced at £189.99.
Heritage waterproof
New in the custom line is the Heritage waterproof, the boot has a full grain leather upper that has been brushed to achieve a vintage look, as well as a waterproof membrane. It has a thick rubber sole, with knobbed tread, to maximise grip and the footbed is anatomical and removable. It also has thermoplastic reinforcements on the counter and toe for protection in case of impact. The Heritage waterproof is priced at £159.99.
Lady Classic waterproof
The Lady Classic waterproof has been deigned to perfectly fit a female foot and has a small 6cm heel. Made from full grain leather, with a waterproof membrane the boot also features a padded joint positioned just below the shin for comfort. The calf has an elasticised panel insert for increased comfort and protection is ensured with a rigid malleolus insert, a semi-rigid thermoplastic shin insert and a reinforced heel and toe. The Lady Classic waterproof is priced at £149.99.
The S-Speed Gore-Tex® is now available in UK dealers, while the S-Sportour Evo / WP, Infinity Evo Gore-Tex®, X-Five Evo Gore-Tex®, Heritage waterproof and the Lady Classic waterproof will be available from November.
The complete TCX 2015 collection will be on show at Motorcycle Live, The NEC Birmingham from 22-30 November 2014 on stand 3D40.
To find your nearest TCX dealer visit  www.nevis.uk.com or call Nevis Marketing on 01425 478936.