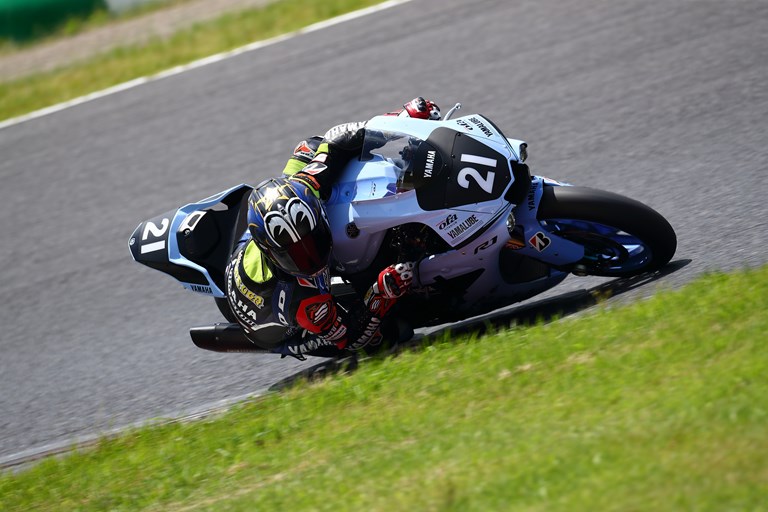 Conditions were fully wet from the morning of Day 3 of the combined test for the Coca-Cola Suzuka 8 Hours Endurance Race. For the Yamaha Factory Racing Team the rain was welcome, as they had lacked wet testing time. Days 1 and 2 allowed the team to get a solid handle on the setup in the dry, and on Day 3 they worked to confirm how the bike felt in the wet.
Katsuyuki Nakasuga rode alone in the first 40-minute morning session starting at 9:00 a.m., while Kohta Nozane rode alone in the second 40-minute session starting at 10:50 a.m. In the final session at 2:00 p.m. both riders went out to perform their final checks and practice pit stops, before finishing up ahead of the scheduled 3:30 p.m. end of the session. Over the course of the three-day test the team had the chance to ride in various kinds of conditions and get a solid overall feel.
As with Day 2, the YART Yamaha EWC Team was scheduled to take part in the two morning sessions and one afternoon session, but a change of plans saw them ride in both morning sessions and not take part in the afternoon session.
In the morning the team was mostly focused on selecting the best rain tyres in case of a wet race. They tried different kinds of tyres to find the one that best suits a wet Suzuka Circuit. Once they had heard each rider's impressions and decided on the direction to take, they made the choice not to participate in the afternoon session, and with that they wrapped up the three-day test with no major incidents and having found a positive feeling with their YZF-R1 and the tyres.
After this, all the YART team members planned to head home for a relatively short break before the next combined test on July 24, after which they will head into the actual 8 Hours race weekend, which is also the final round of the 2018–2019 Endurance World Championship season for the team.
Katsuyuki Nakasuga – Yamaha Factory Racing Team – Suzuka 8H Test
Katsuyuki Nakasuga
Yamaha Factory Racing Team – 2'21.786
"Our setup is solid for the dry, but I wanted to have a chance to ride in the wet as well, so today was very important for us. Of course I'd rather the entire race be dry, though. This test has been productive and has given us a lot in preparation for the race. Next up is the race weekend, so I'm looking forward to getting together both of my teammates, and I want us to work together to get the best result we can."
Wataru Yoshikawa
Team Manager – Yamaha Factory Racing Team
"We had a wet test today, which we'd been wanting to do, and the direction we've been taking with the machine in the dry seems to have no issues in the wet either. Figuring that out was a big plus for us. Including today's wet conditions, we got to work on a lot of possibilities during the three days here, so for us it was a very thorough and positive test."
Broc Parkes
YART Yamaha EWC Team
"Today we only rode in the morning session. Both for me and my teammates, we all had lap times that were plenty fast. I've ridden on Bridgestones in the wet at Suzuka several times before and I know how well they work here, so our fast times were to be expected. For this test, we were consistently quick, and all things considered it was a great three days. But for us, going up against teams with factory bikes, including F.C.C. TSR Honda, with our EWC-spec R1, I know it will be a big challenge. But you never know what can happen in endurance racing. That's why we have to give it our all and never give up."
Niccolò Canepa
YART Yamaha EWC Team
"If you look at this season, my first on the YART team, I have one experience riding in the wet in Slovakia. So this was my first time on Bridgestones at Suzuka in the wet. It rained a lot so there was a lot of water on the track, but I got a solid feel for it, and looking at the test overall I think it was very, very good. We have one more test and after that the race. I think we can aim for the top five, but with some luck we can do even better. If we stay focused and push our machine hard I think the podium is within reach. F.C.C. TSR have been our rivals throughout the season, and it looks like they'll be riding factory bikes for the 8 Hours this year. But I know our R1 is really fast too, so I want us to finish as the top EWC team."
Marvin Fritz
YART Yamaha EWC Team
"It rained all day today. I rode last year at Suzuka in the wet for three days and I had a good feeling then, so I wasn't really worried. In today's first session we tried one tyre, and in the second session we tried a different one. With that, we found one that was really good, so we were able to set some fast times with it, and it was good practice to get in before the race. The 8 Hours is always really hot, so I'll work to be in my best physical condition before the race weekend. I've already done faster times than I did last year, and our team is strong and we're really motivated. We're shooting for the top five, but I think it's possible for us to be on the podium."
Mandy Kainz
Team Manager – YART Yamaha EWC Team
"Basically, it was a test we can be really satisfied with. We got both wet and dry track time, we did fast lap times, we had no big problems and no crashes, so it was great overall. Because of that, I think we've put together a really strong machine for the race, and considering this, we just need to go into the race and do our best. I think we can realistically aim to finish in 5th to 7th, but of course we want to be on the podium at Suzuka. That's because no matter what, when you're racing you always have to think about winning. You never know what good luck there might be, so we've got to give it our full effort and fight hard."