It was June 11th 2013 when Yamaha surprised the biking world with the announcement of the imminent arrival of the naked motard MT-09. Right from the beginning we made it clear that this new bike would be the first model in the MT family, and it was hard to believe that in just one year a total of five new MTs would have been introduced.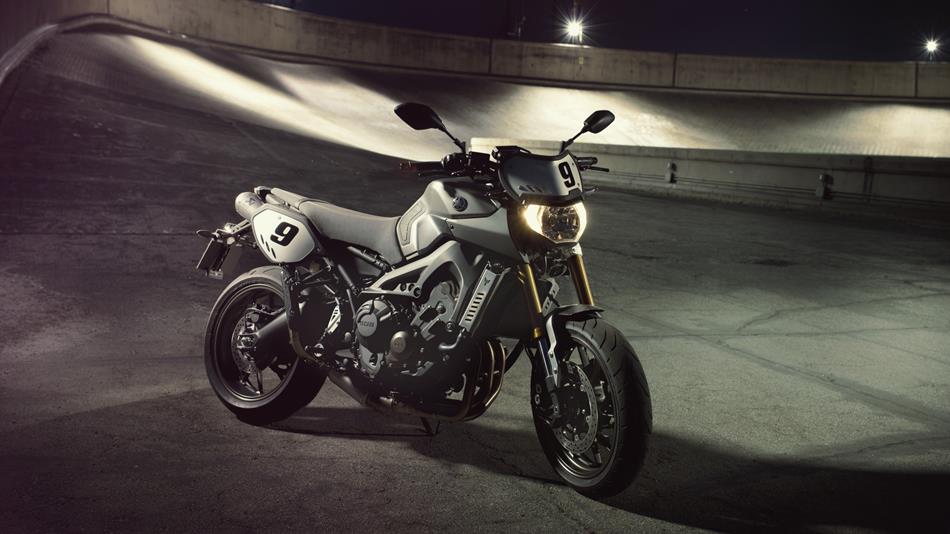 By offering today's customers an original and refreshing mix of radical styling combined with strong all-round performance and good value, the MT-09 triple (together with the MT-09 Street Rally hi-motard variation) and the MT-07 twin have shot to the top of their respective sales leagues in Europe. And the recent addition of the new MT-125 will bring a whole new streetfighter look to the 125cc class.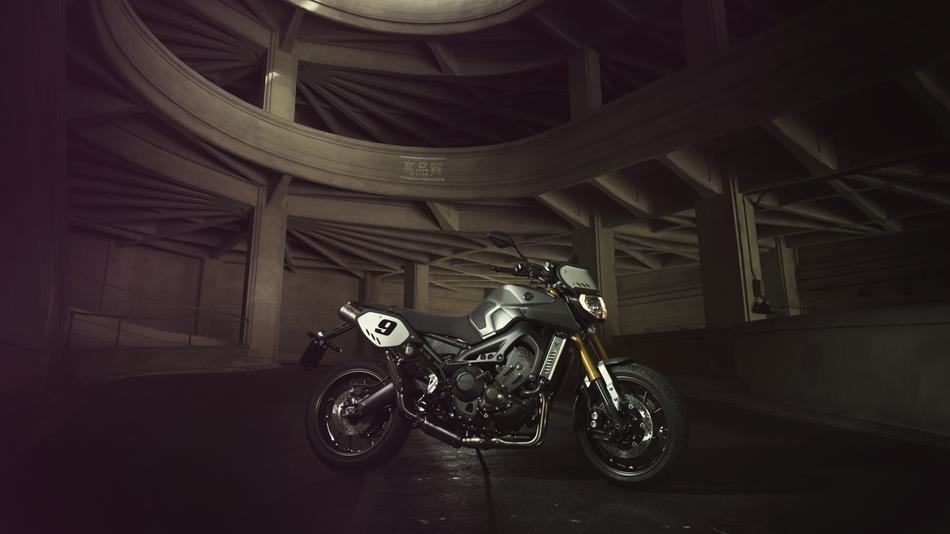 With a unique style and individual character that's been inspired by the Dark Side of Japan, Yamaha MT models have captured the imagination of those riders who want a new kind of motorcycle that delivers pure riding emotion.
To celebrate the first anniversary of the renewed MT line, Yamaha is proud to announce the 5th chapter: the new MT-09 Street Tracker. Based on the successful MT-09, this new variation model is a scrambler-inspired bike that is equipped with a range of special high quality components. Built for riders who are searching for more emotion and individuality, the MT-09 Street Tracker offers a cool and sophisticated new look.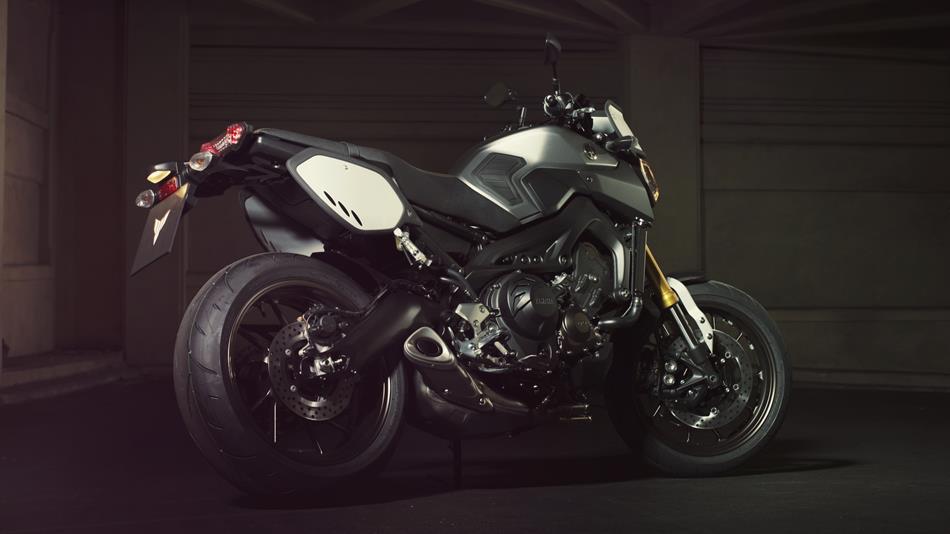 New MT-09 Street Tracker
Yamaha's design team have taken their inspiration from the dirt track scene and added a touch of street scrambler influence to create a new kind of MT-09. Equipped with a range of specially developed high quality components, and featuring a unique matt finish to the frame and bodywork, the new MT-09 Street Tracker is the ideal choice of bike for those riders who are looking for a sporty and sophisticated look with a touch of vintage style.
High quality professional components
The widespread use of specially developed aluminium and carbon components give the new Street Tracker a distinctive competition-inspired look that is sure to stand out on the street. The front of the bike features a short carbon front fender with aluminium stays, and there's also a new aluminium front number plate that accentuates the track bike image and offers additional upper body wind protection.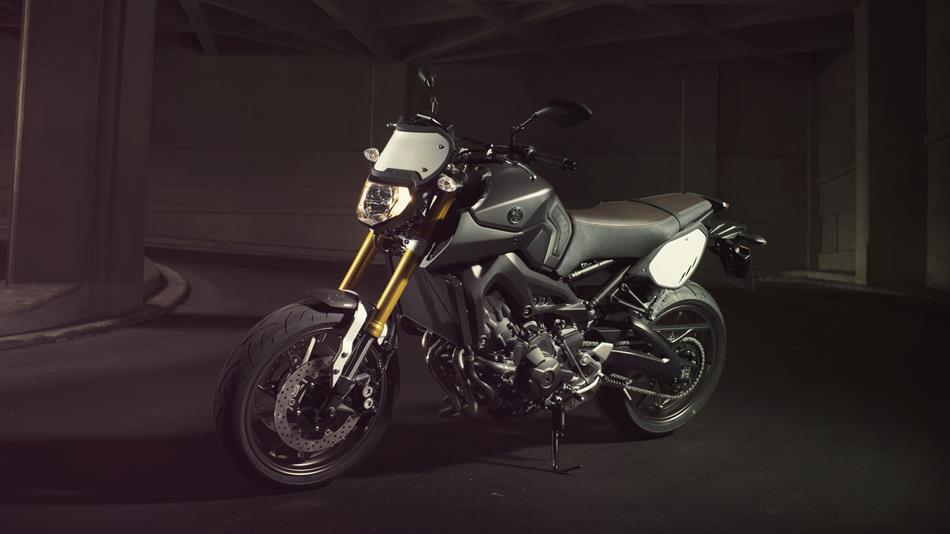 Aluminium is also used for the new side number plates to emphasize the race-bike style, and the track-bred image is also highlighted by the use of a high quality billet aluminium handlebar tensioner.
Two-tone seat, new knee grips and wide footrests
The angular matt grey fuel tank is equipped with new knee grips, and the MT-09 Street Tracker is also fitted with a two-tone seat featuring a brown leather top with black Alcantara-look sides. The combination of the long and flat seat together with the knee grips and new wider footrests allows the rider to shift weight during acceleration, braking and high speed cornering, to give an increased feeling of controllability and a more 'connected' riding experience.
Unique new matt colour scheme
Matt colours are been used throughout the new MT-09 Street Tracker, and together with the use of high quality components the special finish gives this dynamic new model a mature and sophisticated look.
For the first time the MT-09 features a totally black frame, and the 850cc 3-cylinder engine is also treated in understated matt black and features a bronze coloured cylinder head, while the dark bronze wheels complement the gold coloured upside down forks to give a classy and authentic look.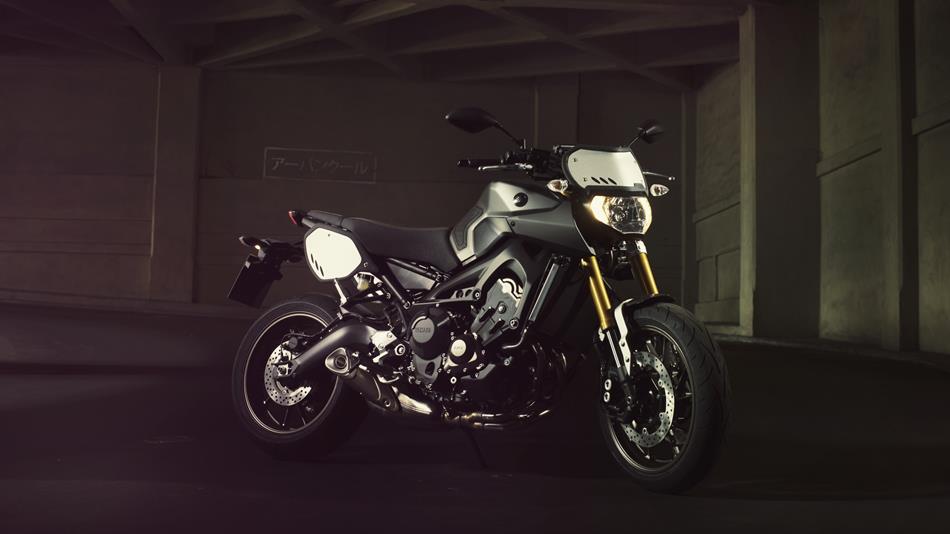 Optional high-level Akrapovic exhaust
Riders looking for the ultimate MT-09 Street Tracker have the option to fit an exclusive high-level Akrapovic exhaust system that has been specially developed for this new addition to the MT family. Exiting to the right side of the bike's stubby tail, this high quality accessory offers increased cornering clearance and its gutsy tone perfectly complements the track-inspired image of this vibrant and exciting new motorcycle.
Track inspired image
Dirt tracker/street scrambler look
Aluminium front number plate
Short carbon front fender with aluminium stays
Aluminium side number plates
Slim and flat two-tone brown/black seat
Knee pads for extra grip and control
Wide foot pegs
Billet handlebar tensioner
Matt black frame, matt bronze wheels
Hi-level Akrapovic muffler available as an accessory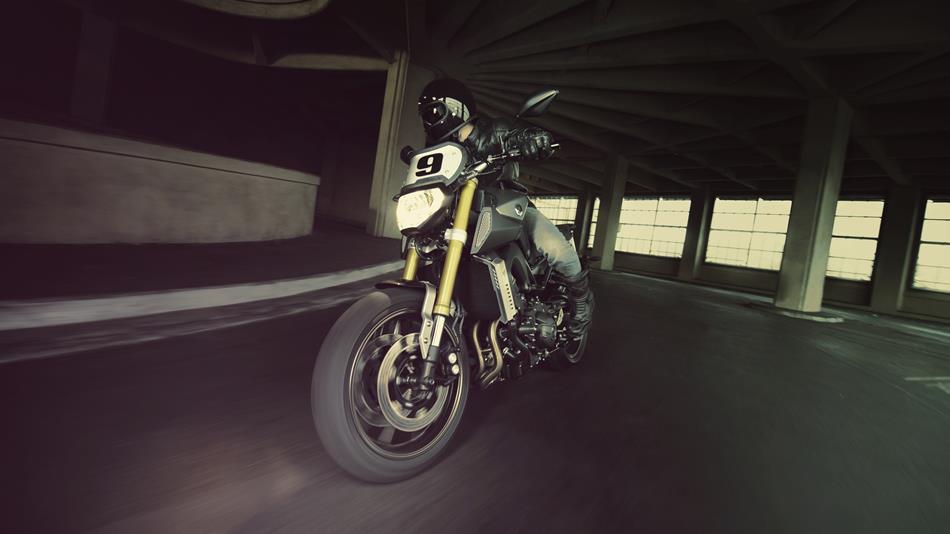 UK Availability
Late August onwards
Disclaimer
* The MT-09 Street Tracker is a special edition built up by an official Yamaha dealer with genuine Yamaha parts.
Technical Specifications
For full technical specifications of all models in the range, please go to: www.yamaha-motor.co.uk