An Eighties icon roars back to life with Yamaha's Sport Heritage twin- cylinder
The Yard Built project was created to transform Yamaha Sport Heritage motorcycles into specials that fire up the imagination and passion of riders who primarily want a unique looking custom bike. A new chapter has begun in this story and this time LowRide has accepted Yamaha's challenge. LowRide is Italy's leading magazine devoted to cruisers and choppers and has always promoted the customisation culture and highprofile internationals bike shows. The editorial staff at LowRide have an incredible personal passion for hand-built creations and this led to the idea of transforming the new Sport Heritage Yamaha XV950 into a street racer with an artisan flavour by altering the riding position and styling to really bring out the sports spirit. The world's top customisers identified with the Yard Built Special philosophy and have already successfully experimented with bobbers, street trackers, cafe racers and choppers. LowRide wanted to create something really amazing so it turned to Yamaha's heritage and decided to dust off the Eighties style with a replica of the legendary Yamaha FZ750, the highly influential sports road bike.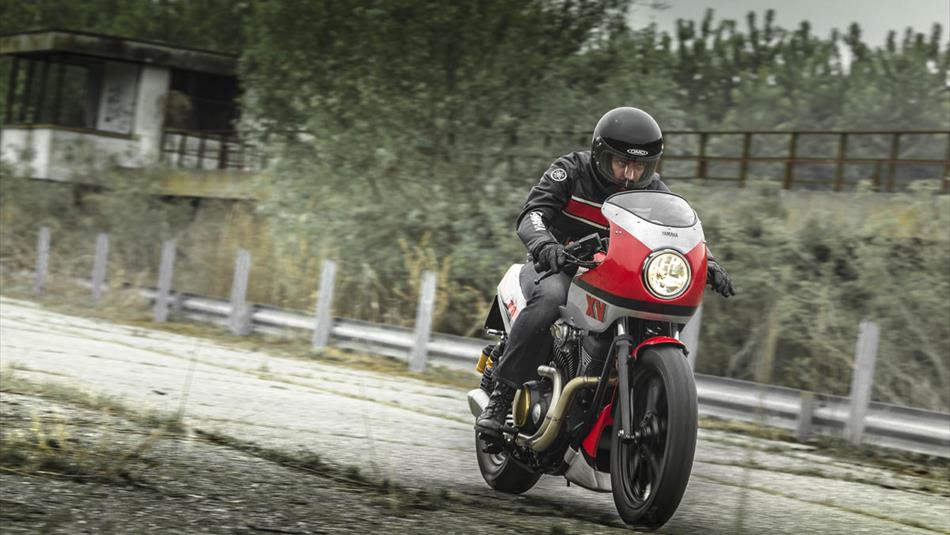 A real key aspect of the project was to achieve exciting results with only a handful of reversible and easy-to-do alterations, without radically changing the product philosophy, reliability and functionality of the standard model. Its generous twin engine produces good torque, while the balanced handling means it's the best buddy to have on any road trip, even when the going gets tricky. Dynamic yet easy to ride, the new Yamaha XV950 proved from the get-go that it had incredible potential in the custom market, which the Pure Sports now takes to the next new level.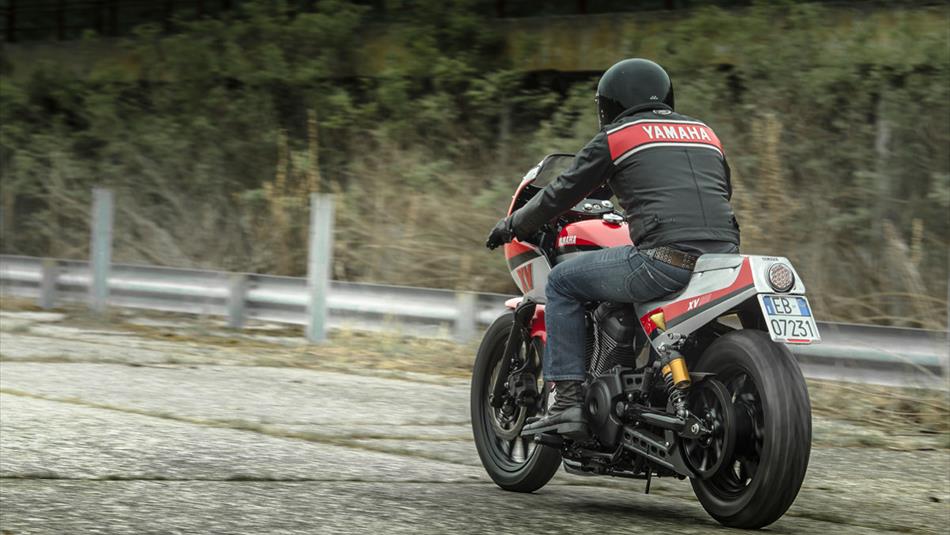 According to the editor at LowRide, Giuseppe Roncen, the style choice is a tribute to pragmatism spiced up with a pinch of 1980s nostalgia, "We had so much fun riding the new Yamaha XV950 on the sun-drenched, winding roads up and down the hills of California during its international press launch. Once we got it on the tricky streets of Milan we appreciated how easily it handled and we literally made sparks fly climbing the Apennine Mountains thanks to the roll-on acceleration of its twin engine. We tried to unleash its sports soul but without compromising the easy ride-ability, comfort and enviable balance. Without indulging in an exercise of style just for style's sake, our team set about restyling with absolutely no compromises on dynamics and functionality."
A total custom freak for anything on two or four wheels, Danilo Seclì, XV950 Pure Sports project leader, explained the philosophy, "We really love the radical off-road interpretations by others, however we aimed to do more than just make an awesome impression. Our "creature" is meticulously designed in minute detail and built to be exhibited at the leading custom shows. But we also wanted our special to allow the rider to travel with a passenger to on-the-road meets and rallies. Our approach was to suggest ideas that could really be replicated without too much effort and we hope that the Yard Built XV950 Pure Sports can inspire people in the custom bike scene to try new alternatives." Yamaha's incredible history provided an endless source of ideas "Amongst Yamaha's most emblematic models we identified the legendary FZ750 as a worthy
representation of an entire era. Everyone can picture their ideal street racer; this is ours. It was created for having fun and making an impression without compromising on the all-round safety and industrial quality of a modern Yamaha… It's unique, sporty but not extreme. Anyone can ride this bike and appreciate it. Thanks to the way the standard Yamaha XV950 is built, we reckon that you don't need to have expensive special parts and irreversible alterations to realise the dream."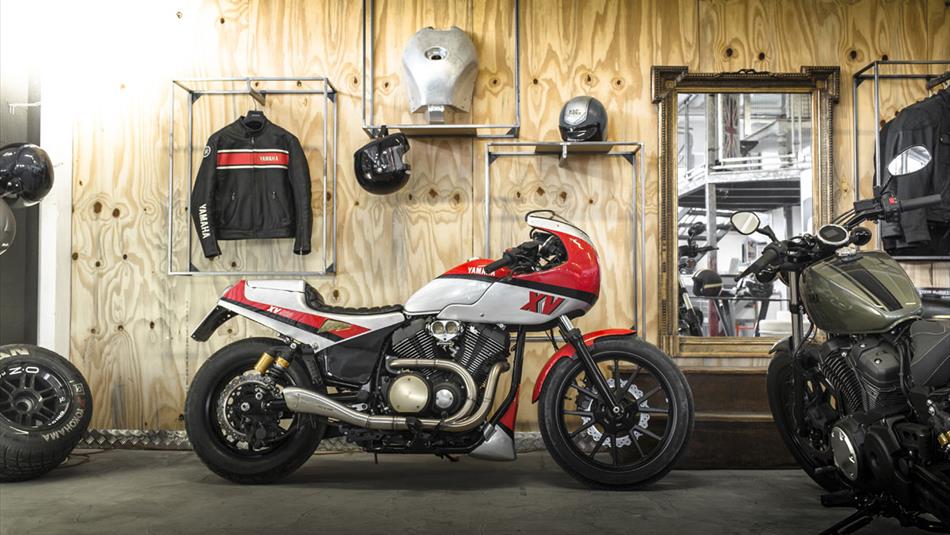 Radically changing the look of a standard motorcycle is easy; altering the appearance while improving its dynamics without cutting or welding anything, keeping costs down and respecting the original project though is more difficult to do. This special looks radically different from the basic model yet the chassis, mechanics, and electrics are all still perfectly standard.
Using an half fairing, tail unit and cowling inspired by the Yamaha FZ750, the LowRide team has produced a Yamaha XV950 model complete with ABS system. The style of the renamed "Pure Sports" special – as used to be written on the fairing of the iconic FZ750 – has been masterfully defined by the Italian designer Oberdan Bezzi and combines aesthetics with genuine custom build potential. All the work is bolt-on, reversible and replicable, so you can create easy to assemble bodywork in metal or composite materials, which makes it easier for dealers, customisers or bike enthusiasts to build their own interpretations. The project's technical coordinator is Andrea Radaelli from Radikal Chopper, a Milanese customizer and winner of the Scrambler & Racer category in the contests at EICMA Custom 2013 and Motor Bike Expo 2014. Based on his suggestions the bodywork was handcrafted by Simone Lecca from Metal Bike, who creates unique pieces hand fashioned out of sheet aluminium in his workshop just outside Turin. No moulds or dimensional drawings: this is the work of a craftsman based solely on sketches andrenderings and built directly onto the motorcycle. Steel tubular bars to reinforce the half fairing and the tail unit are attached to the frame's preexisting mounting points. The paintwork by Kaos Design is outstanding thanks to a special scratch effect that accentuates the handcrafted work inthe silvery and metallic colour. Black and pastel red graphics reproduce the Yamaha FZ750 design from 1985, harmonising the artisan parts with the standard fuel tank. The indicators and mirrors supplied by Rizoma together with the solid handlebars are priceless yet standardised.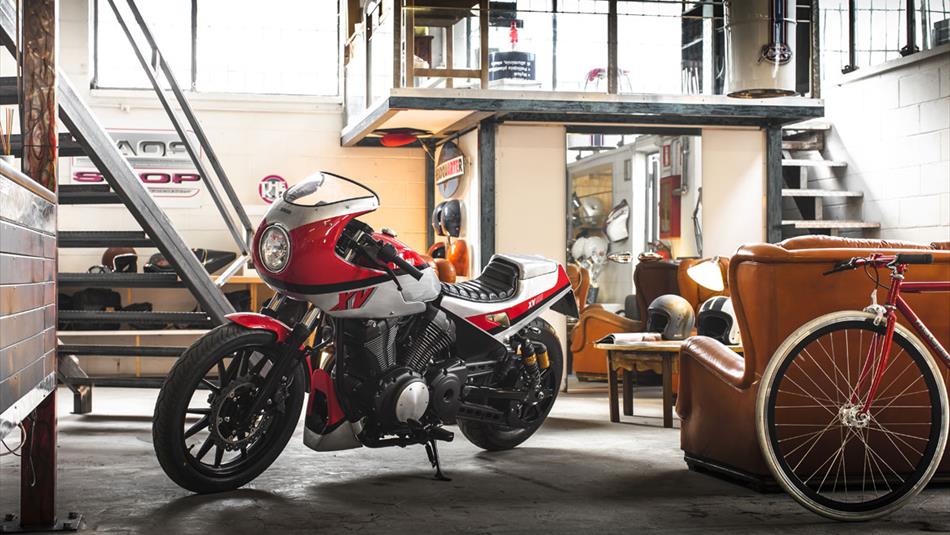 The rider's seating position is sportier but not too extreme and can be easily adjusted thanks to double joint bars; the footrests are stock. The leather saddle is made by Laboratorio della Pelle e del Cuoio using traditional techniques and is higher by about 120mm. The setup perfected by the Yamaha designers remains unchanged. The tyres, rims, ABS braking system, forks, frame, mechanics and all the electrics are totally standard issue. The only concession to sound is the 2-into-1 exhaust pipe which is custom designed by HP Corse; the trapezium section tip is more compact and lighter than the original.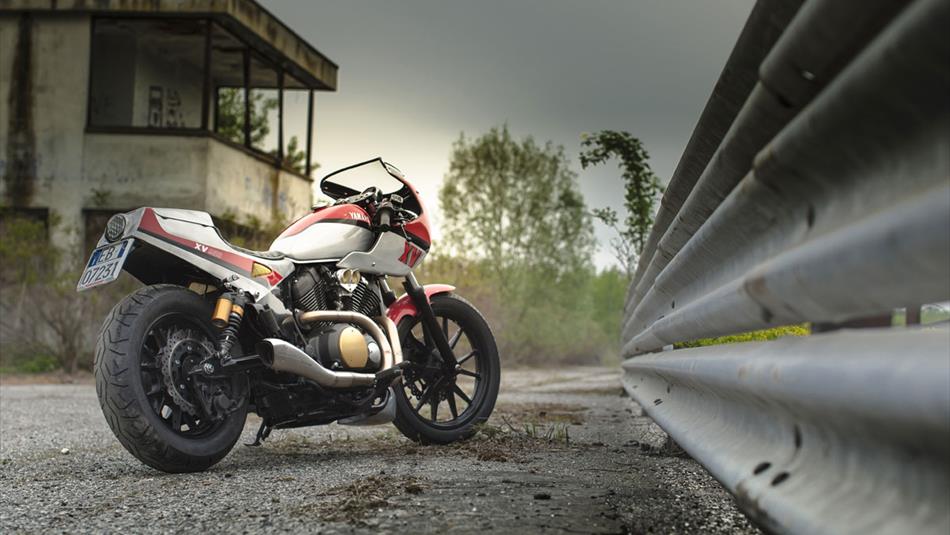 YARD BUILT, INSPIRED BY YAMAHA
There are riders in garages all over the world who dream of building their own motorcycle with their own completely individual stamp. Yamaha is helping them fulfil their ambitions by asking some talented bike makers to create Yard Built specials, motorcycles that provide inspirational ideas for
customers who want to customise a Yamaha model.
Yamaha unveiled three breathtaking Yard Built models at EICMA 2013 that were built by selected representatives from the custom bike scene, based on new models from its Sport Heritage range. From Deus Ex Machina came the revamped but timeless Yard Built XJR1300 'Eau Rouge' with a classic endurance twist. The Danes at Wrenchmonkees immediately got to work on reinterpreting the new Sport Heritage Yamaha SR400 by creating their Yard Built SR400 GibbonSlap, and the SR400 B.S.R. was built by an original Japanese based bike builder.
The story continues
SPECIFICATIONS: YARD BUILT XV950 Pure Sports
Base model: Yamaha XV950 ABS
Concept and development: LowRide Magazine – Italy
Rendering and styling: Oberdan Bezzi Design
Coordination and assembly: Radikal Chopper
Sheet aluminium half fairing, cowling and tail cowl by Metal Bike
attached with steel tubular bars to the frame's pre-existing mounting points
Paintwork by Kaos Design, silver with a scratched metal effect
Dual seat in bond grain leather by Laboratorio Della Pelle e del Cuoio
Stainless steel 2-into-1 exhaust pipe by HP Corse
Double joint clip-on-handlebars by Motocicli Veloci
Rizoma LED indicators
Rizoma billet mirrors
Technical Specifications
For full technical specifications of all models in the range, please go to: www.yamaha-motor.eu