A true riding academy to suit every need and level, on board the most beautiful, exclusive and high performance Ducati bikes of course. Strengthened by the success and approval obtained in the last thirteen years of activity, the Ducati Riding Experience returns for 2016. Courses at the prestigious school can be booked via the website dre.ducati.com.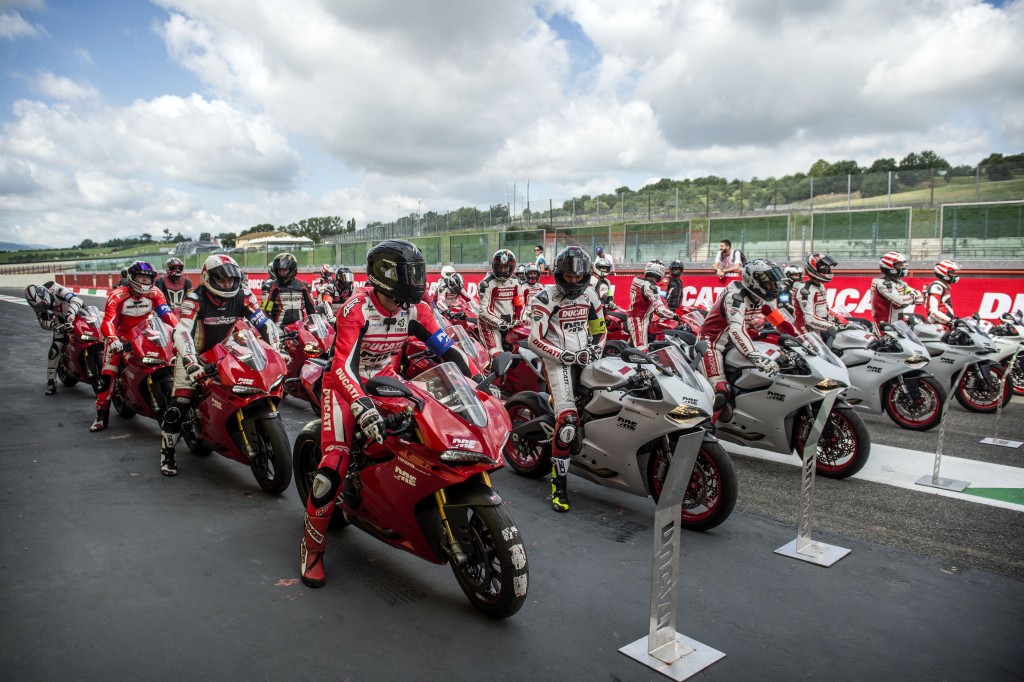 As DRE 2016 registration opens, Ducati offers another new feature, enriching the range of courses with the DRE Enduro, an authentic off-road riding school featuring the new Multistrada 1200 Enduro. A course designed for motorcyclists who want to perfect their technique to be able to take on any type of terrain. The Technical Director of this new DRE course is "dakarian" Beppe Gualini, who has vast off-road experience. The DRE Enduro school will be held at the Castello Nipozzano, the famous and historic estate owned by the Marquis Frescobaldi, a location that adds further appeal to this new Ducati initiative. Course dates, information and booking methods will be available from March at www.ducati.com.
The Ducati Riding Experience 2016 offers structured courses on track for every experience level, from the Intro and Precision courses, for those who want to perfect their road riding in absolute safety to the four track levels. Track Evo, Track Warm Up, Track Master and Champs Academy are the courses that take place on track, led by professional riders on board the most high performance Ducatis of all time.
For DRE 2016 Ducati has selected two of Italy's most prestigious racetracks, such as the Misano World Circuit Marco Simoncelli and the Mugello Circuit. Tracks that host such spectacular shows as the MotoGP and SBK races, where support and passion unite fans who come from all over the world to cheer on their heroes. Together the dream becomes a reality and participants in the 2016 Ducati Riding Experience can improve their riding style and technique at these iconic racetracks.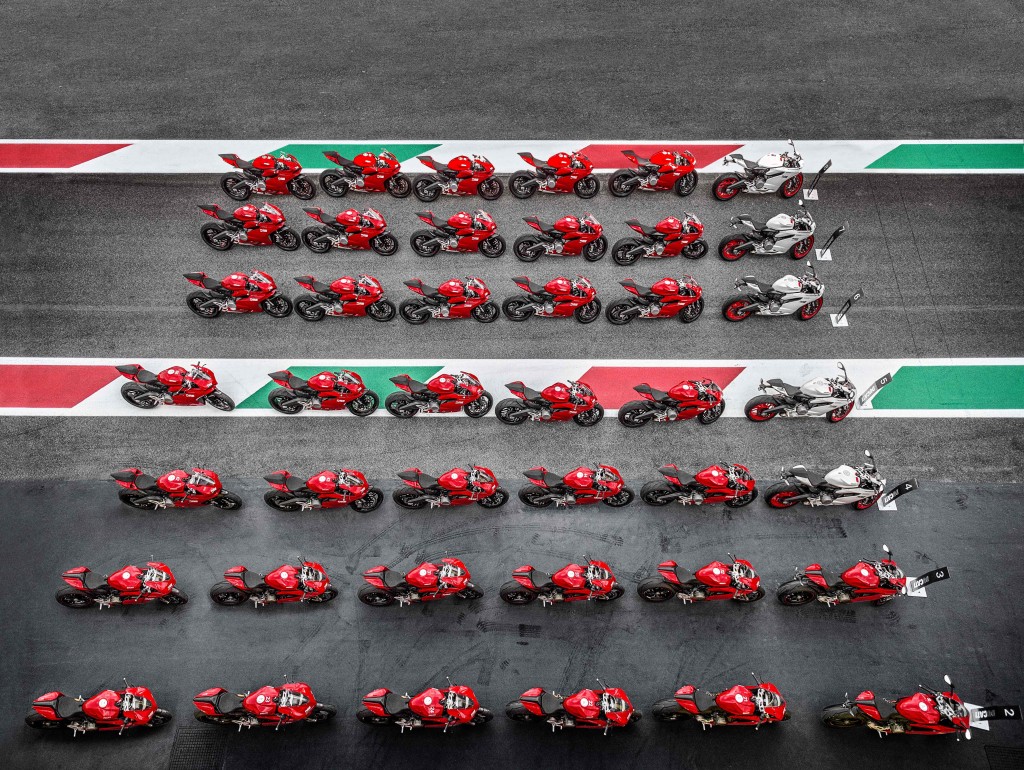 For the 2016 edition, Ducati has further improved the format of the track course to offer an even more exciting and educational experience by increasing the number of track sessions for the Track Master and Champs Academy courses. This, with the added value of World Champion Carlos Checa, who will guide Academy pupils on track.
In addition, during DRE 2016 days, those taking part in the Master and Academy courses will also be able to benefit from a data acquisition service, thanks to the DDA (Ducati Data Analyzer) mounted on all bikes used for courses. A specialist technician will be available to support participants.
On top of all this is a truly significant bike pool. The new Ducati bikes available to customers include the Panigale R, the supersport par excellence with its 205 hp for the Champs Academy. Synonymous with performance, style and technology, the 1299 Panigale S is the star of the Track Master course, while the 959 Panigale is the bike of choice for those on the Track Warm Up and Track Evo. For those who love to perfect their riding experience, both in terms of daily bike use and when embarking on short and long-range journeys, the DRE bike park for Precision courses includes the new Hypermotard 939 and Hyperstrada 939, as well as the ultimate naked, the Monster 1200 and 1200 R, another new feature for DRE 2016. On the Intro course, participants will ride the Monster 821, ideal for those who want to learn more about the world of biking or refine their riding style.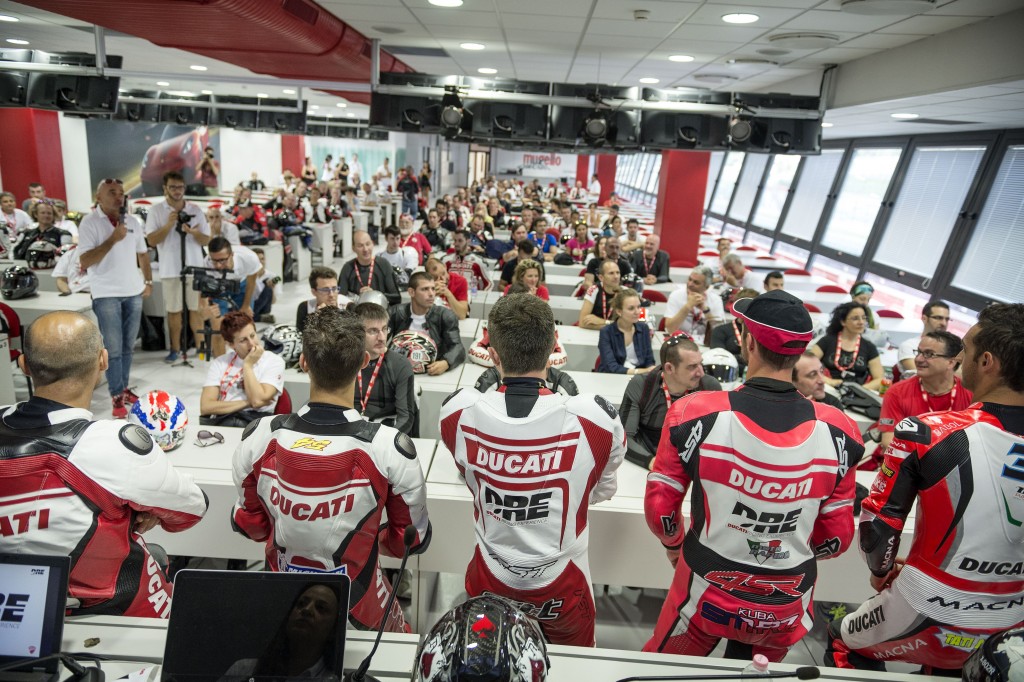 All participants in DRE 2016 can hire technical clothing to suit the particular course. Available for hire during the 2016 edition (subject to availability), and with a special design, is the D|air® Racing Ducati Corse leather suit with its sophisticated D|air® system, intelligent protection based on the airbag to ensure motorcyclists' safety on track.
The DRE has always benefitted from a team of instructors madeup of expert riders who boast World, European and National titles. Confirmed for 2016 are: Carlos Checa (Superbike World Champion in 2011 with the Ducati 1198), Dario Marchetti (technical director and chief instructor, a very experienced rider), Michele Pirro (official Ducati Corse test rider for MotoGP since 2013 and Italian champion Superbike in 2015) and Argentinian Leandro Tati Mercado (2014 Superstock World Champion). Completing this prestigious list of highly-qualified instructors are Alessandro Valia (official Ducati test rider for production bikes since 2007), Michele Pirro (official Ducati Corse test rider for MotoGP since 2013, he takes part in various MotoGP races as a wildcard), Matteo Baiocco (official Ducati Corse test rider for the Panigale Superbike), Manuel Poggiali (125 World Champion in 2001 and 250 World Champion in 2003), Paolo Casoli (Supersport World Champion in 1997) and Andrew Pitt (Superbike World Championships in 2001 and 2003). These names to which we add other instructors of undeniable talent, will ensure that the DRE 2016 courses are exciting and educational for all the participants.
DRE 2016 Calendar
04, 05, 06 May – Mugello Circuit
06, 07, 08 June – Misano World Circuit Marco Simoncelli
05, 06, 07 September – Mugello Circuit
To register and receive more information about the courses and calendar: dre.ducati.com
To learn about the DRE community: www.facebook.com/groups/ducatidre
More information on the DRE Enduro and booking methods will soon be available at www.ducati.com