Six riders have bought an FTR 750 to compete on – Kenny Coolbeth Jr., Henry Wiles, Jeffrey Carver, Jake Johnson, Chad Cose and Jay Maloney
MINNEAPOLIS – Six American Flat Track privateers are turning to Indian Motorcycle Racing's Championship winning Scout FTR 750 for their 2018 season.
The Scout FTR750 captured the 2017 American Flat Track Manufacturer's Championship and swept the 2017 standings with Indian's Wrecking Crew Jared Mees, Bryan Smith and Brad Baker finishing first, second and third, respectively.
The six privateers running the Scout FTR750 include:
three-time Grand National Champion Kenny Coolbeth Jr.,
2017 fifth-place finisher Jeffrey Carver (Roof Systems of Dallas, TX)
Chad Cose (Indian Motorcycle of Oklahoma City)
Jay Maloney (Indian Motorcycle of Springfield, MA)
Additionally, flat track's TT master Henry Wiles and two-time Grand National Champion Jake Johnson (Estenson Racing) will ride the Scout FTR750 intermittently this season.
Kenny Coolbeth will ride the Indian Scout FTR750 throughout the entire 2018 season and said: "After seeing the Scout FTR750's capabilities last year, I couldn't be more excited to be riding it this season. I've been training hard this offseason and I'm looking forward to competing this year and giving the Indian factory team some competition now that we're all on the same bike."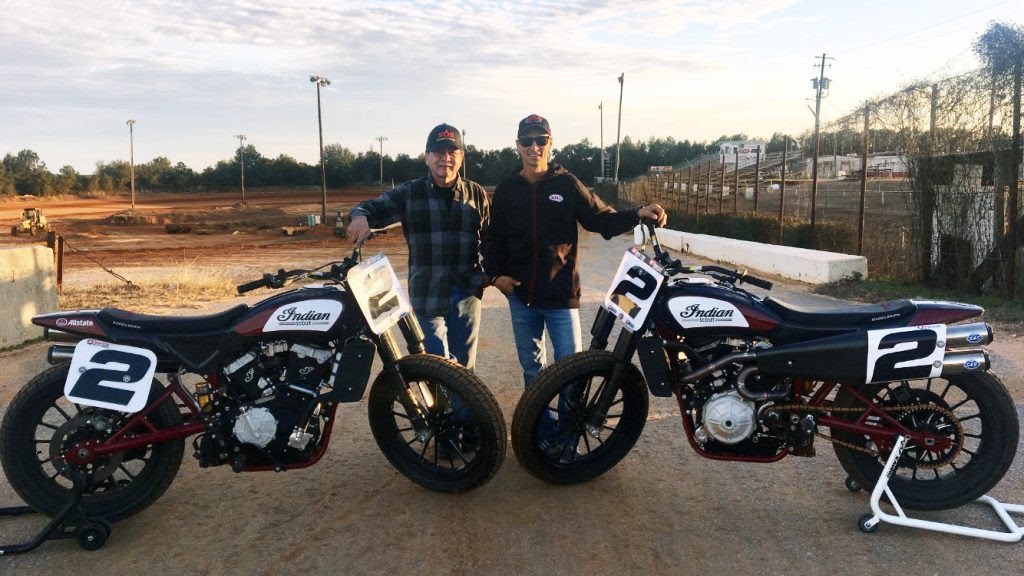 Kenny Coolbeth (right) with his mechanic Dave Atherton (left)
The Indian Wrecking Crew swept the top three spots in the American Flat Track Championship and combined for 14 total wins, 37 podiums and six podium sweeps.
Jared Mees, the 2017 Grand National Champion, won 10 races and set a new single-season record with 17 total podiums.
Gary Gray, Vice President – Racing, Service & Technology for Indian Motorcycle said: "We're extremely excited to see so many talented riders turn to the FTR750 this season. We're committed to supporting not only our factory team, but the privateers, as we have an aggressive contingency program in place that will reward these riders with performance incentives."
Indian has committed more than $350,000 in contingency incentives, including $25,000 for a Championship, $5,000 for first-place wins, $4,000 for second-place, $3,000 for third-place finishes, and payouts for up to 10th-place finishers.
For more information on Indian Motorcycle Racing, backed by Allstate Insurance, and the Indian Wrecking Crew, visit IndianMotorcycle.eu and follow along on Facebook, Twitter and Instagram.