Suzuki has debuted two versions of its all-new GSX-R1000 at Intermot, with the GSX-R1000 and GSX-R1000R machines headlining the Cologne show.
Designed and built from the ground up, both models feature a new frame and swingarm, wrapped around an engine that uses technology developed from the manufacturer's race-winning GSX-RR MotoGP machine. That same MotoGP knowhow has also helped develop an extensive electronics package that features a three-axis inertial measurement unit (IMU) that works in tandem with a 10-mode traction control and sophisticated ABS system.
Also joining the GSX-R stable for 2017 will be an all-new GSX-R125, giving a brand new entry point to the legendary range of sportsbikes.
Suzuki also pulled the wraps off a new V-Strom 1000 and V-Strom 650 – as well as XT variants of both of its adventure-touring machines – a GSX-S750 naked street bike, powered by the engine from the legendary GSX-R750.
GSX-R1000 & GSX-R1000R
Suzuki returned to the drawing board when it came to its flagship superbike, designing and building a brand new machine using technology developed from competition in MotoGP. The chief engineer on the project, Shinichi Sahara, used his experience as a former MotoGP technical manager and project manager to develop a new power-plant that produces 202PS at 13,200rpm – Suzuki's most powerful GSX-R engine, ever – to make sure the GSX-R1000 can reclaim its crown as the king of sportsbikes.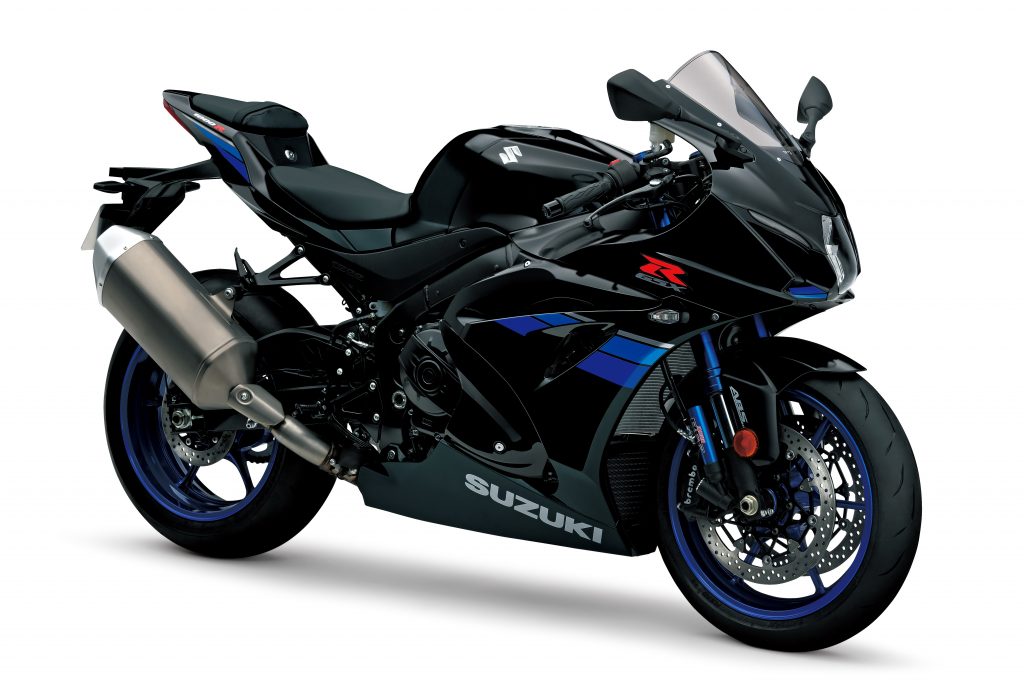 Both the GSX-R1000 and GSX-R1000R utilise an all-new, 999.8cc inline four-cylinder engine, which uses Suzuki Racing Variable Valve Timing (SR-VVT), and a new finger-follower valve train as part of Suzuki's Broad Power System. Developed for use on the firm's GSX-RR MotoGP racer, the system allows the new engine to produce strong low-midrange power, before the variable valve timing system boosts top-end output.
Suzuki's SR-VVT is a compact and lightweight mechanical system, that is built into the intake sprocket and is activated by centrifugal force, while the new finger-follower valve train is 6g lighter than a conventional bucket/tappet system, and allows the engine to rev higher and increases top-end power, with reliability.
Inside the engine there are new pistons, pins, and rings, as well as new camshafts and titanium valves for higher peak power.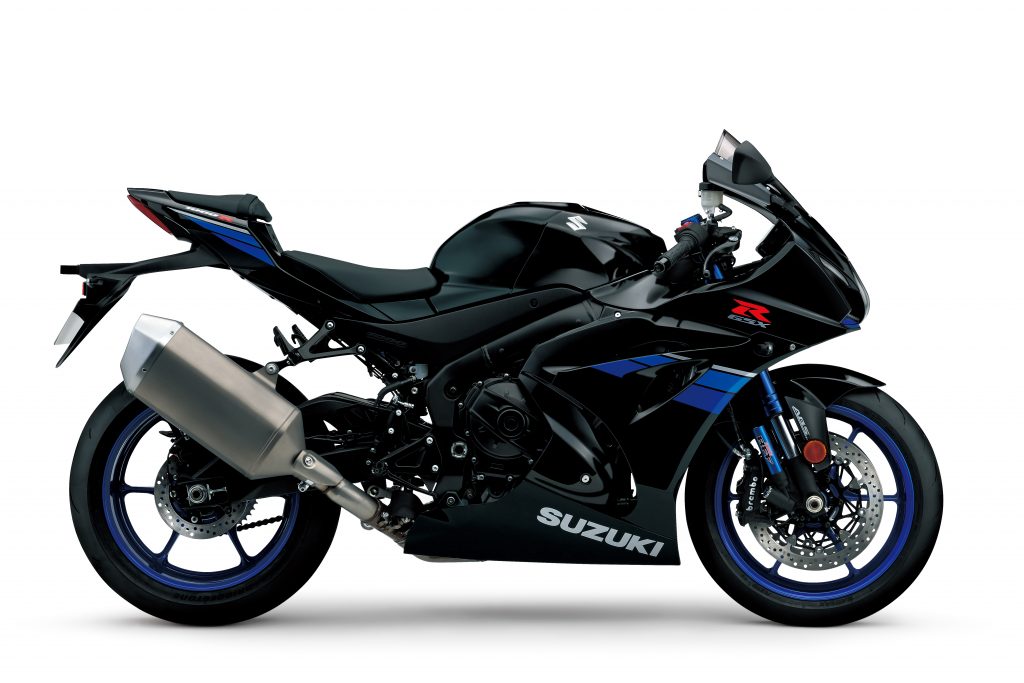 Careful thought and planning also went into the engine's dimensions and layout, to enhance the bike's cornering performance. The cylinder block incline angle is moved backwards by 6 degrees, reducing the engine length by 22.2mm, the benefits of which are increased front-end feel and increased stability.
Competition in MotoGP has also led to the development of Suzuki's most comprehensive and sophisticated electronics package, which features a six-directional IMU, 10-mode traction control system, Suzuki's Motion Track Brake System, and three-rider modes.
Setting the GSX-R1000R apart from the GSX-R1000 is the addition of a bi-directional quick-shifter and a launch control system that allows riders to make smoother, faster starts.
Both models utilise the 'anti-stoppie' function of Suzuki's Motion Track Brake System, but only the GSX-R1000R benefits from its cornering ABS function.
Suspending the GSX-R1000R is the latest generation of Showa's Balance Free front forks and rear shock, which give more controlled performance and improve front-end feel. The GSX-R1000 model utilises Showa's Big Piston front forks and Showa shock.
The GSX-R1000 is due to arrive in the spring, with the GSX-R1000R set for arrival late spring.
For a more in-depth look at the GSX-R1000 and GSX-R1000R and more technical information, click here.
GSX-R125
For the first time there is a brand new entry point into the GSX-R series for new riders, as Suzuki revealed an all-new GSX-R125.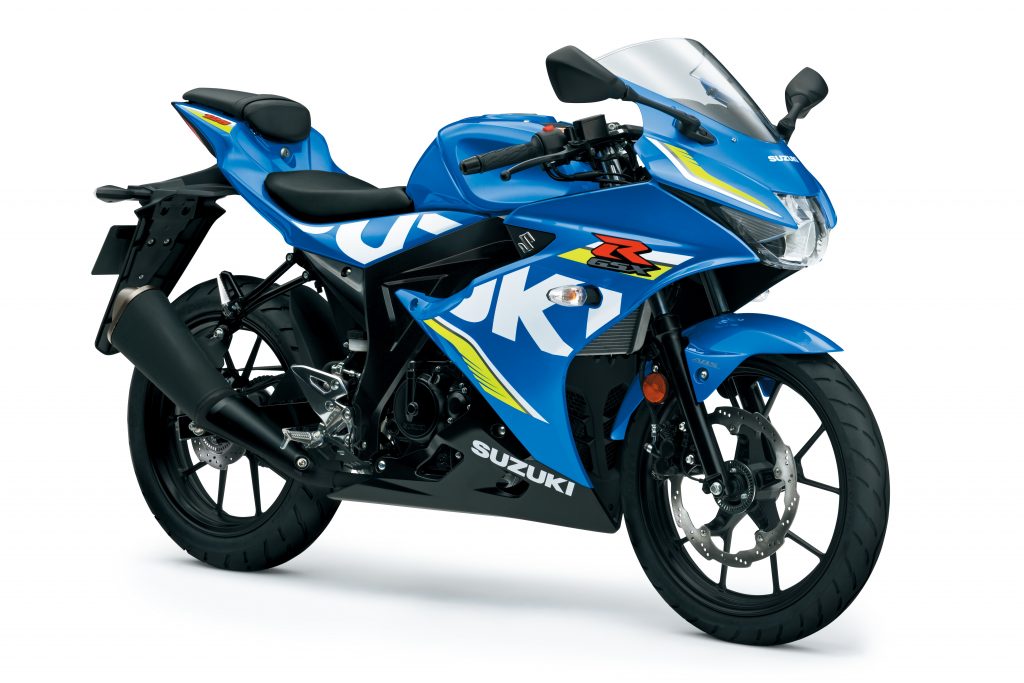 The development of the GSX-R125 followed the same philosophy that has been applied to all GSX-Rs for the last three decades, with the smallest offering in the legendary range of sportsbikes boasting the best power-to-weight ratio, best torque-to-weight ratio, and best acceleration in its class, thanks to its new, single cylinder 125cc engine. It is also the lightest in the 125cc sportsbike category.
A LED stacked headlight maintains the GSX-R family identity, and there's also a full LCD dash, and a new keyless ignition – a first for Suzuki – with the easy-start system used on the new flagship GSX-R1000.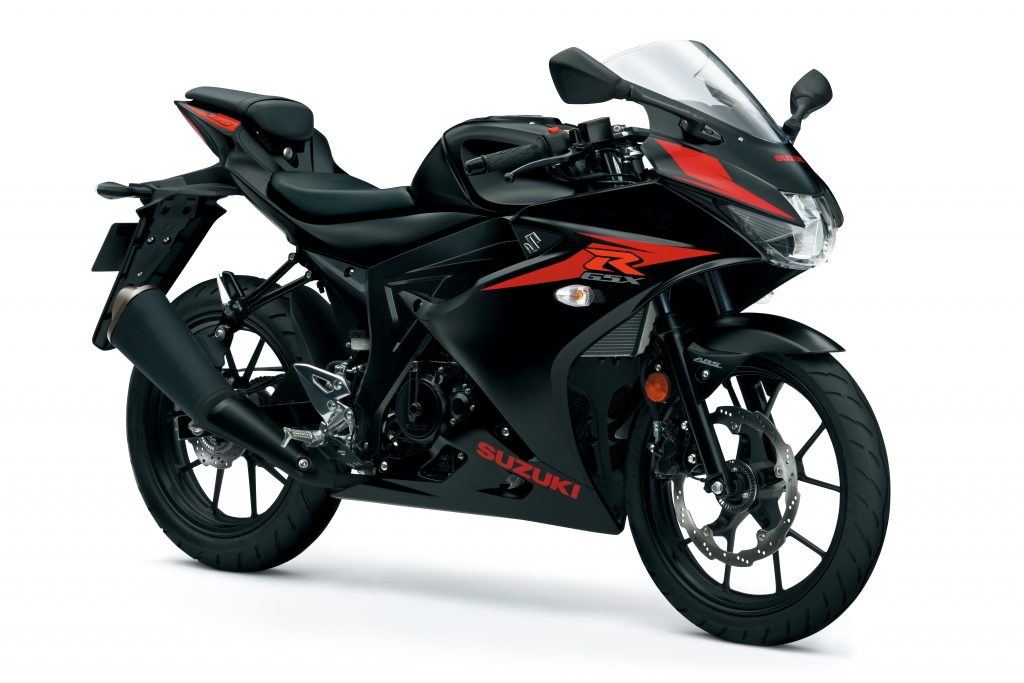 New riders will be able to join the GSX-R family when the 125 variant arrives in dealerships late in the summer.
V-Strom 650 & V-Strom 650XT
The V-Strom 650 has been the biggest seller in its market segment across the globe since its introduction in 2004, and for 2017 the new model gets more power, less weight, and traction control, while conforming to new Euro 4 emissions regulations.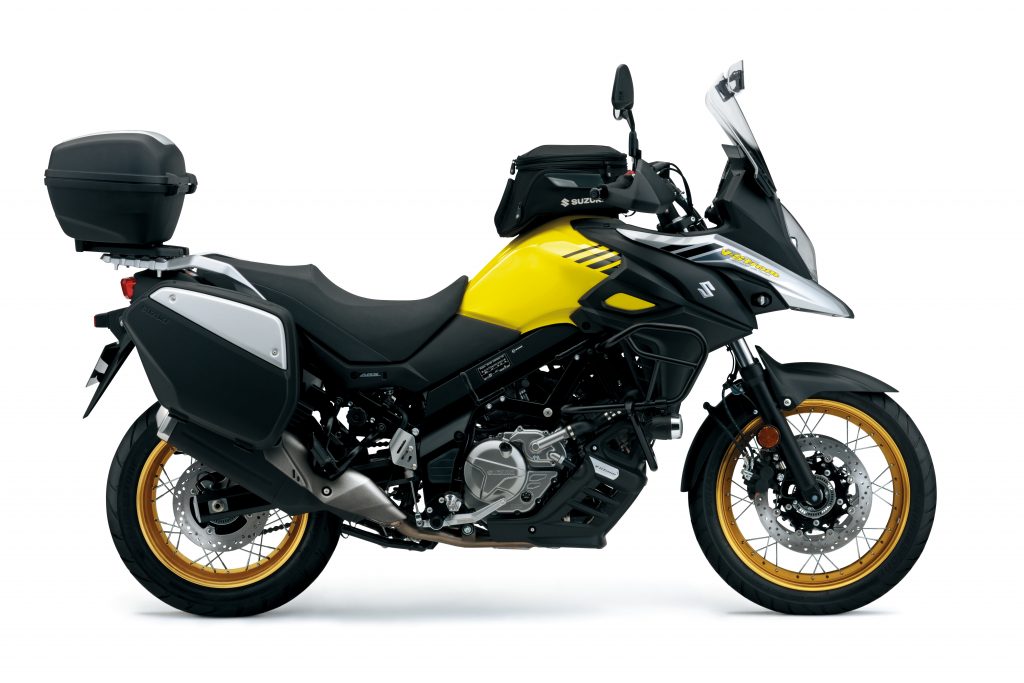 Suzuki's proven 645cc V-twin engine has become widely regarded as one of the best motorcycle engines of its generation, and in the 2017 V-Strom 650 it gets more power and torque, increasing its output to 70PS at 8,800rpm and 62Nm or torque at 6,500rpm.
A new exhaust also boosts power and torque, while saving weight and aiding in a lower centre of gravity.
New on both variants is Suzuki's low-rpm assist system, which automatically raises engine speed when pulling away, and the new easy-start system first seen on the GSX-S1000 range, as well as the addition of a two-mode traction control system, that can be turned off.
The V-Strom 650 and V-Strom 650XT have both been completely restyled, with a design more akin to the bigger V-Strom 1000.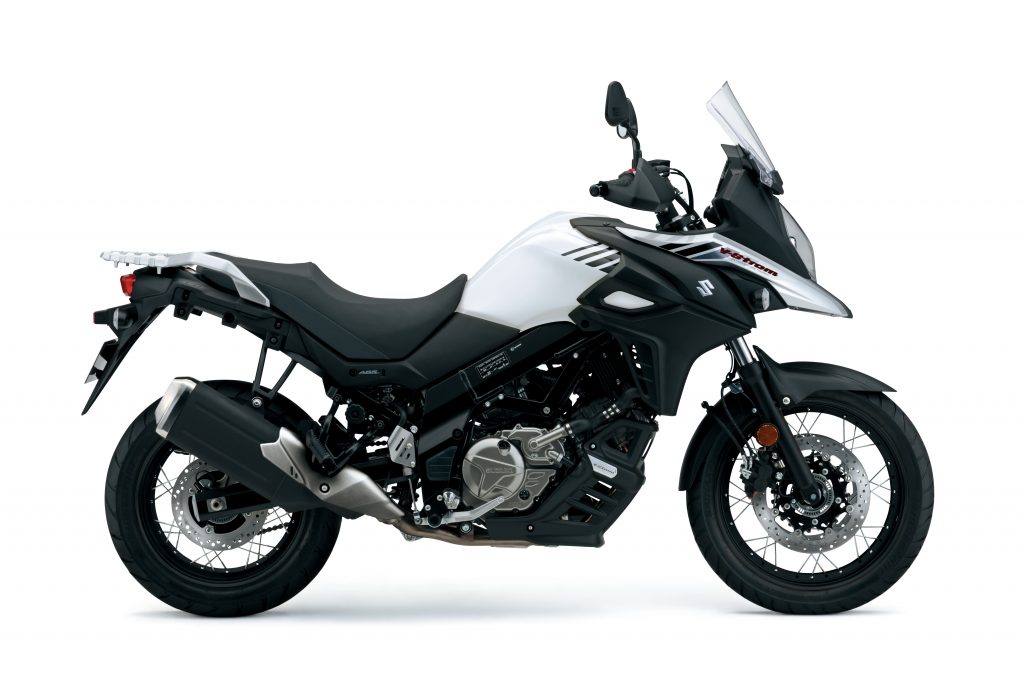 The XT model boasts more equipment as standard over the V-Strom 650, giving it more off-road intent out of the crate. Wire-spoke wheels provide better absorption on uneven surfaces, while a lower cowling offers additional protection. Hand guards help shield the rider from low-hanging branches or stones and debris caused by a rider in front.
A comprehensive accessories catalogue for both models of the V-Strom 650 will be available, and includes items such as integrated luggage, a centre-stand, touring screen, and heated grips.
The V-Strom 650 and V-Strom 650XT are expected in UK dealerships early 2017.
For more technical insight on the new V-Strom 650 and V-Strom 650XT, click here.
V-Strom 1000 & V-Strom 1000XT
Suzuki's flagship adventure bike, the V-Strom 1000, benefits from a host of updates for 2017, including the addition of Suzuki's Motion Track Brake, cornering ABS system, while a new V-Strom 1000XT was also revealed at Intermot.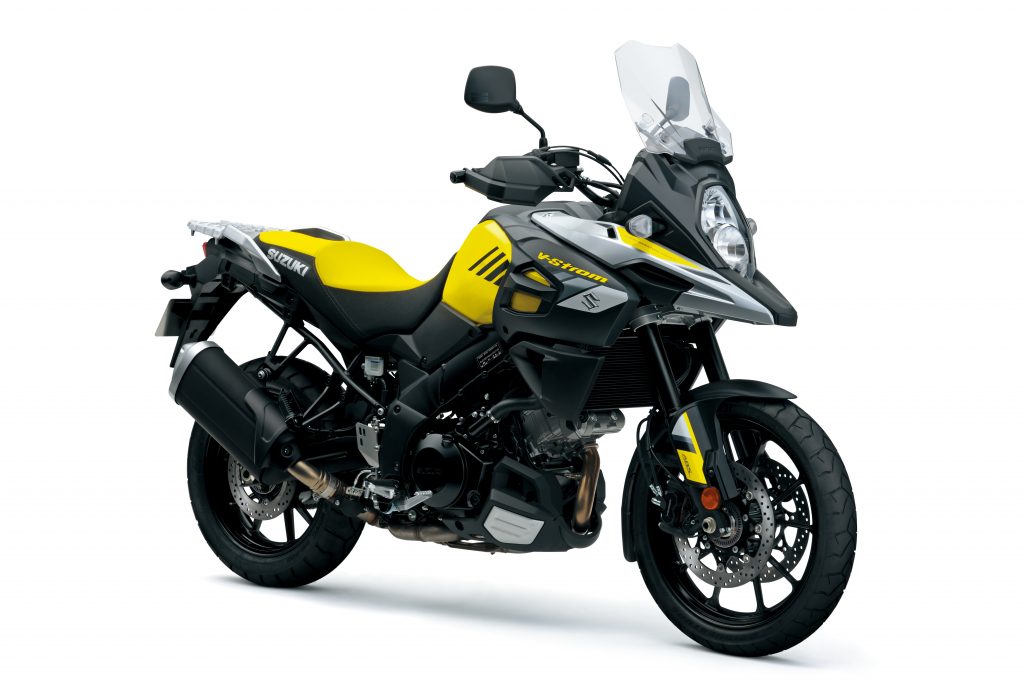 Both variants of the popular adventure machine – which get sharper styling for 2017 – utilise the new Motion Track Brake System, which combines information from the machine's inertial measurement unit (IMU) and wheel speed sensors to allow the ABS to operate and optimise brake pressure when the vehicle is leaned over, as well as in a straight line. The system also automatically applies pressure to the rear brake when front brake pressure rises to a certain level.
Suzuki's easy-start system, debuted on the GSX-S1000, also features, which means the clutch lever no longer needs to be pulled in to start, and just one push of the starter button is required, and the V-Strom 1000 also gets the low-rpm assist function. The three-mode traction control system from the previous generation model remains.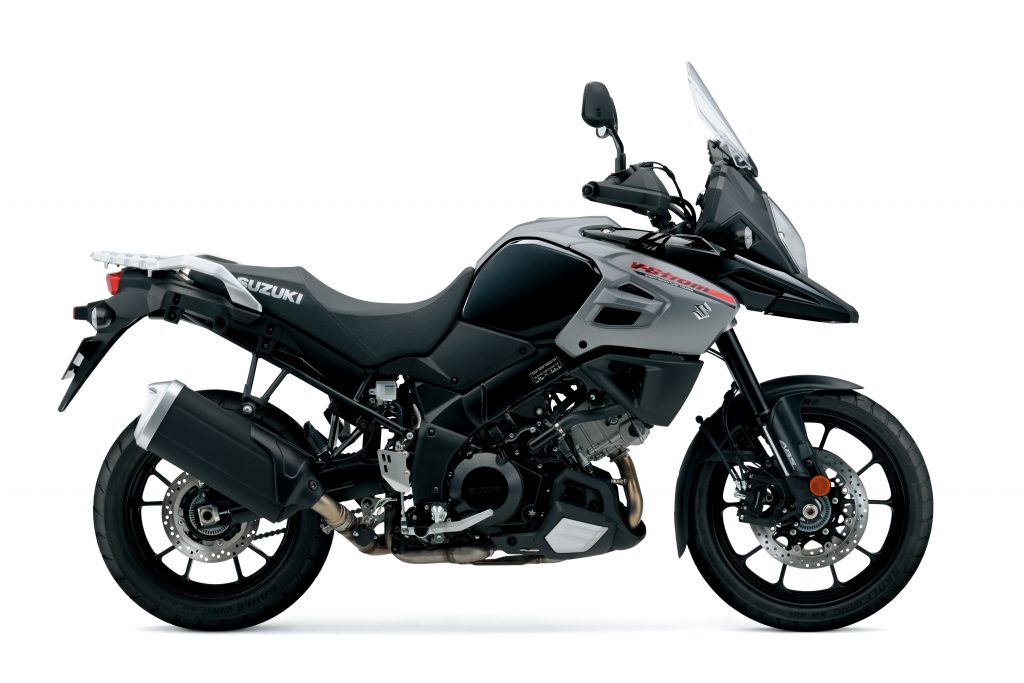 Extensive wind tunnel testing led to the designer's giving the V-Strom 1000 a new windscreen, with height and angle adjustment to suit a variety of riders, while hand guards and engine cowling become standard equipment on both the V-Strom 1000 and V-Strom 1000XT.
While the base model features 10-spoke, cast-aluminium wheels, the V-Strom 1000XT uses wire-spoke wheels and DID rims for more absorption off-road, and also gets tapered handlebars.
Both models are available in black and white, as well as a new Champion Yellow, which pays homage to the DR Big Dakar-racer from the 1990s. The Champion Yellow V-Strom 1000XT also gets gold anodised rims, reminiscent of Suzuki's championship-winning motocross range.
A vast range of accessories are available for both machines, with the V-Strom 1000's popular integrated luggage updated with a new, larger capacity top-box. Other accessories include higher and lower seats, fog lamps, and engine bars.
The anticipated arrival time of the V-Strom and V-Strom 1000XT will be spring.
Learn more about the V-Strom 1000 and V-Strom 1000XT, here.
GSX-S750
Following the launch of the GSX-S1000 last year, which is powered by the revered GSX-R1000 K5 engine, Suzuki has added a new GSX-S750 to its naked street bike lineup, this time using the same engine architecture as the K5 power-plant from the iconic GSX-R750.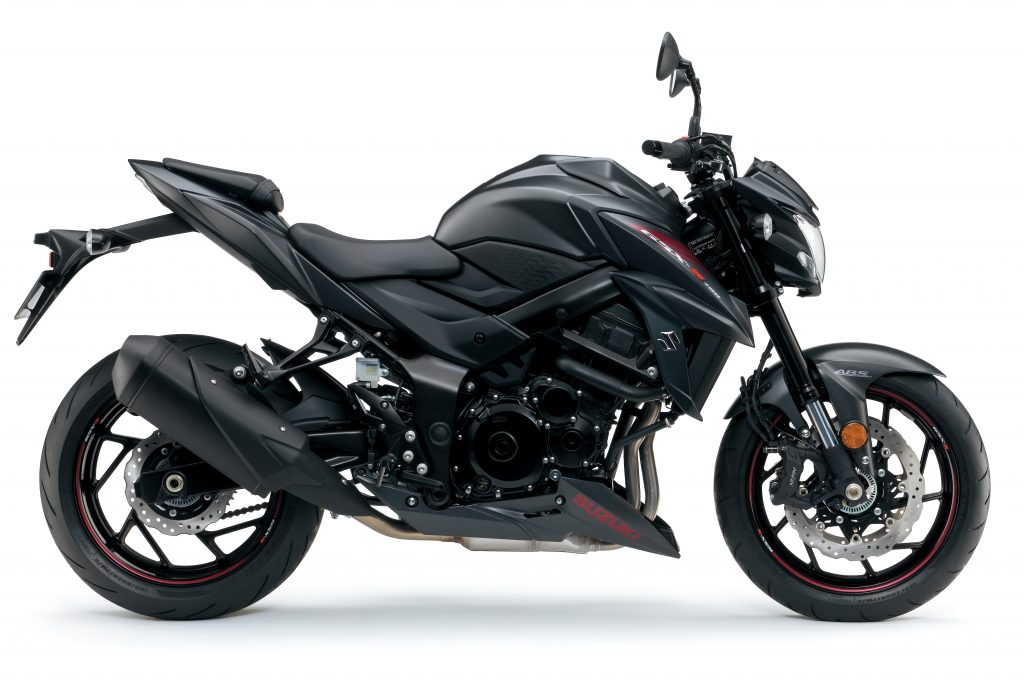 The K5 GSX-R750 engine was selected for the GSX-S750 due to its mounting angle, which is closer to vertical than the current GSX-R750 engine, and helps achieve the short wheelbase desired in a naked machine.
The GSX-S750 boasts more power and torque than the outgoing GSR750, with peak power increased to 114PS at 10,500rpm and torque upped to 81Nm at 9,000rpm. This has been possible by the change to new, 10-hole, long-nose fuel injectors from the older 8-hole design on the GSR. The GSX-S also gets a new air box and exhaust.
Enabling riders to open the throttle with greater confidence in a mix of conditions is the addition of a three-mode traction control system. The system continuously monitors front and rear wheel speeds, the throttle position, crank position, and gear position, and when a slide is detected, reduces engine output to deliver smooth, continuous drive.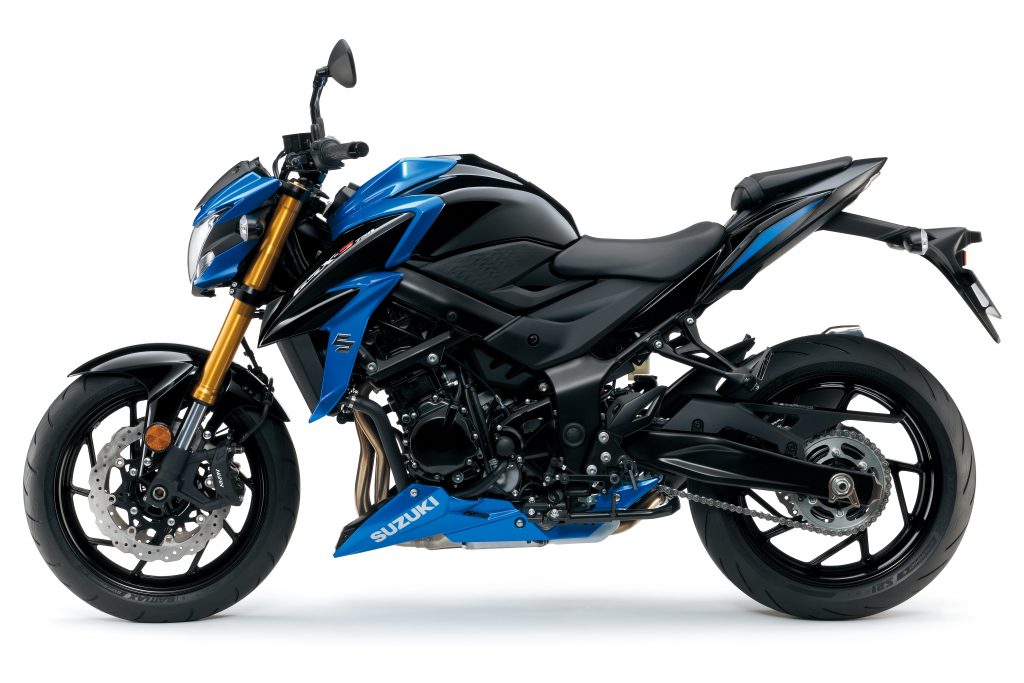 Suzuki's easy-start system and low-rpm assist function that were seen on the GSX-S1000 are now featured on the GSX-S750.
Chassis performance is improved with a new swingarm, and braking is enhanced with the addition of radial-mount calipers and new discs.
The GSX-S750 is aggressively styled, in keeping with the GSX-S family, with sharp lines and angles, and a belly pan as standard fitment, and is set to arrive in dealerships early 2017.