New SCR950. Born to find new ways
Yamaha's Sport Heritage models have truly captured the imagination of those riders who appreciate characterful motorcycles that combine authentic heritage with modern technology and timeless style.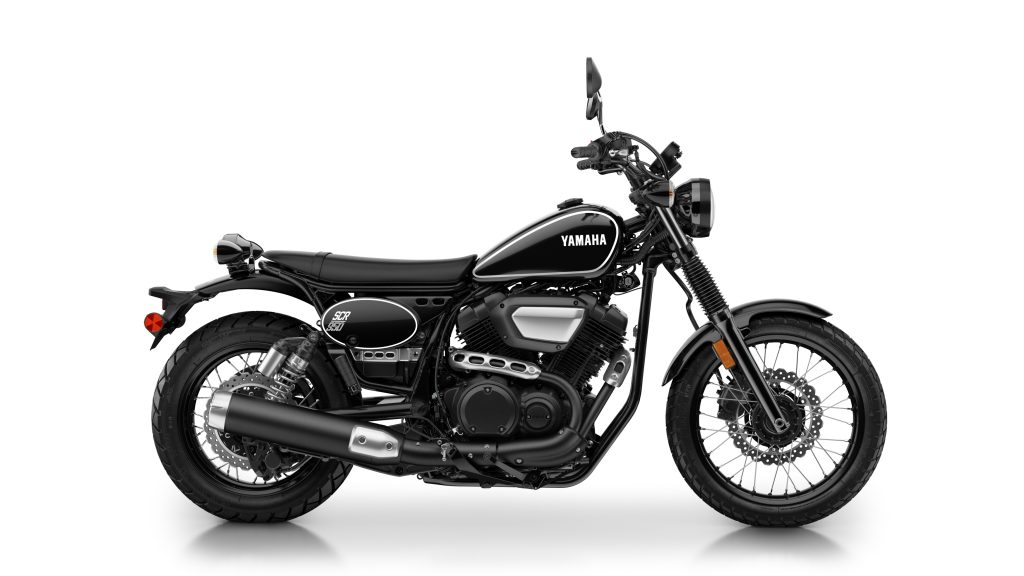 Each one of these motorcycles has been developed using our 'Faster Sons' philosophy, in which we create exciting and individually styled bikes that pay homage to classic designs from our past while giving you modern performance and a contemporary riding experience.
For 2017 Yamaha are set to expand their highly successful Sport Heritage segment with the arrival of new SCR950, a stylish and purposeful looking V-twin that captures the timeless spirit of the iconic street scrambler.
Back in the 1960s the street scrambler was the bike of choice for those riders who wanted a simple, stylish and rugged motorcycle that could rip it up around the city as well as handle weekend blasts into the countryside. These bikes epitomised the free and easy spirit of that influential decade, and their soul lives on in the new SCR950.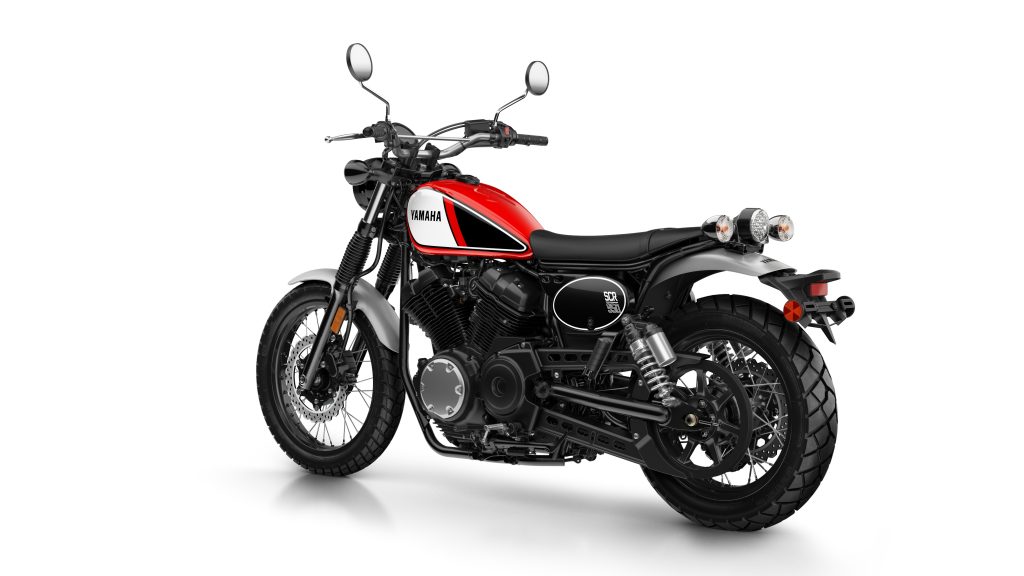 Powered by a pulsating, high-torque, air-cooled, V-twin engine that's fitted into a tubular steel chassis, this handsome new Yamaha street scrambler is aimed at today's generation of bikers who want a real motorcycle that is built for enjoyment.
Featuring wide, braced handlebars, aluminium rims and spoked wheels – as well as heavy-duty tyres and front fork boots – the new Yamaha SCR950 blends vintage cool with contemporary design and technology. A higher seat with a flat profile gives an elevated riding position with plenty of room for moving around – and there's also a new larger 17-inch rear wheel that contributes to the a higher riding position and gives increased ground clearance for an enhanced handling feeling.
SCR950 Product Overview
Fashionable new V-twin urban scrambler
Developed using our 'Faster Sons' philosophy
Timeless style with Japanese reliability
High and flat seat to achieve an involved riding position
Metal parts to reinforce the authentic character
Modern technology with quality craftsmanship
Pulsating and characterful V-twin power delivery
Genuine heritage with contemporary design
Designed to be customised
Air-cooled, 60-degree, V-twin engine
Featuring an all-black finish, the compact 60-degree, air-cooled, V-twin engine produces a pulsating band of power with strong torque, making the SCR950 a great all round performer that's fun to ride in a variety of situations.
Its iconic V-twin layout underlines the SCR950s timeless retro looks, and on the inside this engine benefits from the very latest engineering. Equipped with lightweight forged pistons as well as an optimised crank mass and 4-valve heads with pent roof combustion chambers, this compact power plant delivers 79.5 Nm (8.1 kg-m) of torque at just 3,000 rpm. This class leading torque output gives the SCR950 rider the ability to accelerate strongly in every gear from low rpm, making this V-twin street scrambler a great performer in typical stop-start urban environments.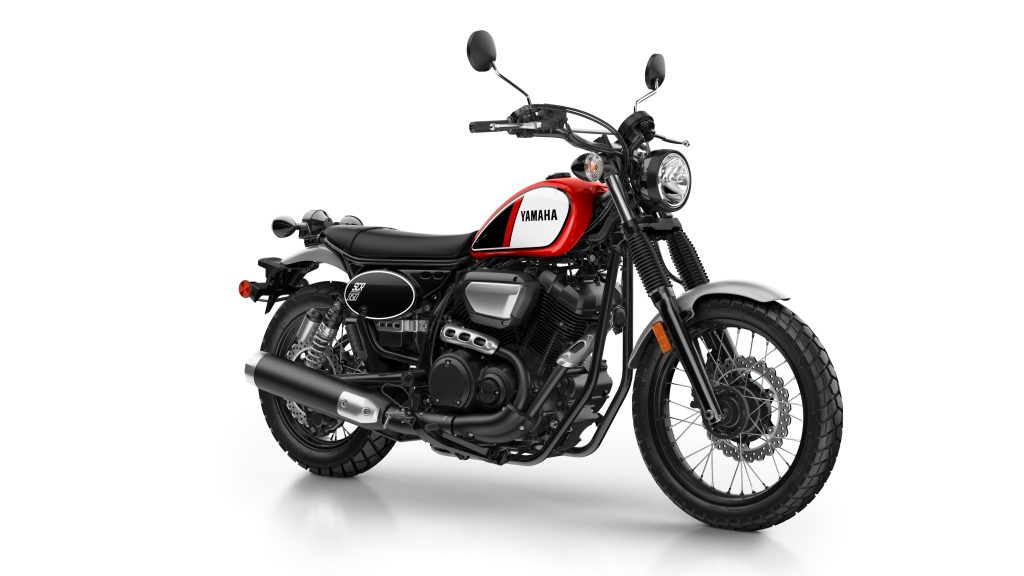 Tubular steel scrambler frame
Just like the original 1960s street scramblers, the SCR950 is equipped with a black-painted steel double cradle frame that underlines the bike's authentic heritage and rugged good looks. The subframe is designed to accommodate the higher dual seat featuring a flat profile that gives a wide choice of riding positions to suit everything from urban cruising through to fast highway blasts and weekend back roads scratching.
Wrap-around 2-into-1 exhaust, with upswept muffler
The SCR950's exhaust system features a 2-into-1 header pipe arrangement that flows into a short, upswept muffler that accentuates the bike's scrambler image. Fitted with a small heatshield and end cap, the muffler gives off a gutsy, low pitched exhaust note – and its integral 3-way catalytic converter clears EU4 emissions standards.
Scrambler design features
Street scramblers are all about simplicity, versatility and fun – and the SCR950's chassis has also been designed to deliver a comfortable and enjoyable riding experience. The wide handlebars feature a welded crossbar to underline the scrambler theme, and with a mildly backswept layout they give a relaxed and upright riding position together with a high degree of controllability.
The flangeless teardrop style fuel tank bears witness to the high build quality on this fashionable V-twin, and with a capacity of 13.2 litres it gives a useful riding range.
Aluminium rims and 17-inch rear wheel
The SCR950 is fitted with spoked wheels featuring aluminium rims – a must for any scrambler – and with their aggressive block pattern, the heavy-duty Bridgestone tyres are built to handle the street and the dirt. The SCR950 also benefits from a larger 17-inch spoked rear wheel, and this contributes towards achieving the higher 830mm seat height, whilst giving an enhanced handling feeling together with increased ground clearance
Smooth-action suspension
Equipped with 41mm tubes, the conventional front forks give 135mm of plush suspension action, and they feature durable rubber gaiters that keep dirt and dust out. At the back end the twin rear shocks feature piggyback reservoirs, while the damping and spring settings have been set by the factory to offer 110mm of smooth and stable rear wheel movement.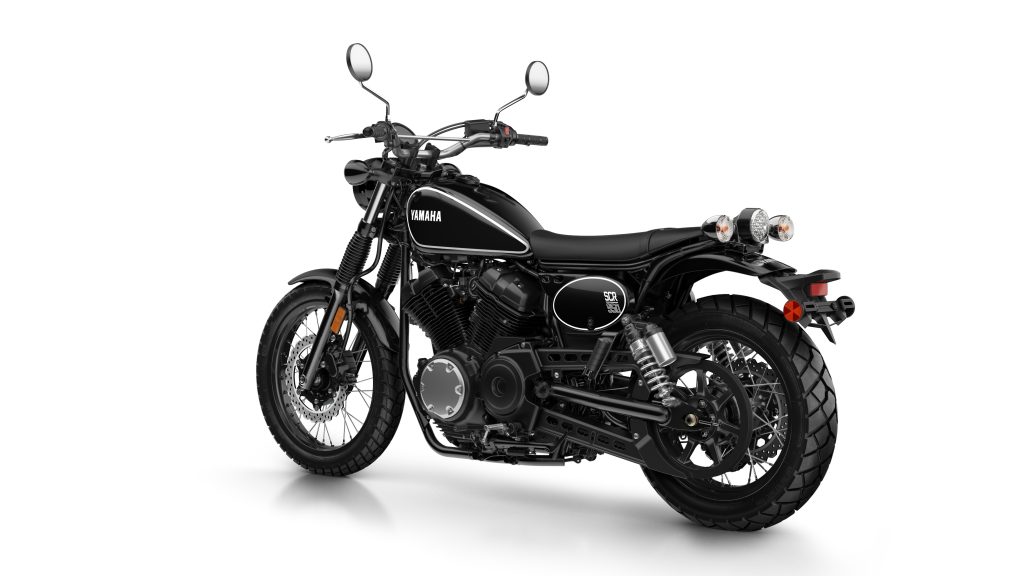 Other notable features on this high torque urban scrambler include 298mm wave style front and rear discs, as well as a circular LCD speedometer with a smoked lens – and for added practicality the SCR950 is equipped with a storage compartment under the new flat dual seat.
SCR950 Features
Air-cooled, 942c,c 60-degree, V-twin engine
Class-leading torque output: 79.5Nm (8.1 kg-m) @ 3,000rpm
5-speed transmission with quiet, low-maintenance belt drive
Slim and flat low-profile dual seat with increased 830mm seat height
Spoked 19-inch front wheel and 17-inch rear wheel
145mm ground clearance
Wide scrambler-style steel handlebars with cross brace
Aluminium rims
Bridgestone heavy-duty TW101 100/90-19 front tyre and TW152 140/80-17 rear tyre
298mm floating front wave disc, 298mm rear wave disc
Steel front and rear fenders
Black coloured engine and components
Flangeless 13.2-litre fuel tank with classic colour scheme
Vintage number plate style side panels
Circular LED tail lamp
Circular LCD speedometer with smoked lens
Aluminium footrests
Twin rear reservoir-type shocks with specific SCR settings
Smooth-action, 41mm front forks with rubber gaiters
135mm front suspension travel, 110mm rear suspension travel
2-1 exhaust with upslanted muffler
Colours
Vivid Red
Yamaha Black
Availability
February 2017