Clichés. You'll find loads of them associated with this bike, all of which that, while certainly appropriate, can be applied to many other motors over the years, and tend to leave the reader exasperated at having to tolerate them yet again. Sadly, you'll have to tolerate some here, starting with this one – there are few other bikes that have polarized opinion quite like this beast has.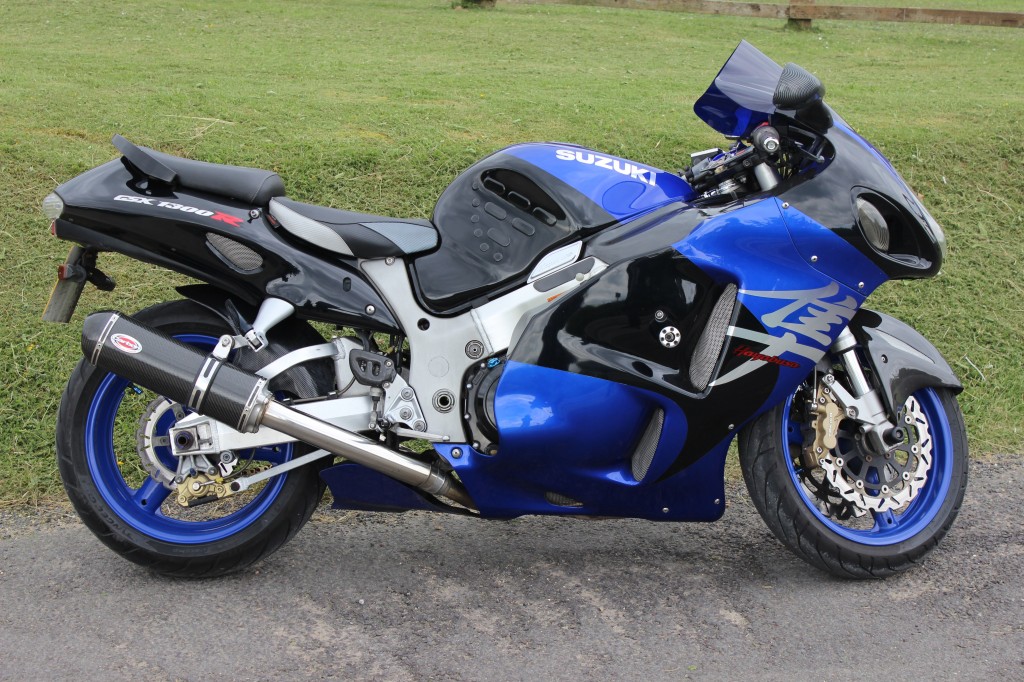 I've owned my 'busa for just two months – plenty enough time to get used to the looks of admiration and appreciation as well as the frowns and negative head-shakes which tend mean 'look at that pillock with a death-wish'. To say these remarks outweigh the positive responses would be an understatement. Why? Because, even among those who don't ride, the 'busa has a reputation for being an anti-social, bruiser of a loony bike. Is it?
The acceleration that this animal is capable of really does, hand-on-heart, beggar belief. Find yourself a decent straight, tuck in behind the screen and wind it up as fast as you dare, and your mind literally cannot keep up with the speed at which it propels you – each time I've had the minerals to do it, I've felt an inclination to head back to the spot at which I committed that act of villainy and have a scan to see if I've left any of my organs behind. My brain, I'm sure, would number among them. Despite weighing in at around 250kg wet, the 1st Gen 'busa can go from 0-60mph in around 2.8 seconds and hit 150mph about 9 seconds later. My bike, being a 2002, is restricted to a piffling 186mph (pointless, if you ask me) which it achieves thanks to that massive fairing (more on that later) and the 175bhp its savage motor generates at the crank – you're looking at around 162bhp at the rear. Now while that's not as much as the 2nd Gen, I can assure you – it's enough.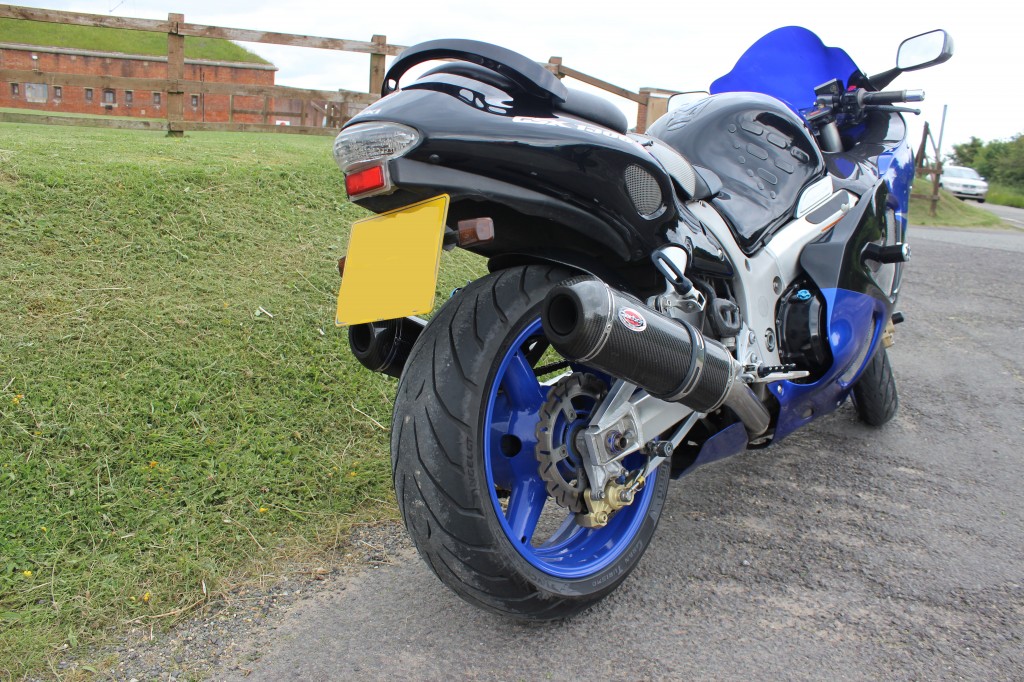 This is all very well, but we are already familiar with these figures. What is it like to ride?
Not as scary as its reputation would have you believe. My previous bike was a VTR thou, a very different bike altogether and one not possessed of nearly the power of the formidable 'busa. But, having had the privilege of riding many other powerful machines, I felt I was up to the challenge of taming the animal when my mate Danny and I pulled up in the dealer's forecourt. That confidence and enthusiasm lasted up until the point I fired it up, and felt that barely restrained power lurking beneath the vast expanses of plastic. I then wilted faster than a randy teen walking in on his nude nan, a feeling that, blessedly, began to dissipate once on the move. Within minutes of getting underway for the long journey home, I felt at ease with a throttle that I expected to try and tempt me into spectacular suicide every time I pulled off or went for an overtake.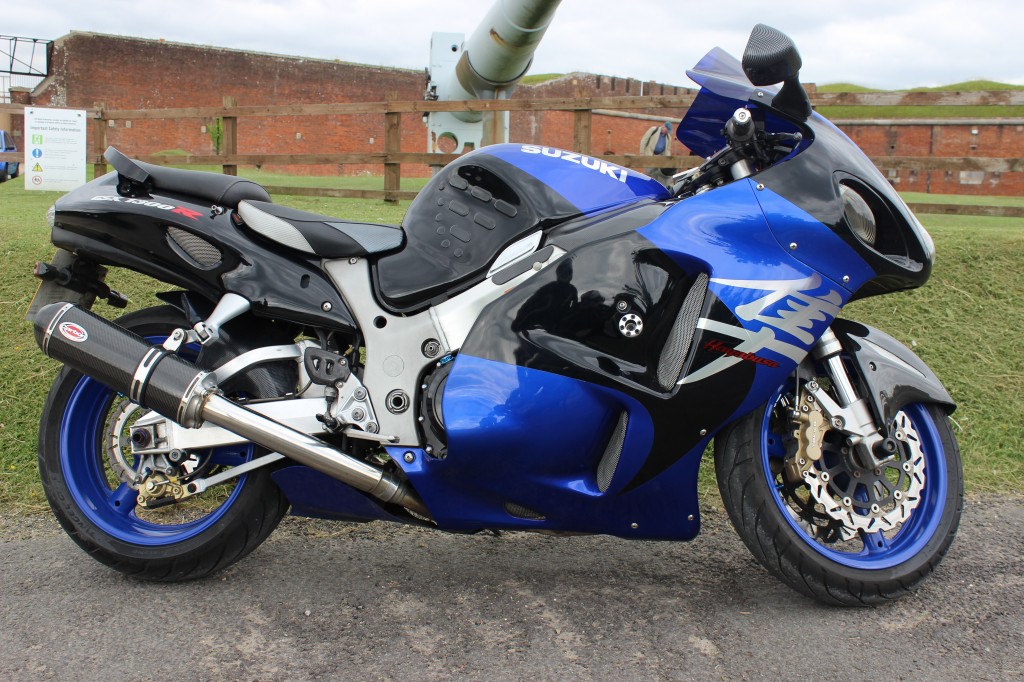 The fact is, provided you keep in mind what it is you're straddling, she is as docile and easy-going as any ageing tourer. An obvious statement to make, but given the bike's rep you'd expect it to be a proper handful, especially around town – and she isn't. The bike is very well balanced and planted, and so flatters your slow riding skills despite the bulk – its low seat height and long wheelbase help here, too. It also helps when you get a bit brave and ease open the twistgrip on the open road. The bike's stability is rock-solid and dependable, which is a welcome feeling when you discover that the forks are a bit soft – one of its shortcomings. That aircraft carrier fairing keeps loads of the wind off you, ugly or not. I personally love the 1st Gen's appearance; less keen on the rear of the 2nd. Yuck. Still, it does the job and does it well, regardless of one's feelings on the aesthetics.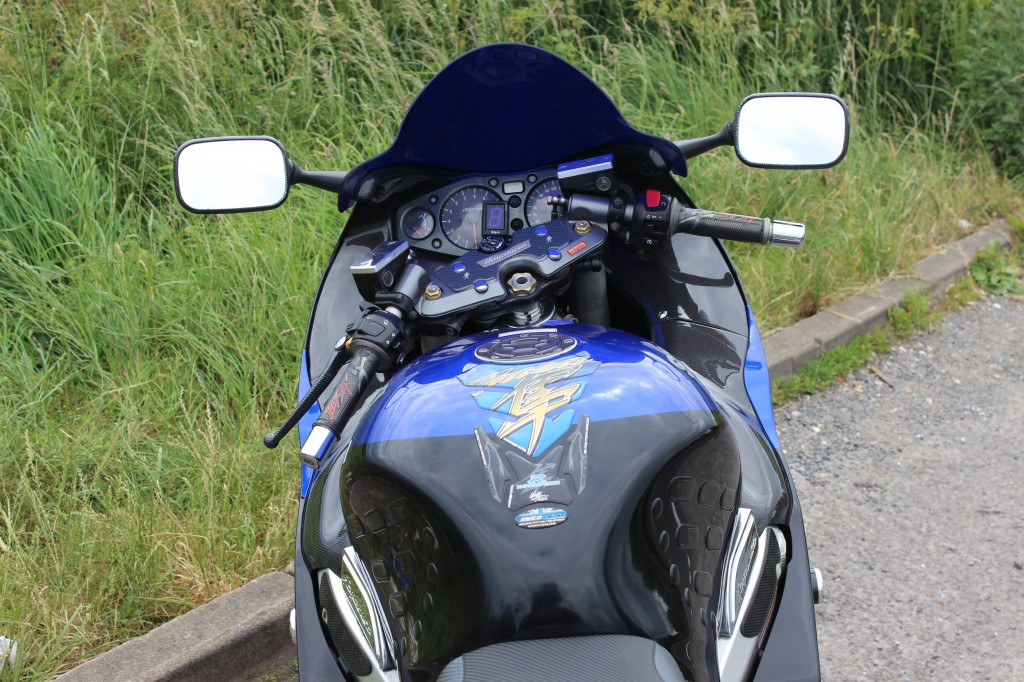 Once clear of the motorway, the bike was tasked with negotiating some country roads. Again, the 'busa remained composed, soaking up the ripples in the rubbish tarmac quite well. It is here though that you realise that tight turns and side-to-side flickability is not its forte. That long wheelbase, large weight and slightly soggy suspension doesn't equal nimbleness, and this can all start to go Pete Tong if you're getting a bit too happy with the gas. I am being a bit more forgiving of the bike's handling than some others have been; generally the handling has been a real sticking point for many, and while I feel that, given that it isn't a track-focused 600 or thou, it does handle quite well for its size and weight. It doesn't handle all the oomph too well sometimes, but the buzzword here kids, is good throttle control.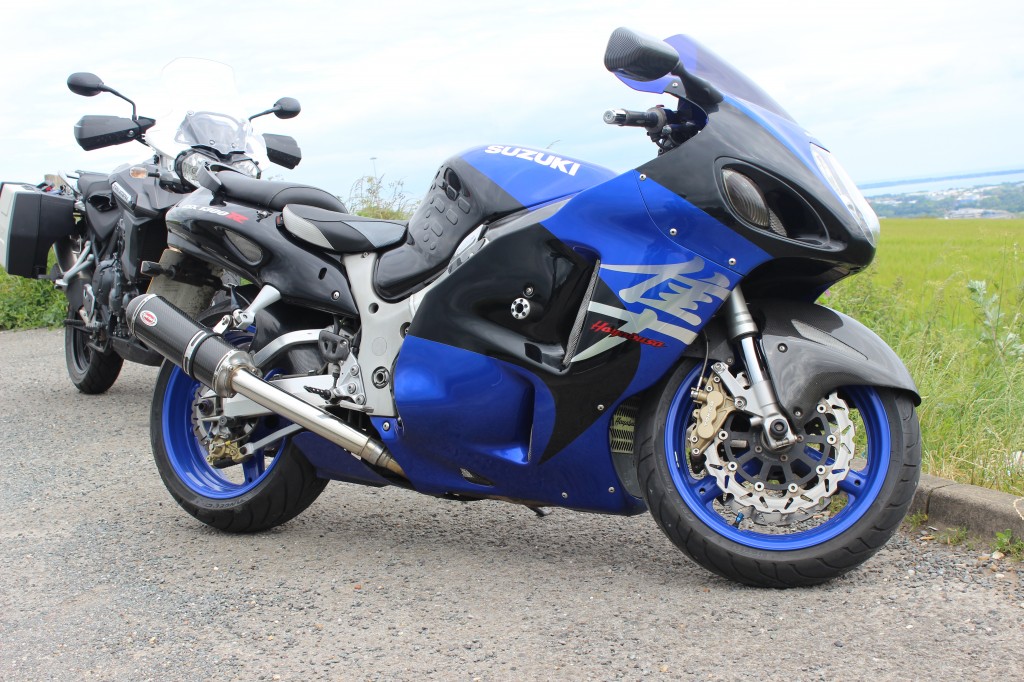 The worst offender here however, are the brakes. My bike is sporting fully upgraded discs, hoses and pads, but are still running on the original Tokico 6-pots. These things have gotten a lot of stick over the years, much of it warranted. Being 6-pots, their stopping power is impressive, but they fade quickly through repeated heavy use, and aren't quite up to getting the bike stopped as quickly as you'd like – which, given its weight, can cause a few little brown-pants moments if you're not mindful. Then comes the issue of keeping them clean. If you don't you could encounter binding pistons, and we all know where it can go from there. Regular maintenance is a must with these. Many owners swap them out for Nissin 4-pots which are equally great stoppers, but tend to require less care than the Tokicos. Either way, this will want to be the first thing you look at if you pick one up.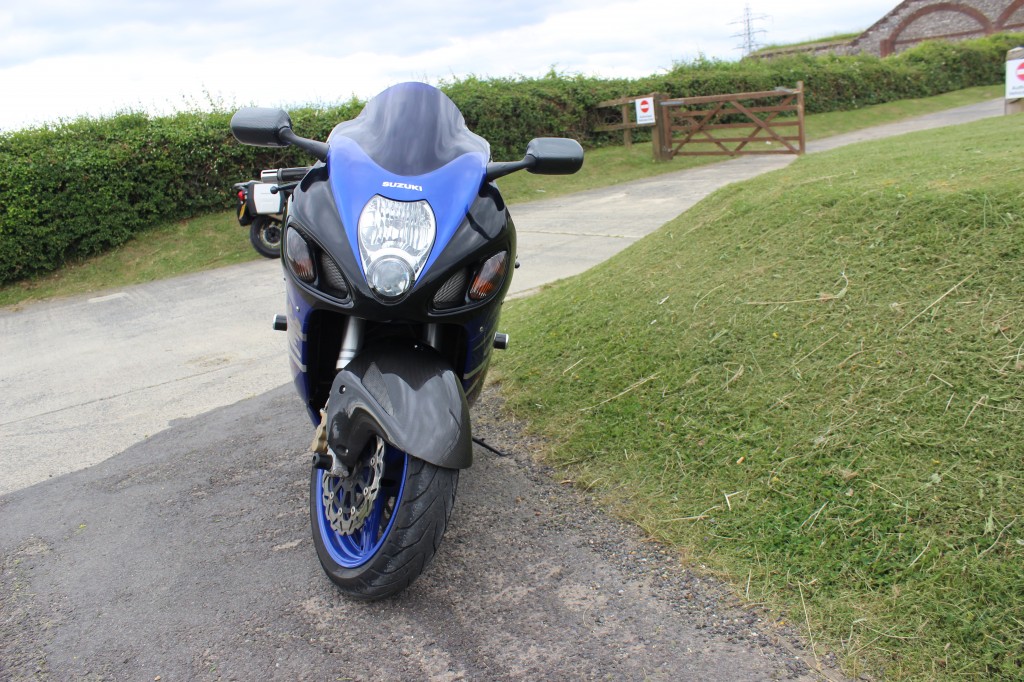 Build quality is another area that the Suzuki suffers in. Whilst the motor itself is hewn from solid granite, other parts of the bike are not. Be on the lookout for rust on the underside, rot on the downpipes and of course the gunked up brakes. Rear wheel bearings have been known to fail too, and the paintwork, if not properly cared for, can fade rather badly. Honda paint it isn't.
Thankfully, 10-year + bikes in good nick can be had – my own was particularly well looked after, but these are perhaps a minority at this age. Bolts are another problem area – regular sprays of WD40 will go a long way to keeping them in serviceable condition.
As a tourer, the big girl scores points. That opinion-dividing fairing keeps off loads of wind, although the screen may be a touch too low for some. The seat is wide and plush and the riding position is rather neutral – the full-on sports foetal position it is not. This is a real advantage over long distances, as it lets you move about on the bike to work out aches and pains. The 'busa can also easily accommodate plenty of luggage. The pillion seat is good, and the grabrail excellent. The tank is a decent 22 litres – I get around 167 miles out of it before the reserve light comes on, and have then taken it to 190 miles before refilling. This is done as a mixture of motorway miles (fast and slow) and stop-start traffic. Pretty good for one of the fastest production bikes on the planet.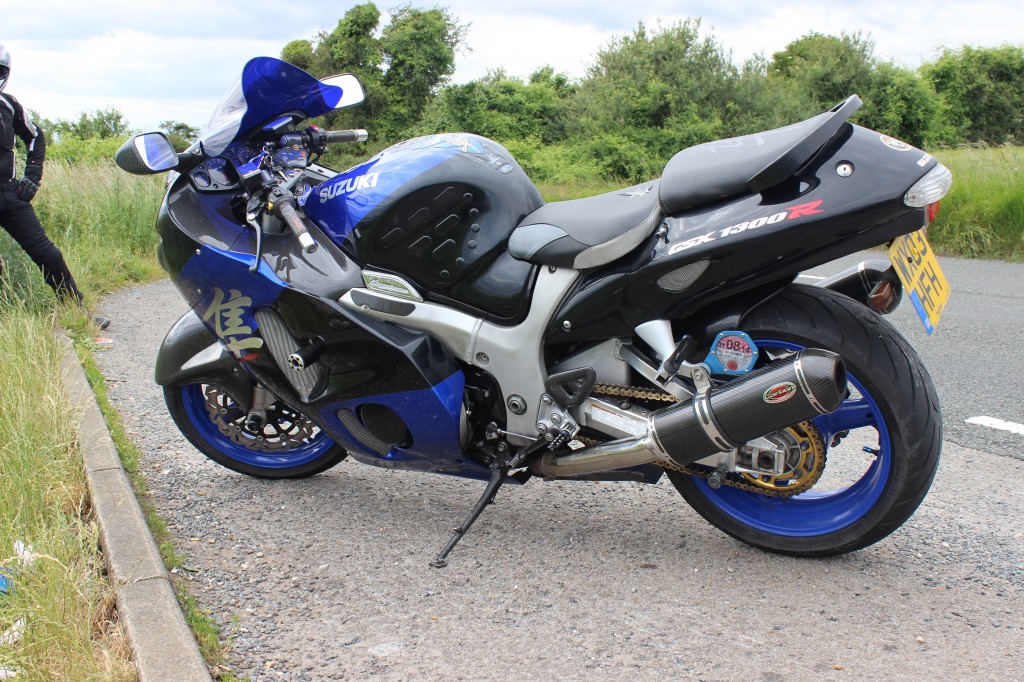 All in all, I am more than happy with the purchase. She does it all for me – commuter, tourer, and scare-the-pants-off-you-when-you-need-it bike. If can find a good example, then it's worth the money. And sod what everyone else thinks – you only live once. Just don't get carried away and start treating it like a CBR600 or anything, because it will bite back. Don't say I didn't warn you.