Track cyclist and three-time Olympic Champion, Jason Kenny OBE is the proud owner of a brand new 2016 Kawasaki Z1000SX.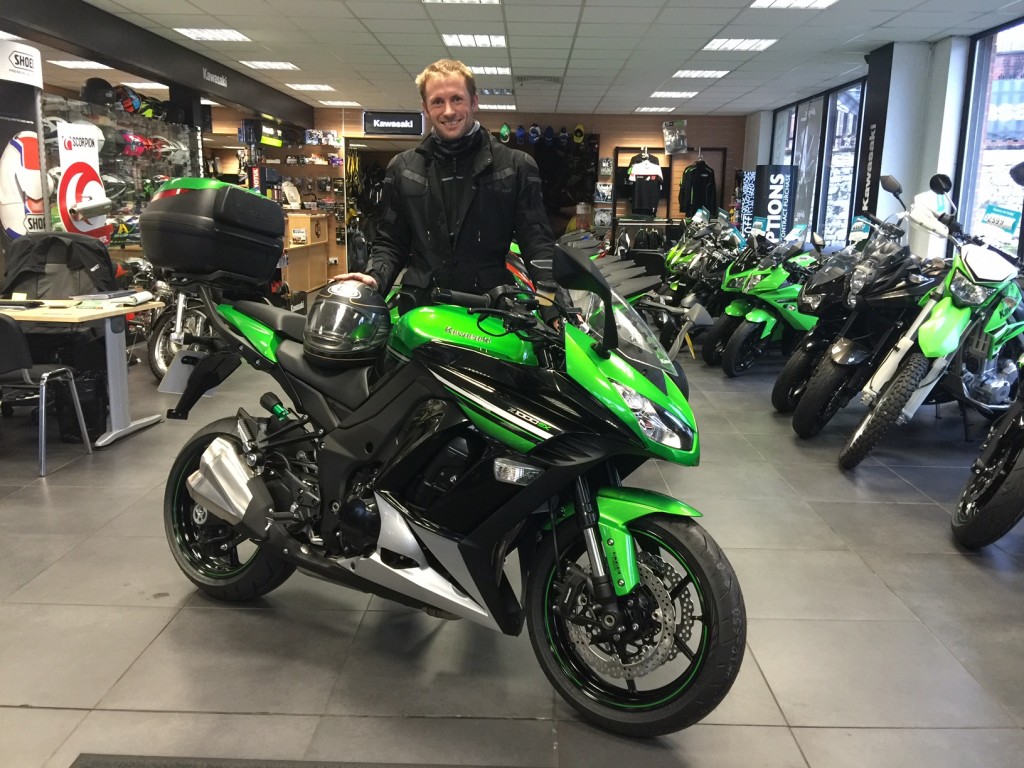 Jason collected his '65 plate two-wheeled green machine from Bolton Motorcycles and was handed over the keys by Salesman, Michael Powell – this is his second purchase from the Lancashire-based dealership.
"I decided it was time for a change of bike as my trusty BMW was due for it's first MOT and out of warranty – that's how I justified it to myself anyway! After reading 37,000 reviews online while away racing, I decided on the Z1000SX. It seemed to tick all the boxes for me. After a couple of emails to Bolton motorcycles it was organised for when I got back in the UK. Easy as that, top service as always from from those guys.
"I've done a couple of hundred miles on the bike now and it's getting better everyday. I'm absolutely over the moon with it, a real pleasure to ride. I've got the first service just booked and Jonathan knows I want a track bike after Rio 2016, so he's lending me a Kawasaki ZX636 to have a bit of fun on, I can't wait…", said Jason.
Since its launch, the Z1000SX has dominated the sports touring segment and it Kawasaki Motor UK's number one best seller.
The 2016 Kawasaki Z1000SX now comes with a race-inspired FCC assist and slipper clutch – with 30% lighter feel at the level, the Slipper Clutch will appeal to both sports bike riders and those adjusting to the weight of a pillion and luggage. It also comes with ABS as standard and in new colour options – all with the added bonus of no price increase for 2016.
Jonathan Hughes, General Manager of Bolton Motorcycles, said: "It's always a pleasure when Jason comes into the dealership for a catch up. Jason has added the Z1000SX to the Royal Enfield which he also loves to ride. Thanks again for your business and good luck for next year and hopefully Rio."
Craig Watson, UK Sales Manager for Kawasaki UK, said: "We're really pleased that Jason chose the Z1000SX – and with the new upgrades on the 2016 model, it's great timing for him to buy one. We've invited him to join us for one of the British Superbike rounds to see the guys in action and introduce him to our race teams. Maybe after Rio, we can get him on track day!"