With their unique blend of cutting edge technology and iconic style that pays homage to past classics, Yamaha's Sport Heritage models are proving to be a major success with a growing band of riders who appreciate the 'Faster Sons' philosophy.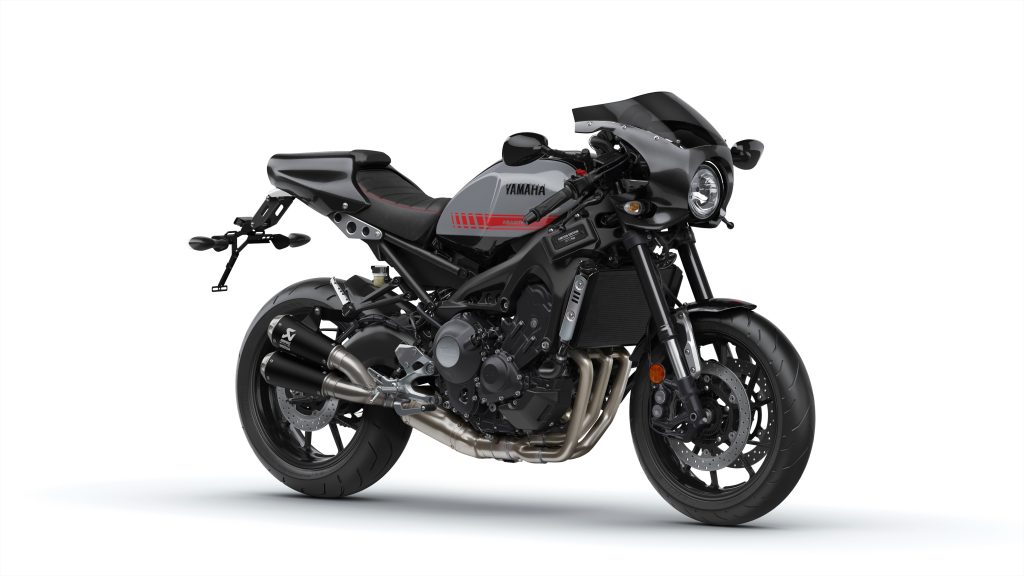 By acknowledging some of the classic design elements from Yamaha's 60-year history, models such as the XSR900 give today's riders the chance to own a truly characterful contemporary motorcycle with up to the minute technology and class leading performance.
More than any other Japanese manufacturer, Yamaha has fully embraced the growing customization movement, and over the past few years the company has commissioned a range of unique specials.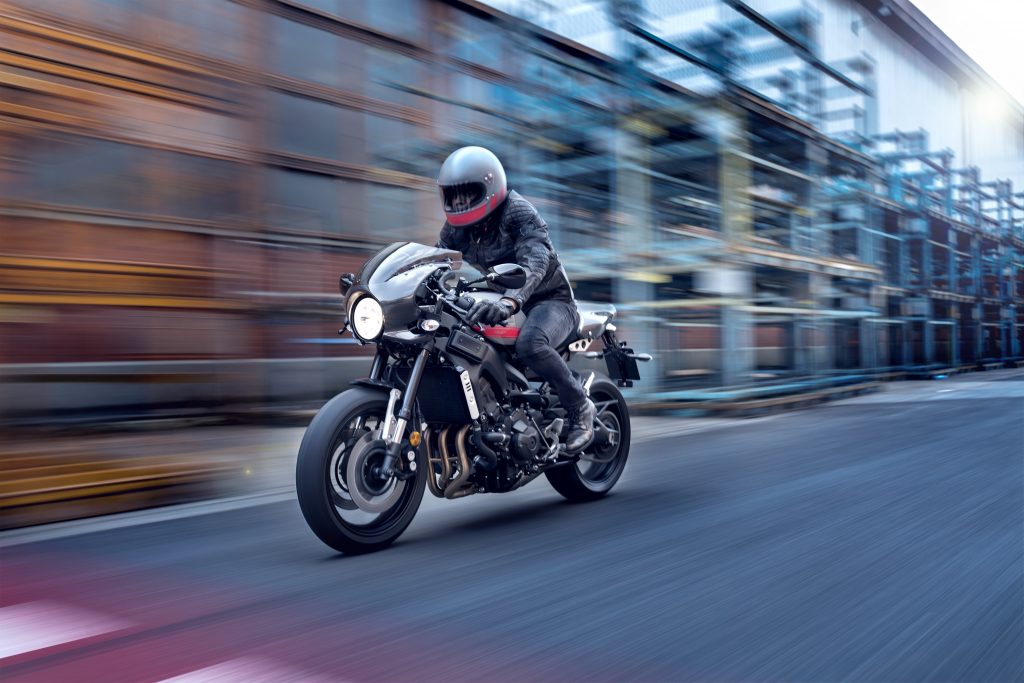 Using various Sport Heritage models as their starting point, legendary bike builders including Shinya Kimura and Roland Sands have created some truly outstanding motorcycles that showcase their skills, and also inspire every rider by demonstrating how to make any Yamaha their own.
For the first time we have teamed up with Abarth, one of Italy's most prestigious brands from the car racing world, to create a factory-built limited edition Café Racer.
New XSR900 Abarth. The first Sport Heritage café racer special.
Abarth has been involved in racing for over 60 years, and with its Italian design flair and race bred DNA, the company's history and philosophy perfectly complement those of Yamaha.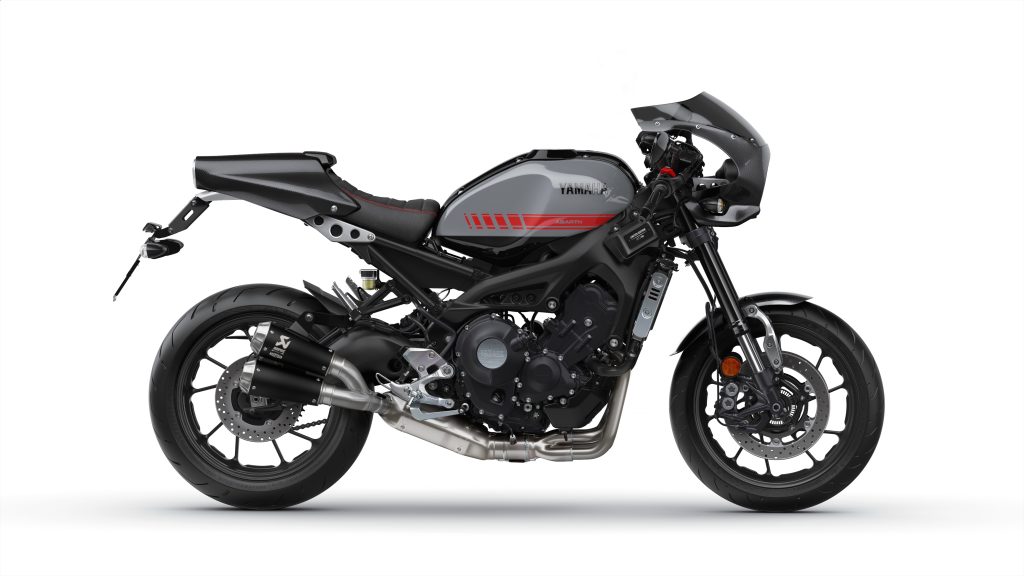 For 2017 Abarth and Yamaha have collaborated on an exciting new project to create the XSR900 Abarth, a premium café racer special with a head-turning colour scheme that's been built with a range of exclusive lightweight components.
850cc,CP3 engine
At the very heart of this new limited edition machine is Yamaha's outstanding 850cc, 3-cylinder, CP3 engine that delivers strong and linear torque that enables the rider to experience thrilling acceleration and outstanding performance throughout the rev range. Equipped with a traction control system and Assist & Slipper (A&S) clutch, this powerplant provides high levels of controllability in varying conditions.
Sporty riding position
A key feature of this exclusive new Sport Heritage model is its authentic café racer riding position, which enhances rider/machine unity and accentuates the bike's agile and compact feel. Featuring swallow 'clip-on style' handlebars and a racing single seat that give a sporty, tucked in riding position, the XSR900 Abarth builds on the strengths of the stock XSR and transforms it into an exclusive café racer.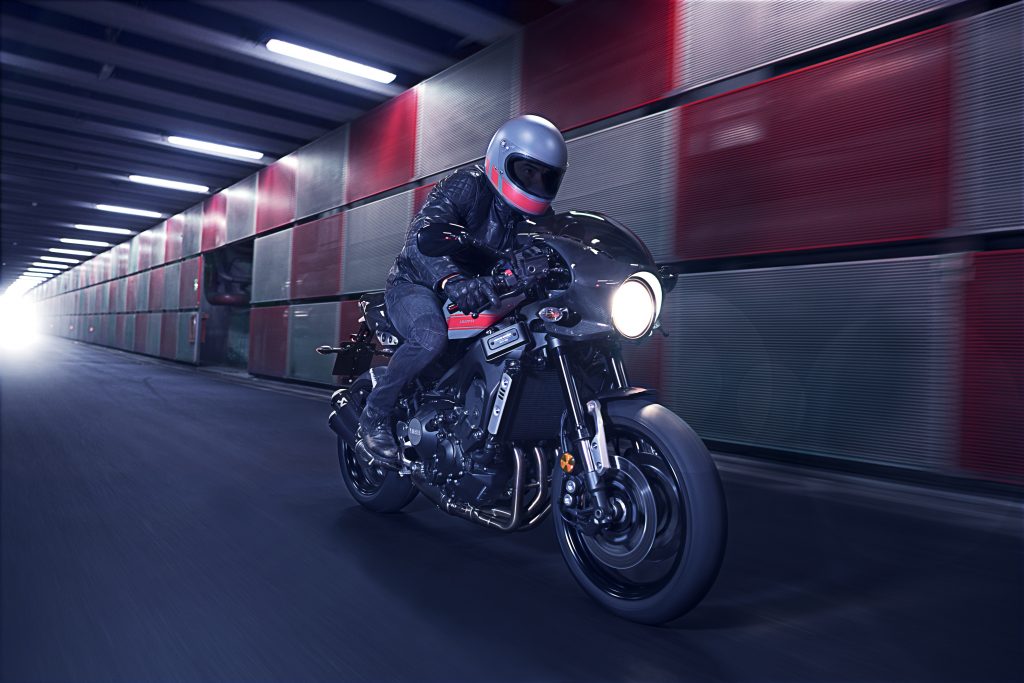 Carbon bodywork
The XSR900 Abarth's compact feel and iconic looks are inspired by the 1960s specials and hybrids created by 'rockers' who wanted to build the fastest and coolest motorcycle on the block. The Abarth's retro front cowl design contrasts beautifully with its high-tech carbon structure – and the stylish suede solo seat underlines this bike's high quality specification.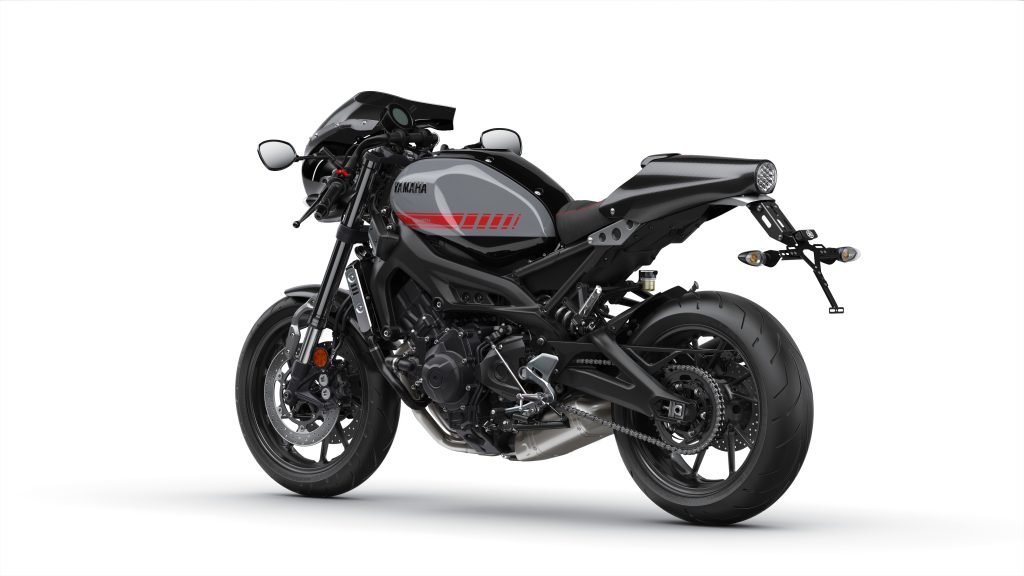 To keep weight down and underline the bike's sporting DNA, carbon fibre is used for the front fender and seat cowl – and to match the new sports seat an integrated taillight and lightweight license plate holder are fitted.
Full Akrapovič titanium exhaust
True to the original café racer's 'need for speed' philosophy, the XSR900 Abarth comes complete with a performance boosting full Akrapovič titanium exhaust with titanium double slip-on mufflers that give stronger acceleration together with more exclusive looks and a gutsier sound.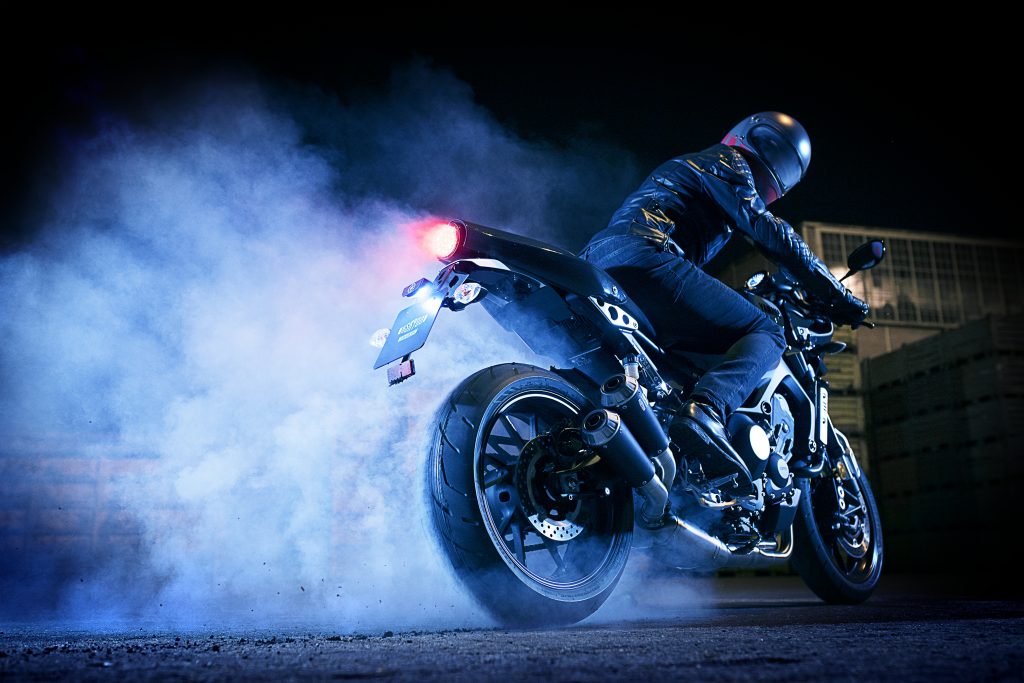 Exclusive Abarth colour scheme
Featuring Abarth logos on the fuel tank, as well as on the carbon front fender and carbon seat cowl, the unique grey/red colour scheme captures the spirit of a bygone era, and sits comfortably with the retro café racer styling. Inspired by the 60s, and featuring the most advanced Japanese technology combined with Italian design flair, the new XSR900 Abarth brings different worlds together in a very special way.
Limited edition of just 695 units
Production of the XSR900 Abarth is strictly limited to just 695 units, and on the side of each motorcycle is a production numbered aluminium plaque to confirm its exclusivity.
VIP Abarth Experience
Those riders who want to be among the first to own this exciting new café racer need to set their alarms for 14.00 hours CET on 17th January 2017, because that's when Yamaha's dedicated online registration system goes live.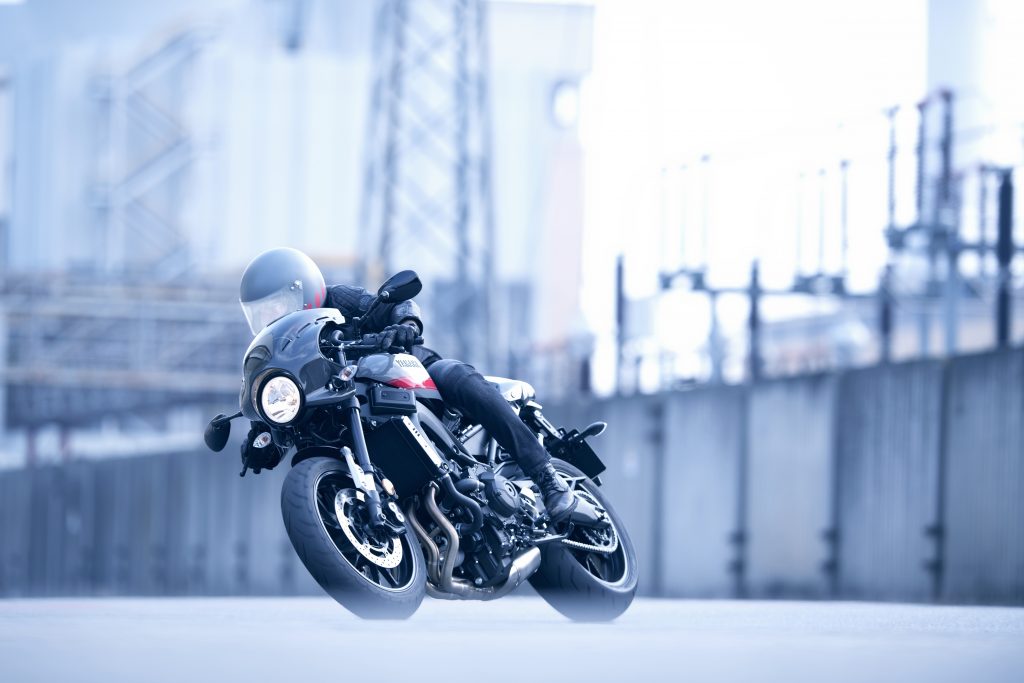 The first 95 customers will be able to register their online order for the new XSR900 Abarth at www.xsr900-abarth.eu – and each online customer will be invited to join an exclusive VIP Abarth Experience on a first come, first served basis.
After the first 95 online registrations have been confirmed, the remaining 600 units of the limited edition XSR900 Abarth will be made available through Yamaha dealers from April 2017 onwards.
Genuine accessories & Faster Sons apparel
There is a wide variety of XSR900 Genuine accessories available for the XSR900 Abarth, enabling owners to personalize the motorcycle to match their individual preferences. With the introduction of this new café racer, the Faster Sons apparel collection is also expanded with a dedicated café racer style t-shirt, as well as an exclusive sweater and cap.
XSR900 Abarth Key Features
Liquid-cooled, 850cc, in-line, 3-cylinder
Traction control system and Assist & Slipper Clutch
Exclusive Abarth grey/red colour scheme
Swallow 'clip-on style' handlebars for sporty riding position
Sports solo seat with suede cover and red stitching
Lightweight carbon seat cowl and front fender
Full Akrapovič exhaust with titanium double slip-on muffler
Sporty license plate holder
Limited edition of 695 units, each with an aluminium numbered plaque
Abarth logos on tank, carbon front fender and seat cowl
Colour: Abarth grey / red
Availability: April 2017
The new concept Abarth 695 Tributo XSR
To celebrate the presentation of the new Yamaha XSR 900 Abarth – the first motorcycle born in collaboration between two of the most dynamic brands in the motor industry – Abarth reveals a new concept of the iconic 695, the nameplate that refers to the most special cars of the scorpion brand.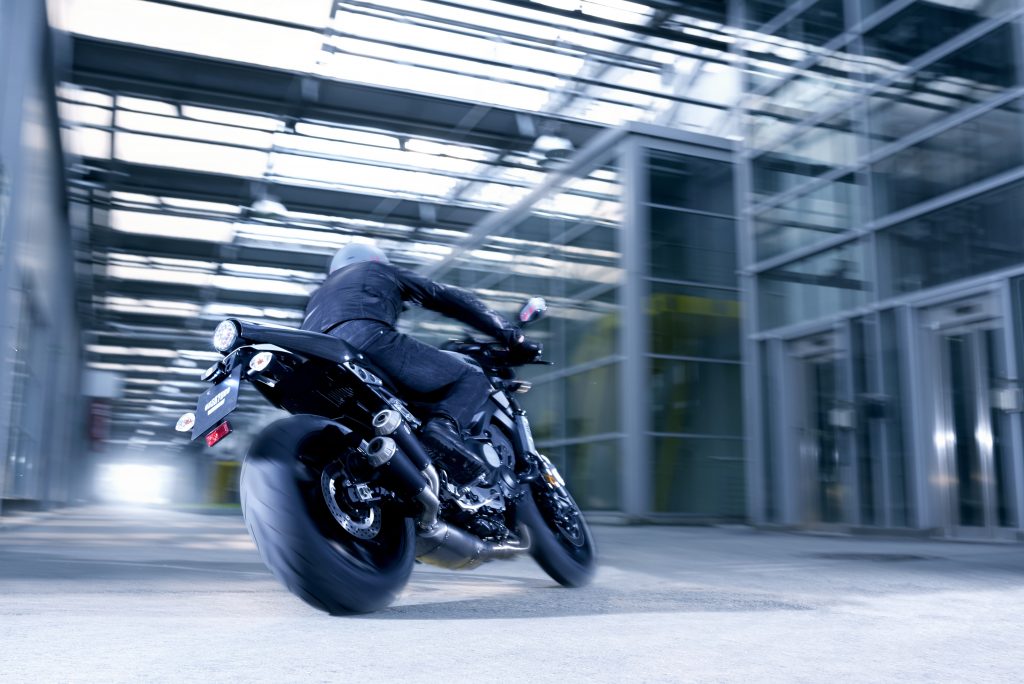 The 695 Tributo XSR is a concept car finished in a grey livery with red details to reflect the Yamaha XSR style, and features an extensive use of carbon fibre components that underlines the affinity with the carbon fibre front cowl, front fender and seat cover of the motorcycle.
The concept car and the Yamaha XSR 900 Abarth also share a lightweight Akrapovič exhaust system, a racing derived component that adds personality, sound as well as performance.
The signature of the concept car is the XSR logo on the tailgate.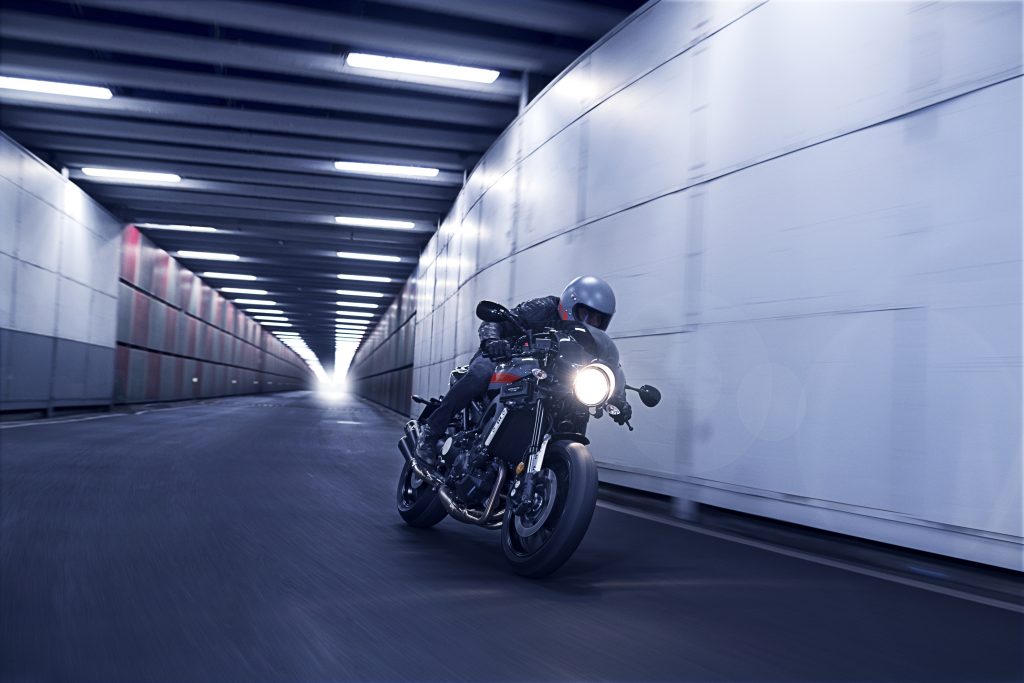 About Abarth
Founded in 1949 by the genius, passion and insight of the young Austrian driver Karl Abarth, the company has been involved in developing, preparing, producing and racing small sports cars for over 60 years.
In 1971 Abarth joined the FCA group and took over the running of the company's racing department, winning the World Sportscar Championship with their Lancia Beta Monte Carlo Group 5 racing cars in 1980 and 1981. At this time the Abarth name was also being used by FIAT on a number of high performance production cars, making Abarth a widely recognized brand.
In 2007 Abarth & C. S.p.a. was re-established as an independent subsidiary of the FCA group, and is responsible for a range of specially prepared and enhanced high performance city cars and sports cars, including the Abarth 595 and the recently launched Abarth 124 spider, which embodies all the thrills and pleasure that only a real spider can offer. Developed by the Abarth Racing team, the Abarth 124 spider perfectly embodies the leading values of the brand: performance, craftsmanship and technical excellence.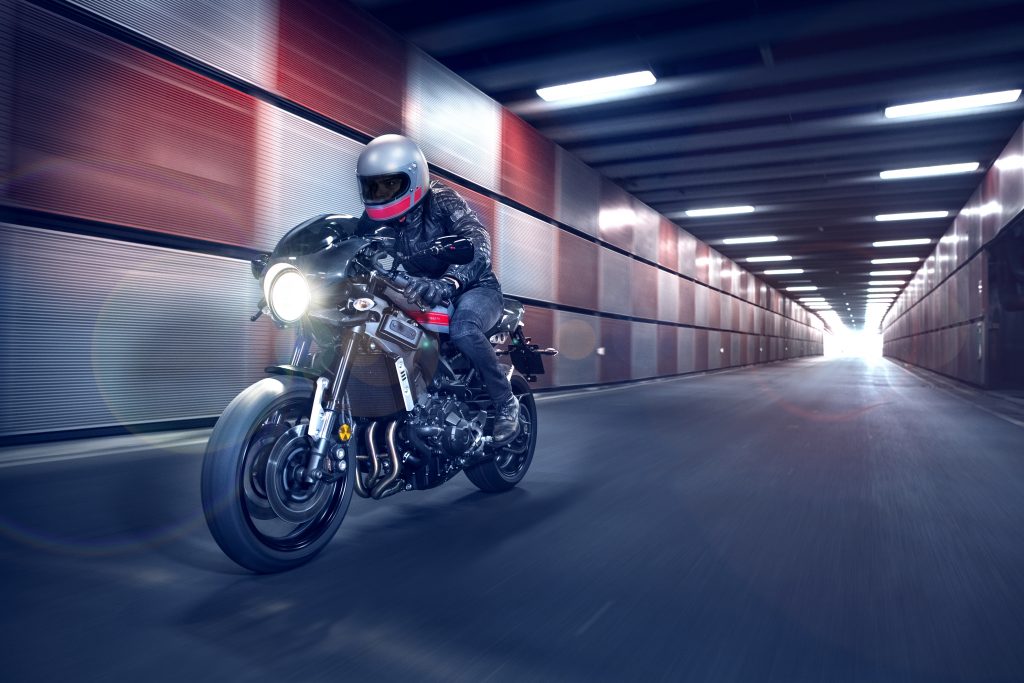 In addition to their special vehicles, the company's main focus is on the production of kits and accessories for high performance preparation, and also the production of fashion and lifestyle accessories in conjunction with prestigious brands, such as Yamaha.
Abarth is one of the Official Sponsors of the Movistar Yamaha MotoGP team, and has supplied a number of specialist vehicles to the team as part of their ongoing relationship.