Buildbase Honda Racing's Martin Barr and Graeme Irwin kept their championship podium hopes alive with gutsy performances at round seven of the Maxxis British Motocross Championship supported by Pro Clean at Preston Docks on Sunday.
The pair were forced to dig deep on one of the toughest tracks on the calendar and both men came out fighting with Martin ending the day on the podium in third in MX2 and Graeme, riding with a badly broken left thumb, racing to a hard-earned fifth overall in MX1.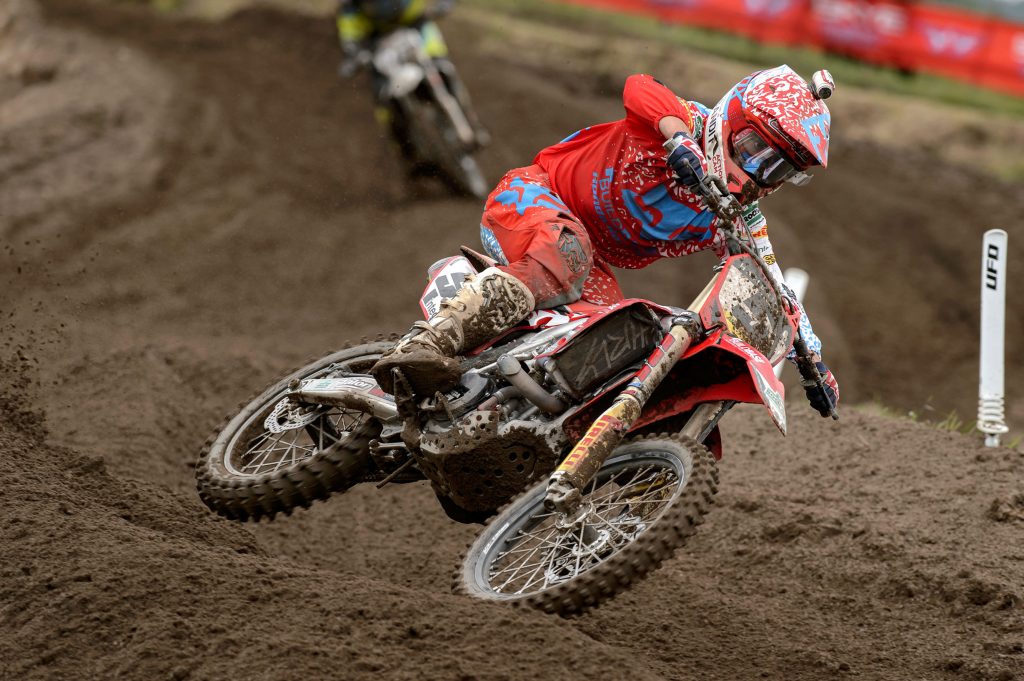 The day started well for Martin with third in qualification but a collision on the start straight in the opening moto left him with a mountain to climb. Lap after lap he made passes, eventually forcing his CRF250R up to seventh.
In race two he started well, moved into second and was closing in on the leader as the chequers came out to make sure of a podium finish.
"Today's been okay but I'm a bit disappointed really," said Martin. "The day started positive but in the first race I made a dreadful start – it was outside the top 20 – and the track was a bit one-line so it was very hard to pass and I just got my head down and did the best I could and got back to seventh.
"For race two we changed the sprocket and went back to a 49 which seemed to work in our favour and I got a better start. I wasn't happy with the first part of the race and I struggled to get a good rhythm going but once I settled in I moved up to second and held it to the end.
"It got me third overall and you can't be disappointed with a podium – I'm just looking forward to having a weekend off, it's been six weekends on the bounce. My bike was brilliant so a big thanks to the team and everyone involved."
After badly breaking his left thumb a fortnight ago when he secured the British Masters title it was a case of damage limitation for Graeme. The Irishman, racing the team's CRF450R, was forced to race with his thumb on top of the grip but he kept his hopes of a top-three title finish alive with two hard-fought rides on an unforgiving track.
After taking the holeshot in the opener he crashed on lap three and had to come back from 20th to seventh. In race two he started fifth, lost a place in the early stages and brought it home for fifth overall.
"That was no fun whatsoever," he said. "I felt that this weekend would have been better than last weekend but I don't think my thumb is any better and the track was really tough. But it's still not over. I came here hoping for two top 10s and I'm having to ride with my thumb above the bar so I've got to be happy with a seventh and a sixth.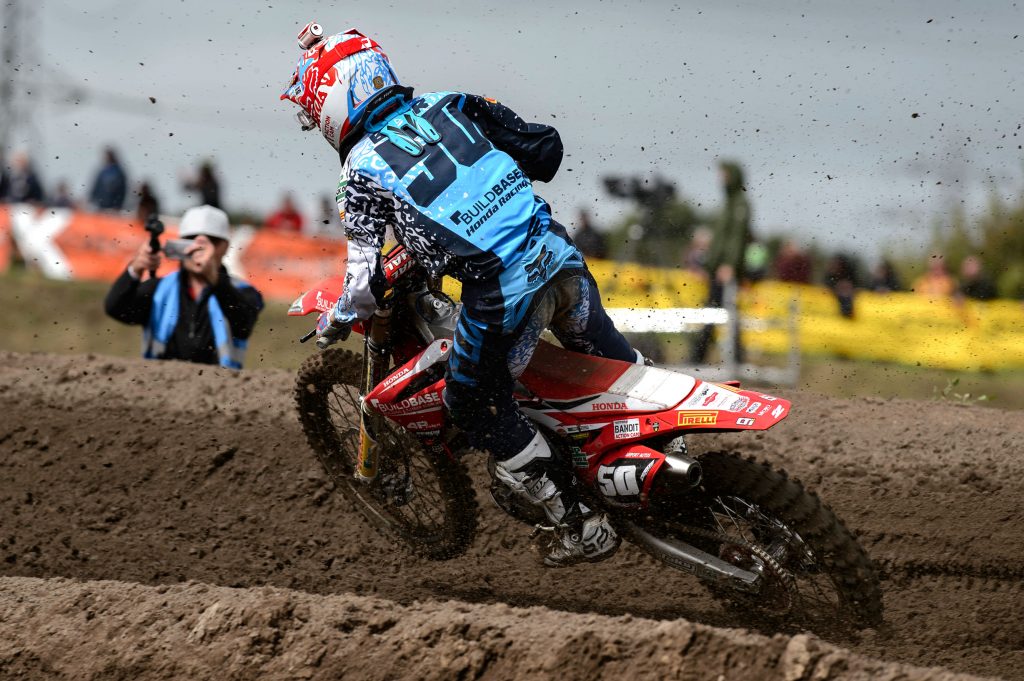 "My plan now is I'm going to miss the MX Nationals round at Hawkstone and try and heal up for the final round of the Maxxis at Foxhill and then the Motocross of Nations. You've got to go to the MXoN feeling 100 per cent."
Graeme, who took the overall at the North West track at both the British Masters and MX Nationals early this year, was frustrated not to bring his A Game to the Maxxis but is looking ahead to the series finale.
"It's such a shame. This track was probably going to be my favourite apart from Desertmartin and I can't even push. I honestly felt like I could have got a podium today. I should have been on the podium. Foxhill is a good track for me so I just need to get healthy, that's the key."
Team owner Dave Thorpe always expects his riders to give 100 per cent and the three-time world 500cc champion wasn't disappointed.
"I thought both riders were excellent today," he said. "It was unfortunate for Martin that he got such a poor start in the first race – he got caught up in someone else's misdemeanour on the start straight but he rode really well – and in the second race I couldn't have asked any more of him. He pushed and pushed.
"As for Graeme, what can you say? He's come here with a very bad thumb injury and he's adapted, riding with his thumb over the top of the grip on a very tough track. I can only be pleased with both of them."
//Barr caption//Martin Barr rode with his heart and his head to put his Buildbase CRF250R on the podium
//Irwin caption//Despite a badly broken thumb Graeme Irwin carded fifth overall in MX1