I own a 2011 Kawasaki Versys 650, and although it's fantastic bike when I was out with my pals I always seemed to be ringing its neck to keep up with them and when I was touring with my lovely wife on the back, it was hard work. I do quite a lot of motorway miles these days and the Kawasaki was comfortable, but also it got tiring very quickly and what I would do for cruise control.
Well, after my last long wet, cold, windy and chockablock motorway trip on the Versys I decided it was time to trade her in and look at something else. I was not sure what to buy as I am 6ft 4inches, and I do like the upright riding position so sports bikes are out of the question, and I don't think I am ready to get a cruiser just yet. So the obvious is the adventure bike very similar to the Versys but something with a bit more power and more comfort for my good lady.
A lot of my friends have triumphs, whether it be a Rocket 3 or the Speedmaster and to be honest no matter how much I love the looks of the Rocket 3, I think it's just a bit too big and heavy for me as a fairly new rider, and I think once I have "matured" a little more I will be ready for that leap but for now, I still have plenty of adventure left in me.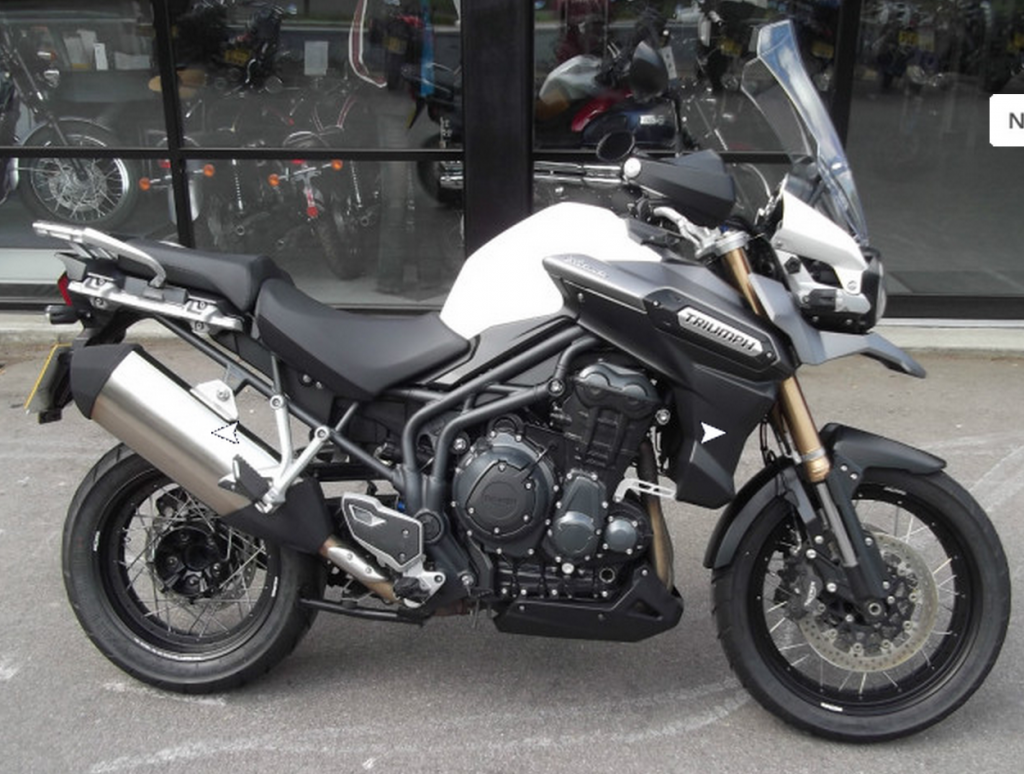 So the Triumph Tiger is the bike that has been playing at the back of my mind for a long time now, and I decided on Monday that I was going to go to my local triumph dealer and have a test ride of a Tiger. Well let's be precise here the Triumph Tiger Explorer 1200. Yes, the 1200… Just shy of twice the size of my Versys but I was confident I could handle it, and I am hoping that it's great bike, but at the same time I am hoping to hate it.
We arrive at the dealers, and I had a good look around the Triumph Explorer 1215, and I have to say it looked stunning, It had spoke wheels and it was in Crystal white, I was very much in love already, but then the salesman said oh its got cruise control. I was like "holy cow really"??? That was something that I did not even consider when looking at the Explorer was that it would have cruise control and the amount of miles I have done on the motorway it was going to be well used.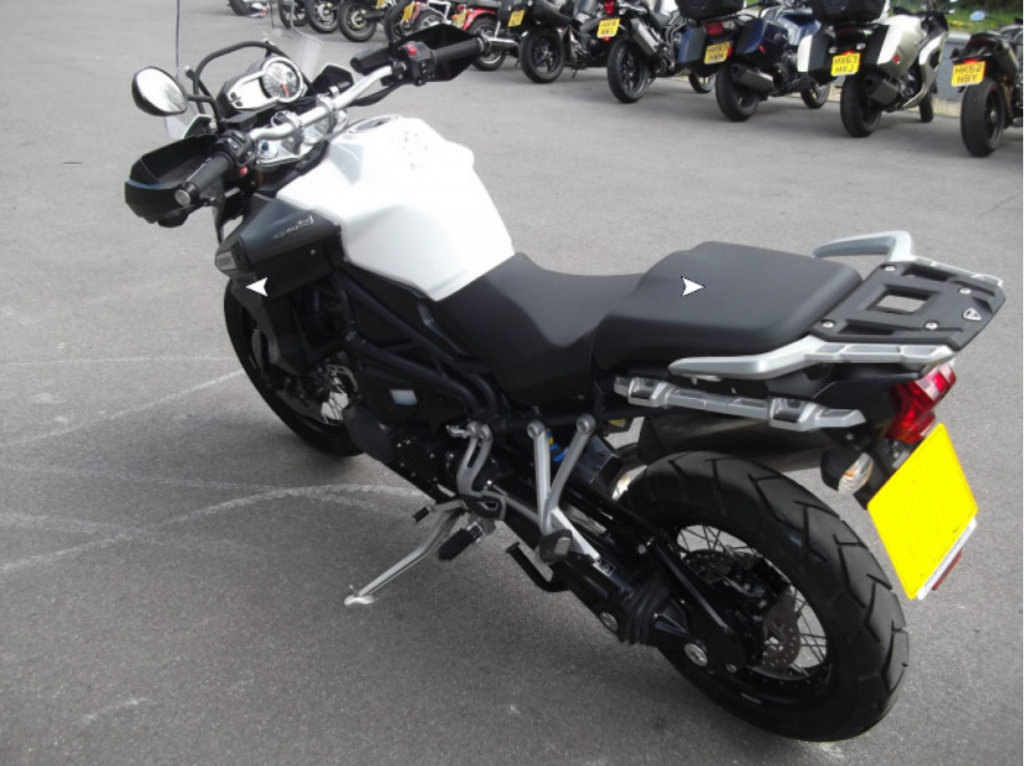 I slung my leg over the bike and sat on the wide saddle and my feet were nicely on the floor, the sales chap asked if the seat felt ok, and it did, it felt very ok. He went through all the controls and showed me all the functions the up down buttons for the information screen and how to use the cruise control, and then he mentioned about the fly by wire throttle and just warned me that it can feel a little strange at first and just to get used to it.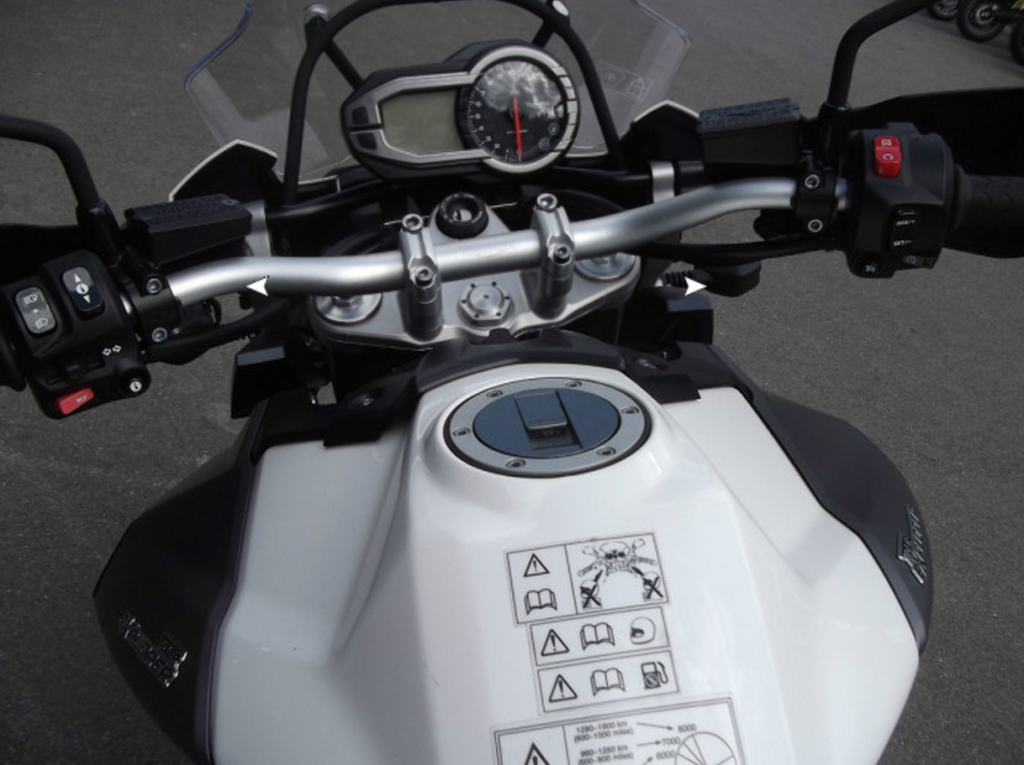 I kicked her over and she purred quietly, but she had presence if that makes sense, I won't be getting any asbos but you will still hear me coming… (I hope)!! Ok so this was it? I tried staying calm and poised and ready to take on a few miles but she felt so big and heavy and I had to turn right out of the dealers, and that throttle was playing on my mind.
A gentle twist of my right hand and my left hand gently released the clutch, I was rolling, and I could turn right very easily. I instantly felt the torque and looking down I was at 70mph already, and I hadn't even though about changing gear yet. I was working my way through the lanes, and it felt nice but I was soon approaching a roundabout, and I just tipped her in lovely and it felt so right and committed. I was blown away and suddenly forget that the bike was 1215cc's and just rode her and soon enough I was on a motorway winding her up and trying to select the cruise control.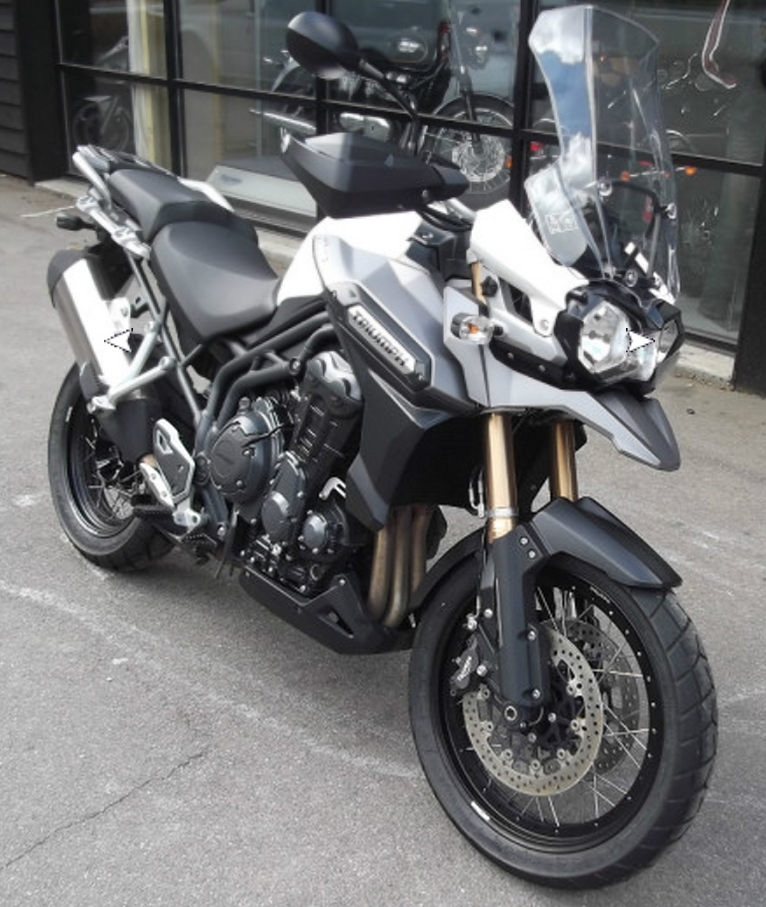 Ok, so the cruise control, did I like it? It was hard for me to select it to be honest maybe I have short thumbs, but I struggled to reach across and press it with my right hand and man I would move my hand the throttle would jolt and then you had no chance of engaging it. When I did select it it felt very strange taking my right hand off the throttle and not being jolted forward. I soon got used to it though, and I can only imagine how much easier it is going to be to ride with it on long journeys.
I decided to head back to the dealers to pick up my lovely wife who had been patiently waiting for me, so she could get on the back and experience the love affair that I was having with this majestic lady. Jane got on the bike no problems and unlike the Kawasaki the Triumph Explorer 1215, she didn't feel unstable at all, she felt quite at home with someone on the back, and we were soon making progress along the twisting roads and sweeping country lanes, and I was having a blast.
I could over take at a moment's notice and the Triumph Explorer 1215 never seemed to mind any of my clunky gear changes she just absorbed it all and let me enjoy the ride. A few points in the journey I had to actually check that Jane was still on the back, and that she had not fallen off. There was no constant reminder that she was there. I didn't have to worry about being in too high a gear because the Triumph Explorer 1215 had enough power and torque to push us up to the steepest of hills.
Jane was shuffling around on the back a bit, and so I decided to ask her if she was ok, and she said that she was more comfortable than the Kawasaki, but she was sliding forward onto me. I don't understand how or why, but I think it's an easy solution, and I think she would be ok on long journeys.
I made a few sharp over taking procedures, and the Triumph Explorer 1215 pulled like a train. You may be wondering about the power and the speed of the Triumph Explorer 1215 and wondering why I have not mentioned it yet and why I have just spoken about power. Well, it's because this bike goes like a scolded chipmunk, and I think my arms are six inches longer than they were before. It was an animal. She is a majestic princess through the corners but a slight twist of the wrist, and she turns into emotionally distressed teenager and flips off the handle, and a split seconds notice.
The Triumph Explorer 1215 is a machine that I am going to desperately fall in love with, the sharp distinct angles and that huge silencer and the rugged look yet so elegant and refined. I am looking forward to another go on a Triumph Explorer 1215 very soon as you can probably tell I was in total love with it.