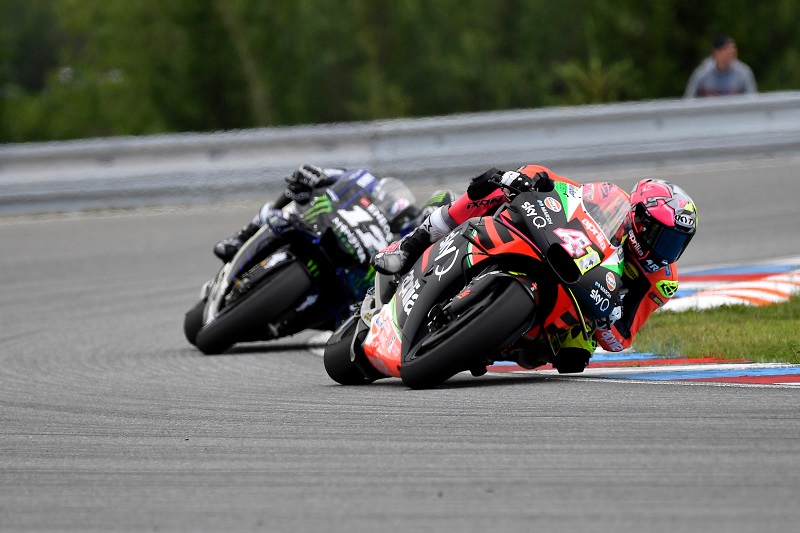 APRILIA RACING – CZECH GP
IANNONE 17TH AHEAD OF ESPARGARÓ, 18TH IN THE BRNO GP
When the chequered flag came out at Brno, Andrea Iannone finished seventeenth, one position and just a few hundredths ahead of Aleix Espargaró. It was a difficult race for Aprilia Racing Team Gresini, with both riders finishing with zero points.
After a positive warm up, where they were in the top ten, Aleix had an outstanding start that projected him into the top ten during the first lap. However, he was penalised by tyre troubles that he had not experienced all weekend. Performance began to drop due to strong spinning that forced Aleix to back off the gas even on the straight. This forced the Spaniard to lose position after position.
After difficult qualifiers, Andrea also had a good start from farther back on the grid, moving up six positions straight away. His performance was more consistent than Aleix's so much that he was able to catch him in the race finale.
ALEIX ESPARGARO'
"Today, after an outstanding start, I found myself just behind the top ten and, to be honest, I thought I would be able to do another race like the Sachsenring because the bike did not seem bad at all. But after a few laps, I started to have abnormal spin at the rear tyre, even in the higher gears. It's a pity, because besides this problem, the feeling was good. Tomorrow I'll have a new frame and a new swingarm available, in addition to a few ideas that we want to try with the electronics. I'll be the first one out on the track, and we will try to take a step forward."
ANDREA IANNONE
"Unfortunately, we struggled throughout the weekend. In the race, I tried to manage the tyre in the first part so that I could try to recover in the finale, but it wasn't enough. Tomorrow we have an important day of tests. We need to react and focus on being more reactive. Despite the difficulties, we will not give up. We want to grow this project and races like this must be further motivation for everyone, for the team and for those working at home."